Getting Real: The Noctua NH-U14S & NH-U14S TR4-SP3
In order to translate high-level concepts into real world numbers, we need to take a look at actual Threadripper processors and coolers. To that end, Noctua courteously volunteered to help us prove our theory by shipping us one of their most popular coolers, the NH-U14S, along with a socket AM4 adapter. We've previously taken a look at the NH-U14S, and it was one of the best performing tower coolers we've reviewed, so we know from experience that this model cooler is already ahead of the pack in terms of cooling capabilities.
Despite that pedigree, Noctua is one of the very few companies that advise against mounting their older cooler designs on SP3/TR4 processors. For users that wish to move to a Threadripper platform, Noctua's engineers have designed TR4-specific coolers. For those building new TR4 systems, Noctua developed the NH-U14S TR4-SP3. Still, mounting the original NH-U14S on a Threadripper processor using the AM4 socket braces is a frequently discussed and easy mod, as is with all AM4-compatible coolers. Note that Noctua's AM4 adapter does not make the NH-UxS coolers TR4-compatible out of the box!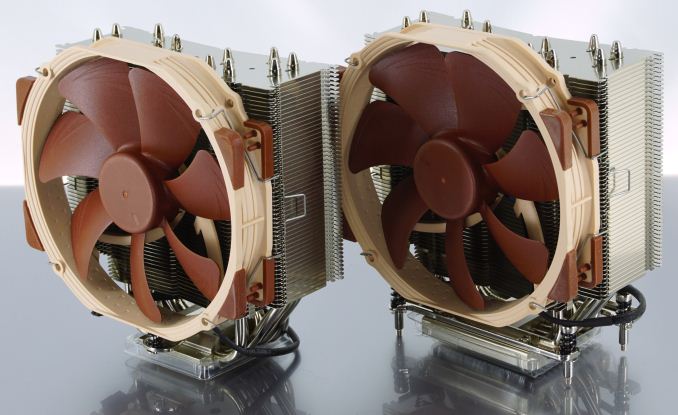 The NH-U14S and the NH-U14S TR4-SP3 initially look as if they are the same cooler. The two coolers share the same 52 mm deep and 150 mm wide fin array, as well as the same six heat pipes. Each heat pipe expands to either side of the cooler, forming twelve evenly distributed thermal energy transfer lanes from the base of the cooler to fin array. Noctua nickel-plated the copper heat pipes to prevent them from corrosion.
The difference between the NH-U14S and the NH-U14S TR4-SP3 practically is only the base of the cooler. Both coolers have a nickel-plated copper base but the contact area of the NH-U14S TR4-SP3 is much greater than that of the original design. The larger base adds a little bit of weight and mass, but it would not be nearly enough to make a significant difference in the performance of the cooler if both could cover the processor's surface. As such, these two coolers are perfect for us to research just how important having a cooler that makes full contact with the processor's lid is.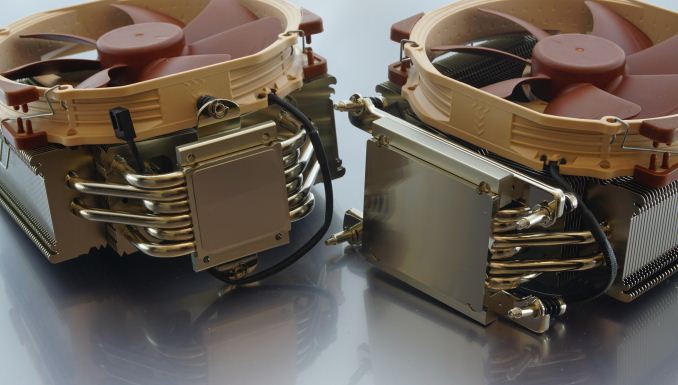 Modding the AM4 kit to fit on the TR4 cooler requires only 10 mm brackets (or just wide T-nuts and a handful of screws), which can be easily found in hardware shops, be 3D printed, or be made with a Dremel and a little bit of patience. In our case, since we already had the NH-U14S TR4-SP3 whose braces fit the size of the NH-U14S like a glove, we simply removed them from the TR4-SP3 and used them to fix the NH-U14S onto the TR4 socket.