Test Methodology
Our test system appears in the following table:
For both tests, we used Noctua NT-H1 thermal grease on the processor. For the thermal grease to settle in, the processor was loaded for at least an hour, left to rest for at least two hours, loaded again, then left to rest overnight. The results were recorded on the next day. After the first tests, the CPU was thoroughly cleaned and the process was repeated for the second cooler.
By default, the motherboard is trying to control the speed of the cooler's fans depending on the processor's temperature, creating a variable environment. As we are trying to showcase what the difference between full and partial contact for the exact same cooling arrangement, we needed a stable environment, i.e. the fans had to be running at the exact same speed. Therefore, we are powering the fans from an external power source, maintaining stable RPM throughout our testing.
Finally, we are always monitoring and recording the Tdie temperature. That is a more accurate representation of the CPU's actual thermal state, as the Threadripper (and some Ryzen) cores report their operational temperatures with a large positive offset (+27°C) for control purposes.
Results
Starting off with idle temperatures, we're already seeing a difference between the two coolers. At all fan speeds, the larger-based TR4 model cooler is around 4C cooler than its standard counterpart. Given just how little power a Threadripper processor actually uses at idle, this is an interesting prelude of things to come.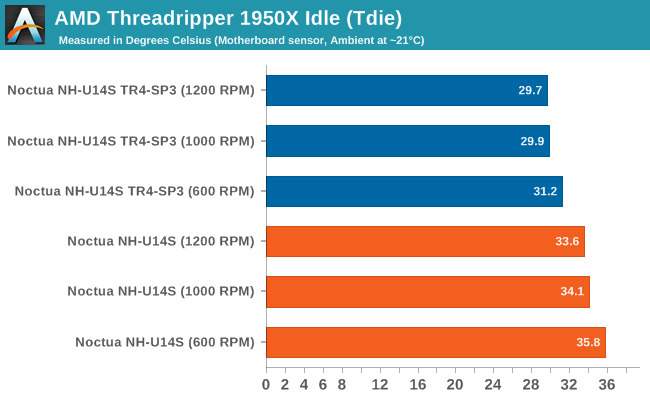 Meanwhile under load, not only there is a clear difference on the performance of the two CPU/Cooler arrangements, but that difference is much more than merely significant. The figures that we recorded correspond to a major cooling upgrade. The standard NH-U14S can barely maintain our Threadripper 1950X functional under load, with the system throttling very heavily at all times.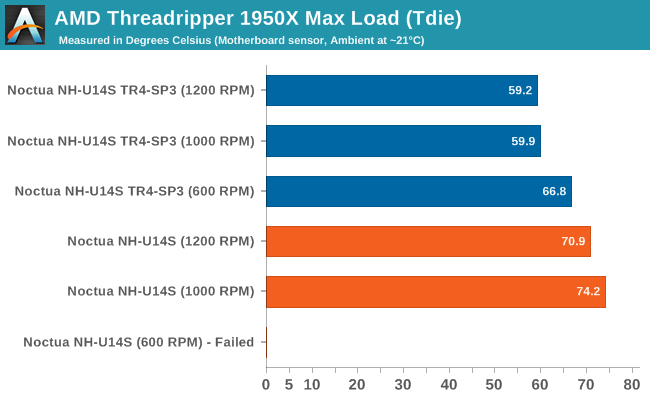 With its fan's speed lowered down to 600 RPM, the NH-U14S could not handle the thermal load (hence the missing data point in the graph). Meanwhile although it is essentially the same cooler, the NH-U14S TR4-SP3 manages to maintain operational temperatures throughout all our tests, with no thermal throttling even with its fan's speed lowered down to 600 RPM. If we were examining two different coolers, such an improvement would easily differentiate a basic from an advanced air cooler. In our case, the two coolers are identical, yet the difference of the arrangement's thermal conductance is substantial, all because of the cooler's contact plate.
The following figure displays the CPU's temperature over time with a script loading and unloading the processor every 10 seconds. The fans are running steady at 1200 RPM. It can be seen that the NH-U14S TR4-SP3 offers both better thermal performance than the standard version with the mounting kit, but also is more resilient to varying thermal loads.