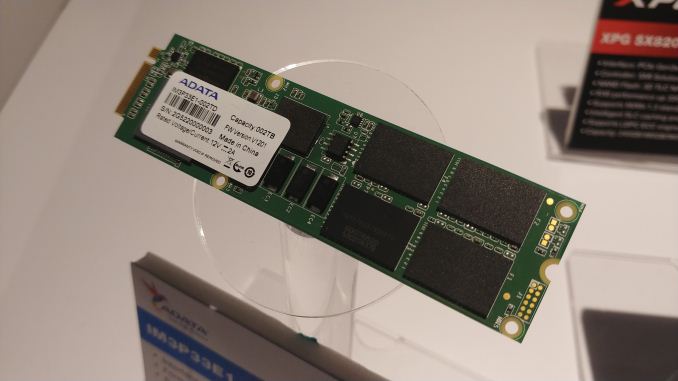 LAS VEGAS, NV – I had no idea what an M.3 drive was until I visited ADATA at CES. Having lived through IDE, SATA, and now M.2, I had never put much thought into what the next physical storage implementation would be, but M.3 has a nice ring to it.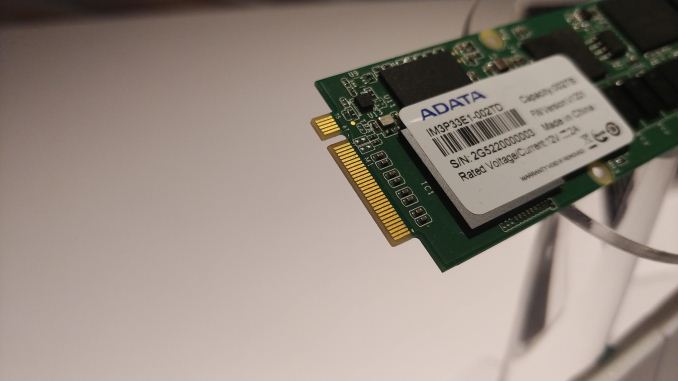 The M.3 drive on display was listed as IM3P33EI – an enterprise level component name for a 2TB drive using PCIe 3.0 x4, supporting NVMe 1.3, LDPC ECC, and RAID engines. One of the prominent features on the drive was for live hot swap with what is a PCIe drive, allowing the drive to be used in the 1U server. The drive was using a Silicon Motion SM2262G controller, and in the server designed by AIC there were 36 M.3 hot-swappable slots for a set. The information on the drive showed that it would be available up to 1920GB, however we were told that the form factor and server should be sufficient to take up to 8TB per M.3 module.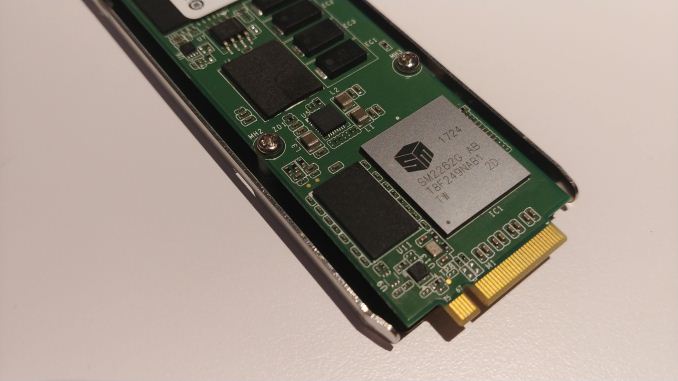 The server was described to us as a custom design specifically for Samsung by AIC for 5G communications, using two Intel Xeon Scalable processors, up to 12 memory slots per processor, dual redundant hard drives, and in order to be able to control 144 PCIe lanes for the storage drives, dual PCIe switches. It was unclear which model of PCIe switch was being used due to the heatsinks, however I would suspect that these were PLX9000 series (probably 9290 models) which are not cheap. We were told that a fully kitted out server would have a 'list' price (note, this is a product specifically for Samsung) of around $250,000. It is half-surprising that the drives are not Samsung, though.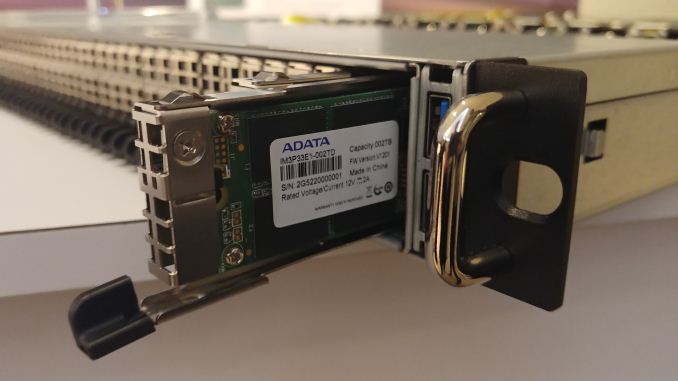 So despite being in awe for a couple of minutes, my amazement at seeing an 'M.3' drive was short lived. It turns out that this drive is not actually called 'M.3' at all: Samsung initially tried to market this form factor, a competitor to Intel's 'ruler' storage form factor, as M.3 but PCI-SIG was not having any of it. So despite what it said at ADATA's suite at CES, AIC's specification sheet described the drive as 'NGSFF'.
Related Reading