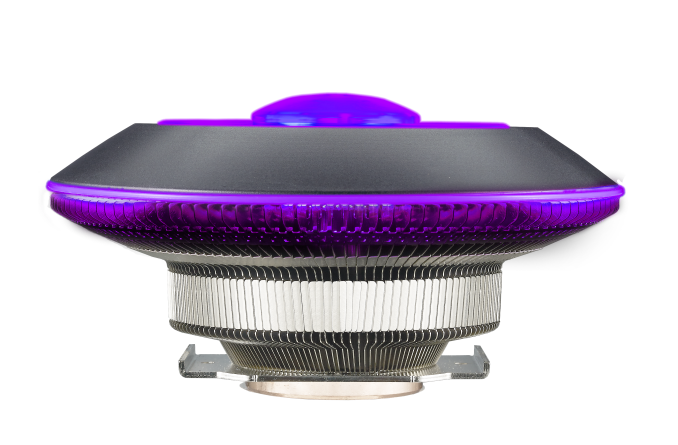 LAS VEGAS, NV — Cooler Master has announced a new air-based CPU cooler at CES 2018, the MasterAir G100M. Also announced is addressable RGB LED lighting with a new temperature detection feature for their liquid and air coolers. The new MasterLiquid ML240 SMART all-in-one CPU cooler and new MasterAir MA410M come with the new addressable RGB lighting which allows for syncing with a variety of vendors existing certified products including ASUS, Gigabyte, ASRock, and MSI.
MasterAir G100M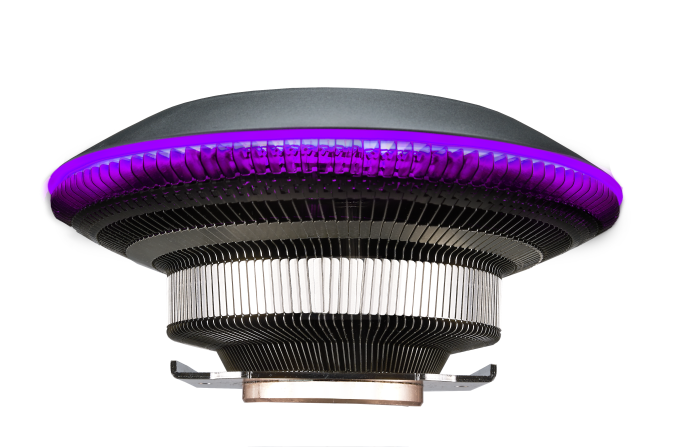 The Cooler Master MasterAir G100M features a new custom heat column technology which is designed to increase the direct contact surface area for better heat dissipation and cooling performance. The entirety of the 46.3mm high column is enabled to move heat from the processor in the shortest and quickest way possible. The MasterAir G100M features a TDP of 130W which is similar to be quiet!'s Shadow Rock low profile cooler for speculative comparison. The G100M is designed for low profile systems and with more compact builds in mind, certainly not for massive overclocks due to the svelte size and TDP. Also featured is an RGB ring and fan which are compatible with RGB enabled motherboards.
Certified Addressable RGB LEDs with Temperature Detection - MasterAir MA410M and MasterLiquid ML240 SMART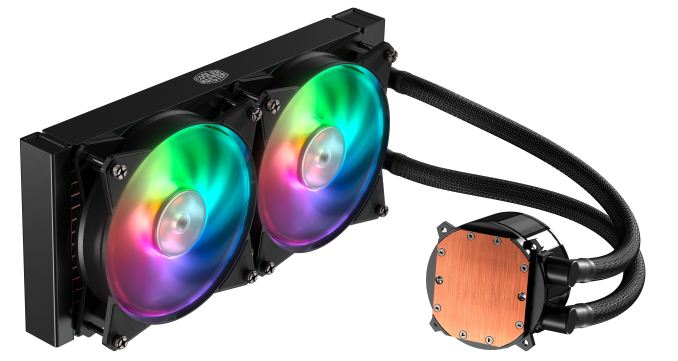 Also announced at CES 2018 are Cooler Master's new RGB LED lighting with temperature detection CPU coolers, the MasterAir MA410M and MasterLiquid ML240 SMART. Both these new coolers have addressable RGB LED lighting with temperature detection. The MasterAir MA410M and MasterLiquid ML240 SMART's addressable RGB can be synced up with compatible and certified devices from companies such as ASUS, Gigabyte, MSI, and ASRock, which should offer better customization with existing products such as peripherals, motherboards, and even VGA. The new SMART temperature detection allows for the changing of the RGB lighting based on the CPUs temperature which isn't necessarily a new feature on the market but is certainly new to Cooler Masters range of cooling solutions. Other products which will feature the temperature detection include the MasterLiquid ML240R, ML120R and MasterFan MF120M and MF122R-Addressable RGB.
Availability and pricing are currently unavailable at the time of writing.
Related Reading:
Source: CoolerMaster