For Sharing Your Streams: The New Radeon Settings 'Connect Tab' For Social Media
For Adrenalin, the streamer focus is very clear not only in direct enhancements for ReLive but also in how ReLive can be accessed through the new Radeon Settings 'Connect Tab', Radeon Overlay, and the AMD Link mobile app. The Connect Tab in particular allows users to upload and share ReLive captures on their desired social media account directly from Radeon Settings. Opening up the Connect Tab brings up three other tabs: Gallery, Accounts, and Resource Center.
For Gallery, users can manage and view their video captures, and can trim length as needed. When uploading, users can queue captures to multiple social media accounts.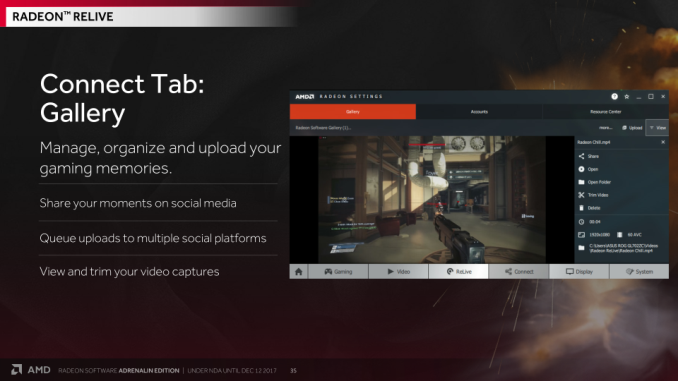 The Accounts tab brings up the account connections, where users can enable and connect the accounts they need.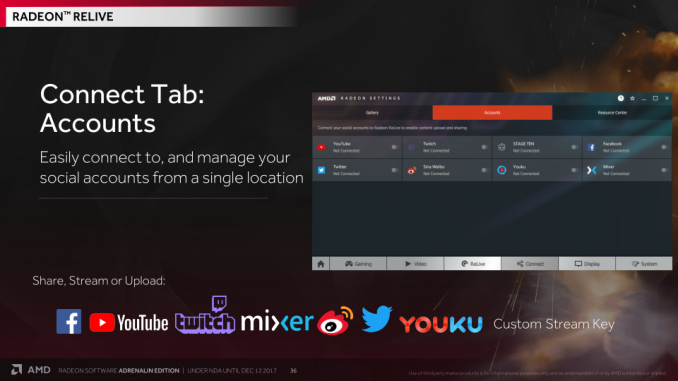 Lastly is the Resource Center, which is not directly related to ReLive or streaming capabilities. The page lists a number of articles and how-to videos, as well as any Radeon Software or related updates.