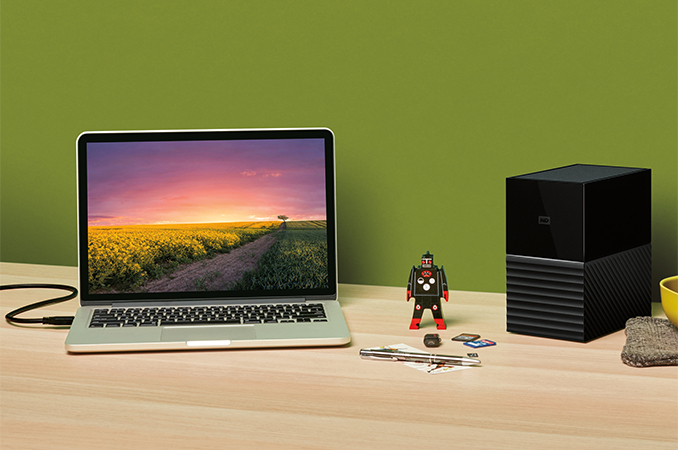 Western Digital has released its new My Book Duo external storage systems for consumers. The new devices run two 3.5" WD Red HDDs in RAID 0 or 1 mode and have capacity of up to 20 TB. The drives come in a new enclosure that uses a USB 3.0 Type-C port to connect with hosts (hosts can use USB-C to USB-A adapters as well) and has an additional USB 3.0 Type-A port on the backside to connect other devices.
The WD My Book Duo storage systems are based on WD's Red series hard drives, running them in RAID 0 for extra performance or RAID 1 for redundancy. The WD Red HDDs have a 5400 RPM spindle speed and feature 64 MB, 128 MB, or 256 MB of cache. Internal transfer rates of WD Red drives vary from 147 MB/s to 210 MB/s depending on the capacity, and therefore performance of the WD My Book Duo systems will vary as well. Western Digital declares maximum performance of the new My Book Duo at 360 MB/s, which should be achievable by most of the models in the lineup.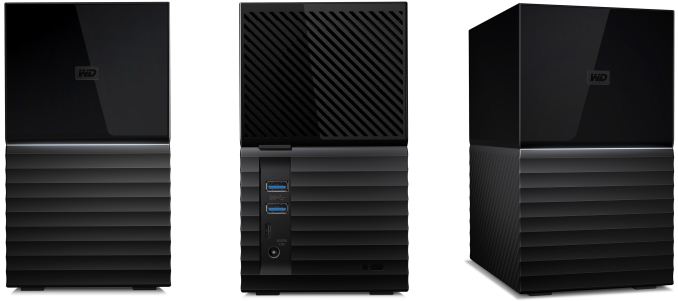 Western Digital does not disclose which RAID controller it uses inside the My Book Duo storage systems, but states that it supports hardware AES-256 encryption. To password protect the external drives, users will have to use the WD Security software.
Speaking of software, the manufacturer ships the My Book Duo products with the WD Backup suite, which automatically backups data from Windows-based PCs as well as from cloud services, such as Dropbox, Google Drive, OneDrive, Facebook, and Instagram. With Macs, users will have to use Apple's Time Machine program. In addition, the WD My Book Duo comes with WD's Drive Utilities suite, which monitor and manage the health of the enclosed HDDs.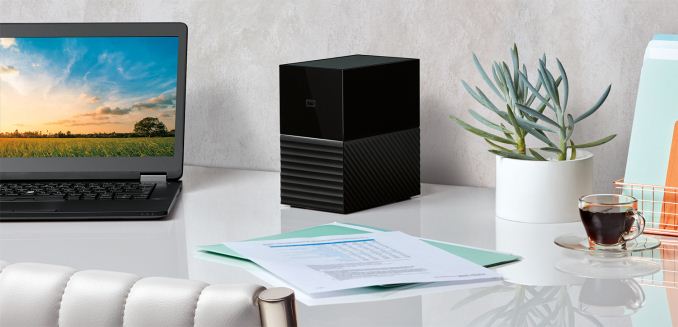 When it comes to overall size, Western Digital's My Book Duo does not seem to be too bulky: it is 180 mm tall (7.09"), 100 mm wide (3.94") and 160 mm deep (6.3"). The My Book Duo storage systems come with external power adapters — a 36 W wall-wart style power adapter for 12 TB model and below as well as a 48 W power brick for 16 TB and 20 TB SKUs. The latter is a bit strange because the WD Red 8 TB and 10 TB HDDs are filled with helium rather than traditional air, and consequently their power consumption is lower than the previous-generation lower capacity WD Red drives.
Western Digital's WD My Book Duo (2017) External Storage Devices
Capacity
Transfer Rate
Interface
Dimensions
Model Number
Price
4 TB
Up to
360 MB/s,
depends on model
USB 3.0 Type-C
Height: 180 mm/7.09"
Length: 160 mm/6.3"
Width: 100 mm/3.94"
WDBFBE0040JBK-NESN
$259.99
6 TB
WDBFBE0060JBK-NESN
$289.99
8 TB
WDBFBE0080JBK-NESN
$329.99
12 TB
WDBFBE0160JBK-NESN
$439.99
16 TB
WDBFBE0160JBK-NESN
$599.99
20 TB
WDBFBE0200JBK-NESN
$799.99
Western Digital has already begun shipments of its new My Book Duo storage systems for consumers. The devices are available from WD.com and from select retailers. The top-of-the-range 20 TB model costs $799.99, the entry-level 4 TB version is priced at $259.99, and a mid-range 12 TB SKU carries a $419.99 price tag. All the WD My Book Duo storage systems are covered by a three-year warranty.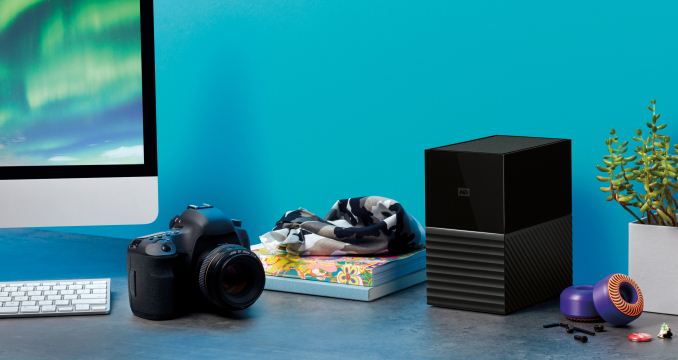 Related Reading:
Source: Western Digital