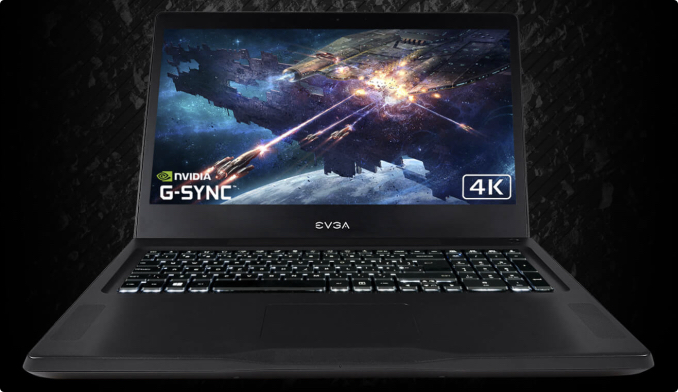 EVGA has launched its new flagship 17.3" laptop with a new CPU, a new GPU, and with Thunderbolt 3 support. The new SC17 1080 gaming notebook is thicker than its predecessors, but it features higher performance due to Intel's latest Core i7-7820HK mobile CPU as well as NVIDIA's flagship GeForce GTX 1080 graphics processor for laptops. Just like predecessors, the SC17 has a 4K display and allows its owners to overclock the CPU.
EVGA introduced its first SC17 notebook in March 2016 with an aim to offer desktop-class performance and feature set in a clamshell chassis that is 1.05" (26.9 mm) thick: a 4K (3840×2160) display, an overclockable CPU, 32 GB of memory and a rather advanced storage sub-system are meant to serve this purpose. Earlier this year EVGA launched a new version of the SC17 with NVIDIA's GeForce GTX 1070 GPU, bringing the performance of the system on par with other contemporary gaming laptops. This month, the company decided to increase the performance of its flagship notebook further and in a bid to do that, it had to introduce new chassis. The SC17 1080 laptop is 1.3" (30 mm) thick, but its weight is still around 4 kilograms, in line with many 17"-class gaming machines. The new enclosure enabled EVGA to equip the SC17 1080 with a new cooling system that can handle Intel's new Core i7-7820HK CPU based on the Kaby Lake microarchitecture (4C/8T, 2.9G-3.90G) and NVIDIA's GeForce GTX 1080 mobile GPU (2560 stream processors, 160 texture units, 64 ROPs) with 8 GB of GDDR5X memory. In addition, the flagship laptop now features a Thunderbolt 3 port to connect the system to various high-performance peripherals (such as external storage or displays).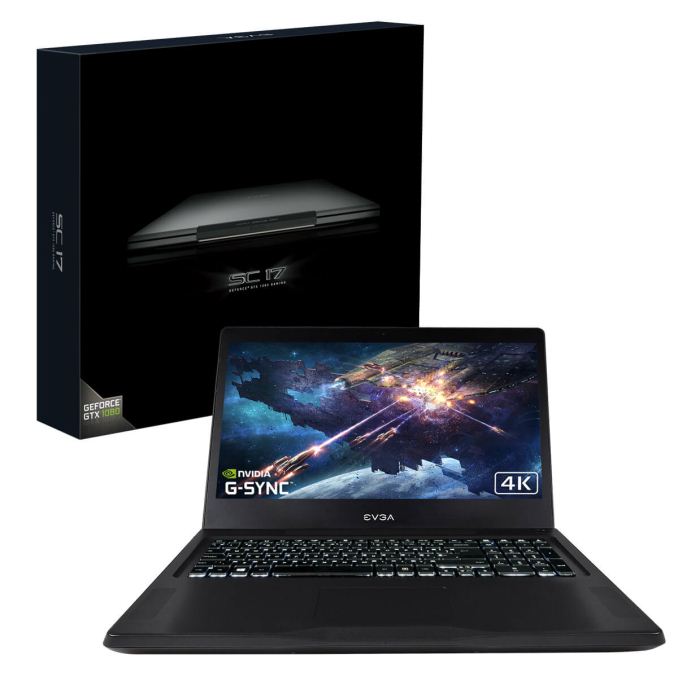 Apart from the upgraded CPU and GPU, the new SC17 1080 has the same features and configuration as the original: it is equipped with 32 GB of G.Skill's DDR4-2666 memory, a 256 GB M.2 NVMe SSD (PCIe 3.0 x4 interface) and a 1 TB hard drive with 7200 RPM spindle speed. When it comes to connectivity, the SC17 1080 is almost identical to its predecessors: it has an 802.11ac Wi-Fi + Bluetooth 4.2 module, a gigabit ethernet RJ-45 connector, one Thunderbolt 3/USB 3.1 Type-C port, three USB-A 3.0 ports, two mDP headers, an HDMI output, an FHD webcam and so on. Just like on the previous SC17 models, the SC17 1080 allows the user to fine-tune CPU voltages in a bid to maximize overclocking potential, as well as to overclock the GPU. If something goes wrong, there is a CMOS clear button on the chassis.

By making its SC17 1080 thicker than its predecessors, EVGA is going against the industry's recent trend to make gaming laptops thinner. EVGA's rivals Acer and ASUS have embraced NVIDIA's MaxQ initiative that enables notebook manufacturers to make their GeForce GTX 1080-based PCs thinner and lighter at the expense of performance in games (which is still very high, especially for a mobile PC). By contrast, EVGA wants its SC17 1080 to offer the highest performance possible (but without going extreme with add-on liquid cooling, etc.) and have an additional overclocking headroom both for the CPU and GPU.
The new EVGA SC17 1080 laptop is not only thicker and faster than its predecessors, but it is also more expensive too due to the updates. The new gaming laptop costs $2999.99, up from $2549.99 for the SC17 1070.
Related Reading
Source: EVGA