Power Consumption
For our power consumption readings, we run a Prime 95 load and slowly ramp up the number of threads in play, taking power data from the internal CPU registers that report for when turbo modes or thermal modes should activate. Depending on the CPU access, we can get data that varies from the full package down to individual cores, uncore, integrated graphics and DRAM controllers.
For the Ryzen CPUs, the API pulls out the total package power consumption first.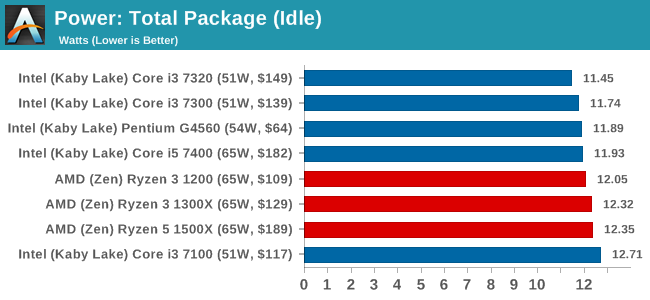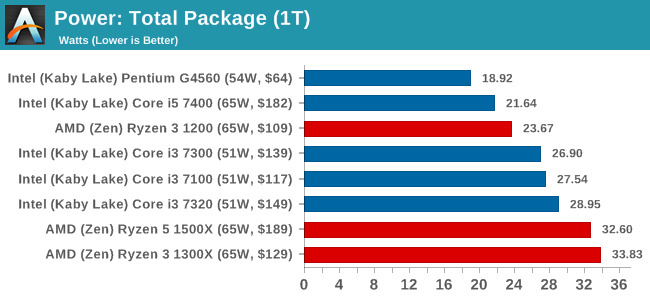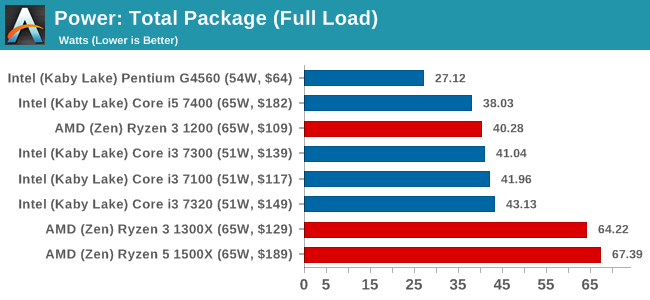 At idle, all the CPUs are pretty much equivalent. The cores are fully idle here, leaving the rest of the chip active enough for tick-over. As we ramp up the load, the higher-frequency Ryzen CPUs move towards their 65W TDP, with the Ryzen 3 1300X almost being spot on at 64.2W. The Intel CPUs are clocked higher, but only have two cores to contend with. The Ryzen 3 1200 is clocked lower than the Ryzen 3 1300X, hitting a better efficiency point in the Zen design. This ultimately bodes well for upcoming quad-core SKUs in laptops.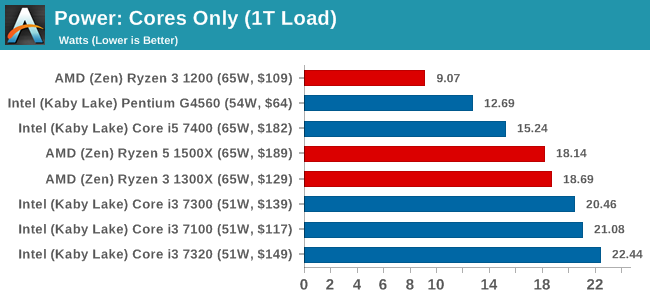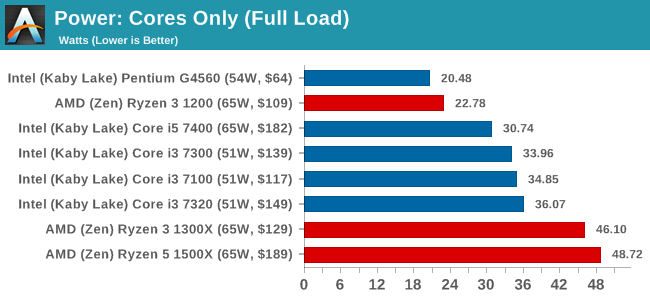 One of the odd things about the power consumption of the Ryzen 3 CPUs is the difference between how much power the cores internally measure compared to the full power consumption of the package measured as a whole, including the Infinity Fabric, DRAM controllers, IO and such. For the Ryzen 3 1200 for example, at full load the package has a power consumption of 40.43 W total, but the cores only count for 23.05W, leaving 17.38W on the table for the non-core elements in the chip. If we compare that to the Ryzen 5 1500X, we have 68.79W for the package and 49.69W for the cores, a 19.1W difference. For the Ryzen 7 1700X, it becomes 81.51W for the package and 62.10W for the cores, a 19.4W difference.
On the high-end chips, the difference is a smaller portion of the full power consumption, but on the Ryzen 3 processors the cores are only 57% of the power consumption, leaving 43% for the rest of the chip. A lot of this power could be the inter-CCX infinity fabric path, which means that packages like EPYC are giving away a lot of power to IF. If it is more other features, it could spell a number of problems for upcoming mobile chips, limiting the lower bounds of the power consumption. Naturally, I actually want to get my hands on to an EPYC processor in my own lab to see if we can pin down what is happening here.