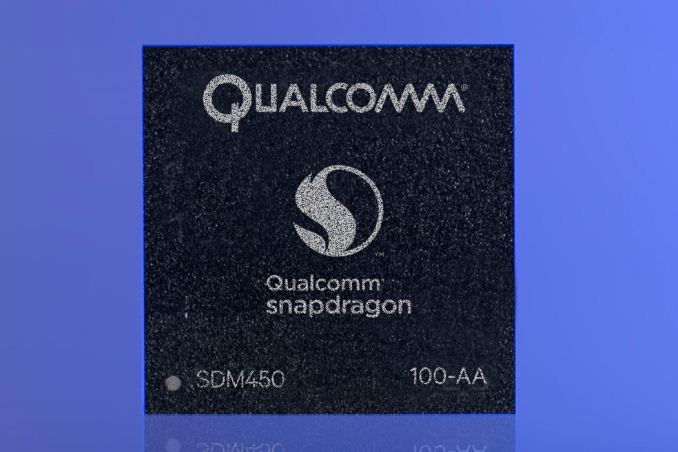 Kicking off today is second Mobile World Congress of the year, MWC Shanghai. As the de facto home of smartphone manufacturing, and home for an increasing number of major mobile device vendors, the tradeshow has taken on increased importance in recent years. This year is no exception, with several different announcements of note coming out of the show.
Starting things off for everyone is Qualcomm, who is at the show to announce their latest mainstream Snapdragon 400 series SoC: the Snapdragon 450. The successor to Qualcomm's 2016 Snapdragon 435, the Snapdragon 450's biggest claim to fame is also its smallest: it will be the first Snapdragon 400 series SoC to be fabbed at 14nm, finally moving Qualcomm's mainstream SoC lineup off of 28nm LP and on to a more recent and more power efficient manufacturing node.
Qualcomm Midrange Snadpragon Family
SoC
Snapdragon 450
Snapdragon 435
Snapdragon 625
CPU
4x A53 @ 1.8GHz

4x A53 @ 1.8GHz
4x A53 @ 1.4GHz

4x A53 @ 1.4GHz
4x A53 @ 2.0GHz

4x A53 @ 2.0GHz
Memory
1x 32-bit LPDDR3
1x 32-bit @ 800MHz
LPDDR3

6.4GB/s b/w
1x 32-bit @ 933MHz
LPDDR3

7.45GB/s b/w
GPU
Adreno 506
Adreno 505
Adreno 506
Encode/
Decode
1080p
H.264 & HEVC (Decode)
1080p
H.264 & HEVC (Decode)
2160p
H.264 & HEVC (Decode)
Camera/ISP
Dual ISP
13MP + 13 MP (Dual)
21MP (Single)
Dual ISP
8MP + 8MP (Dual)
21MP (Single)
Dual ISP
24MP
Integrated
Modem
"X9 LTE" Cat. 7
300Mbps DL 150Mbps UL

2x20MHz C.A.
(DL & UL)
"X9 LTE" Cat. 7
300Mbps DL 100Mbps UL

2x20MHz C.A.
(DL & UL)
"X9 LTE" Cat. 7
300Mbps DL 150Mbps UL

2x20MHz C.A.
(DL & UL)
USB
3.0
w/QuickCharge 3.0
2.0
w/QuickCharge 3.0
3.0
w/QuickCharge 3.0
Mfc. Process
14nm
28nm LP
14nm
At a high level, the Snapdragon 450 is a very straightforward successor to the 435. Qualcomm has taken most of the 435's design principles and brought them forward for the smaller Snapdragon 450. For example, we're still looking at an octa-core ARM Cortex-A53 implementation, however thanks to the 14nm process Qualcomm has been able to bump up the maximum clockspeed from 1.4GHz to 1.8GHz. Similarly, Qualcomm has updated the GPU from an Adreno 505 on the Snapdragon 435 to an Adreno 506 on the Snapdragon 450, with the more powerful GPU said to offer 25% better performance.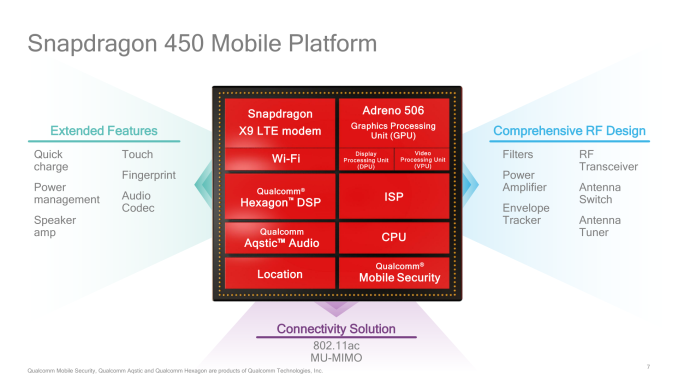 Meanwhile more significant upgrades have been made to the ISPs and USB controller. Similar to the Snapdragon 435, the 450 supports a single camera at up to 21MP. However if it's used in a dual camera configuration – as is increasingly popular these days for artificial Bokeh and telephoto modes – then it can handle a pair of 13MP sensors, up from 8MP on the Snapdragon 435, and a notable improvement as 13MP seems to increasingly be the baseline for midrange phones. Qualcomm's video processor blocks have also been improved, in part to keep up with the improved sensor, and as a result the 450 can now capture video at up to 1080p60, doubling the maximum framerate over the Snapdragon 435's 1080p30 limit. Meanwhile the USB controller has been upgraded from USB 2.0 to USB 3.0, allowing for much faster transfers from Snapdragon 450 devices. And, like its predecessor, the 450 also supports QualComm's QuickCharge 3.0 tech over said USB port.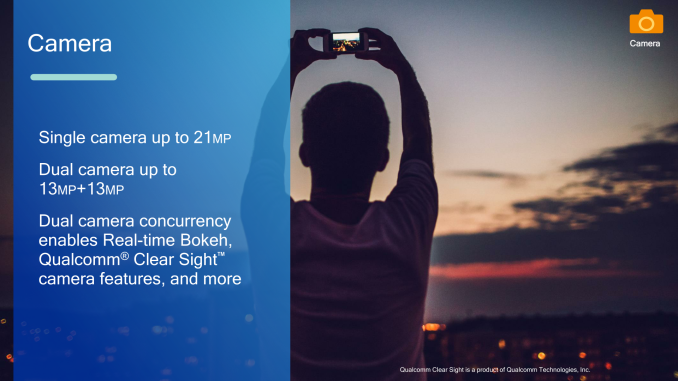 Cellular connectivity is once again provided by Qualcomm's Integrated X9 modem, which supports LTE Category 7 down and Category 13 up, for a maximum of 300Mbps down and 150Mbps up respectively. Interestingly, on the Snapdragon 435, Qualcomm limited that SoC for just 100Mbps up despite the fact that Category 13 allows for 150Mbps; so this is the first X9-equipped Snapdragon 400 SoC to actually be able to hit 150Mbps up, going by Qualcomm's specifications. The 450 also retains the 435's Hexagon DSP, however like so many other parts of the SoC, the 450's DSP has been further enhanced to reduce power consumption.
Last but not least, Qualcomm is promising some solid battery life improvements with the Snapdragon 450 over its 435 predecessor. While the company has invested some of their 14nm gains in improving clockspeeds throughout the chip, they've also retained a lot of those gains for reducing overall power consumption, a philosophy similar to what they did with the Snapdragon 835 this year as well. To that end the company is promoting that Snapdragon 450 phones will be able to deliver 4 hours more battery life relative to 435 phones.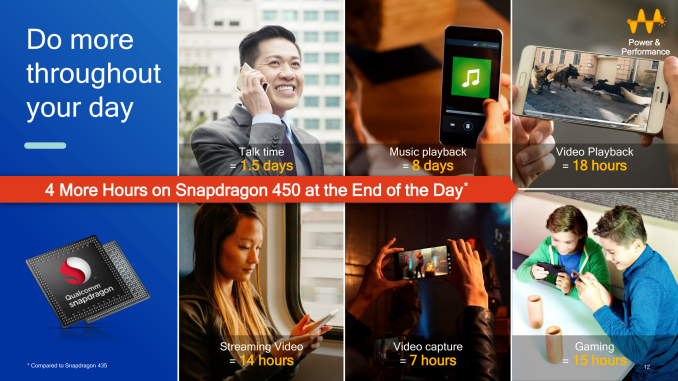 Overall it's interesting to note just how much the Snapdragon 450 sounds a lot like Qualcomm's Snapdragon 625, their 14nm SoC from 2016. Both chips use a octa-A53 CPU configuration, X9 LTE modem, and Adreno 506 GPU. In fact the Snapdragon 450 is even pin compatible with the Snapdragon 625, which means that handset manufacturers can immediately begin working with the new SoC in existing designs. However given this close similarity, I'm also left to wonder whether the Snapdragon 450 is a new die, or a cut-down 625. In any case, the two chips still have some differences between them: particularly that the Snapdragon 625 clocks higher and features a more powerful ISP and video decode block.
Wrapping things up, as is often the case with Qualcomm's SoC reveals, today's announcement comes ahead of vendor sampling and wide release. The company will begin commercial sampling in Q3 of this year, and the chip should show up in retail devices by the end of the year.
Source: Qualcomm