ThermalTake sent us their PurePower 420W APFC for our last power supply roundup<link>, but it could not keep up with Enermax and Antec. The 480W PurePower supply is a little more powerful than the previous one we looked at, so we have slightly higher expectations.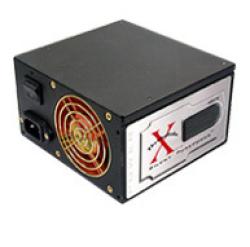 Click to Enlarge
Like Antec's TrueControl, the ThermalTake PurePower looks like a very different power supply than the original 420W power supply from several months ago. Also like the TrueControl, this power supply comes with a forward fan control. There is no ability to control the fan speed of the fans connected to the unit, but the control does allow manipulation of the onboard fans. Interestingly enough, the PurePower 480W comes with 2 different control panels, (one gold, and one silver). If you happen to prefer one color over another, ThermalTake allows you to choose one instead of another.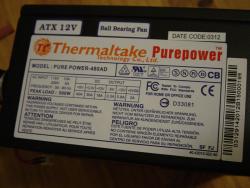 Click to Enlarge
The ThermalTake PurePower 480W includes on SATA connection. Most serial ATA hard drives come with SATA adaptors anyway, but it is good to see some manufacturers anticipating the mainstream adoption of the technology. We continue to expect more power supplies to come with these connectors.
Wattages
| | | | | | | | | | |
| --- | --- | --- | --- | --- | --- | --- | --- | --- | --- |
| | 3.3V | 5V | 12V | -12 | -5 | +5vsb | combined theoretical | actual combined | advertised total |
| ThermalTake PurePower 480W | 99.00 | 200.00 | 216.00 | 9.60 | 1.50 | 10.00 | 299.00 | 240.00 | 480.00 |
The PurePower 480W wattages are well rounded for either an Intel or AMD system. One thing to note is that the combined +3.3V/+5.0V wattages are very high at 240W. There is plenty of muscle in this power supply for an AMD or Intel system.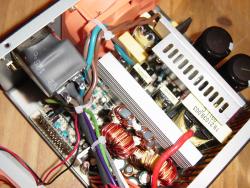 Click to Enlarge
The ThermalTake PurePower 480W is a moderately priced power supply, about $74. However, considering the 420W PurePower cost $110 last year, we can tell that ThermalTake is making progress in producing a better product for lesser cost.