We had a lot of troubles with Vantec's last power supply, the Stealth.  We found an error in the production label, which quickly led to a change in all the labeling on all Stealth power supplies.  If anything, we were glad we could make a difference to change a product before it was too late.  Vantec took a lot of our comments to heart, and thus put out a second revision on the Stealth.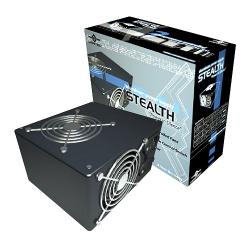 Click to Enlarge
We were told that some of the changes in the power supply included tighter manufacturing specifications and an overall better performing final product.  Vantec also took the liberty of lowering the price of the unit a bit to avoid discouraging system builders.  With those new elements in mind, we set out to try one more time. 
Wattages
| | | | | | | | | | |
| --- | --- | --- | --- | --- | --- | --- | --- | --- | --- |
|   | 3.3V | 5V | 12V | -12 | -5 | +5vsb | combined theoretical | actual combined | advertised  total |
| Vantec Stealth 520W | 85.80 | 260.00 | 336.00 | 12.00 | 4.00 | 10.00 | 345.80 | 260.00 | 520.00 |
Notice that the combined rail on the 520W Stealth is 260 watts.  Interestingly enough, +5.0V rail comes in at 260W.  This is unusually high, and as a result the +3.3V rail is unusually low.  We definitely would not recommend this power supply for AMD system builders, especially overclockers. (Intel system builders will have no problems with wattages).
The saving grace for Vantec comes in the features.  Later in this article we will explain why we are not crazy about the fan control switches, but the cable management, serial ATA connectors, and universal ATX adaptor are great additions. The 24 pin ATX cable will only show full usefulness on Intel server motherboards, but the 24pin to 20pin adaptor is included for standard desktop motherboards as well. The Stealth also comes with 9 standard molexes, which makes sense if this power supply is to target server markets.
By far, the best feature is the external AC plug.  Perhaps it is sort of a nostalgic addition for power supplies, but it definitely is an option that makes sense.  For example, plugging your speakers into the Stealth assures that they are off when your computer is off.  Thus, the speakers do not crackle or produce feedback when shutting down. We don't really recommend connecting a monitor to this outlet, particularly CRTs. You can really damage a CRT by pulling the power on it, so if your computer shuts down unexpectedly a lot, you will have a tough time keeping your CRT in good health.
The Stealth is not a cheap power supply.   Our 520W version costs about $120, which limits their ability to reach out to system builders with shallow pockets. Most of this cost is attributed to the aluminum construction, but other things such as the fan control also kick the price up.