First Thoughts
Mobile SoCs are packed with specialized processors: CPU, GPU, high-performance DSP (compute), low-power DSP (sensor hub), modem DSP (signal processing), ISP (image processing), fixed-function blocks (video, audio), etc. And while all of these pieces contribute to the overall user experience, some of them are difficult to quantify. The CPU and GPU remain vital to device performance and battery life, so it's still important to probe their capabilities.
Our initial testing shows that Snapdragon 835's Kryo 280 CPU is an octa-core, big.LITTLE configuration with four semi-custom A73 "performance" cores and four semi-custom A53 "efficiency" cores. Kryo 280's performance cores are pretty much equivalent to Kirin 960's A73 cores in both integer and floating-point IPC, but comparing them to Snapdragon 820's Kryo CPU shows mixed results: integer IPC improves but floating-point regresses.
In our limited system testing, the Snapdragon 835's IPC gains outweigh its losses, providing better overall performance than the Snapdragon 820/821 phones. Unsurprisingly, the Snapdragon 835 MDP/S matched the performance of the Mate 9's Kirin 960, which may not sound all that exciting, but considering our positive experience with the Mate 9, it's certainly not bad either.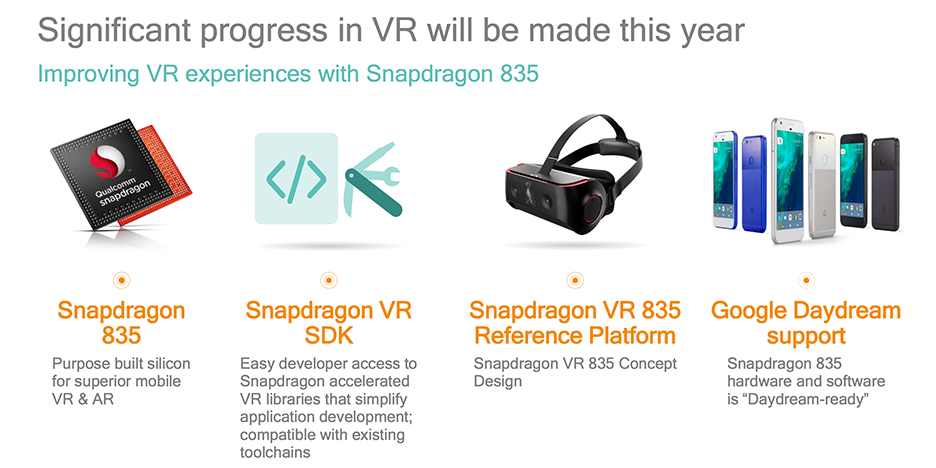 Qualcomm continues to push hard into VR/AR, not just with smartphones but stand-alone HMDs too. The high resolution and low latency requirements for these experiences suddenly make the GPU a bottleneck once again. The Snapdragon 835's updated Adreno 540 GPU, through a combination of microarchitecture tweaks and a higher peak operating frequency, is another evolutionary step along the VR path, delivering a 25% peak performance boost over Snapdragon 820's Adreno 530.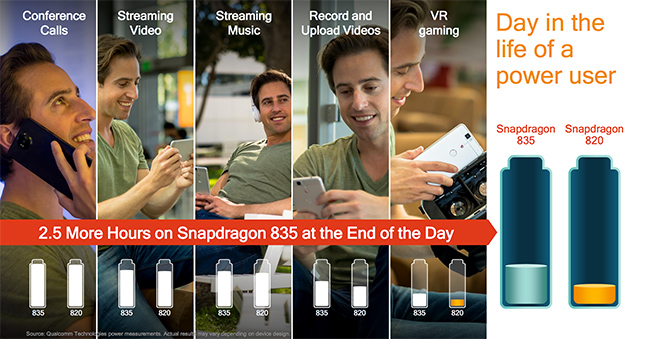 As noted earlier, all of these results came from pre-production hardware and software that's under Qualcomm's control, so performance could still go up or down once retail units begin shipping; however, based on these preliminary numbers and feature additions, the Snapdragon 835 looks like a solid evolutionary upgrade over the S820. The one glaring omission in this initial assessment, though, is power efficiency, which is critical to both battery life and sustained performance. The potential power savings from the move to 10nm and the CPU swap could have a larger impact on user experience than the small performance gains and new features.