Just last week we previewed Western Digital's brand new enterprise-class drive - the Raptor. The 10,000 RPM hard drive garnered quite a bit of attention, not because of its spindle speed, it's 8MB buffer or its 5 year warranty; the Raptor was thrown into the limelight because it can deliver all the specifications of a high-end SCSI drive, but with a Serial ATA interface.
For years, performance enthusiasts have asked why there hasn't been a 10,000 RPM IDE drive for the desktop, and for years the manufacturers have responded with a lack of demand for such a product.
Western Digital continues to believe that, which is why the Raptor is classified as an enterprise drive and not a successor to their highly successful Caviar line of desktop hard drives. But there are a number of enthusiasts that are using 15,000 RPM Seagate drives in their desktop systems, so the Raptor has a viable user base in a non-enterprise market as well.
All of this discussion about the potential uses for the Raptor is meaningless if the drive cannot deliver world class performance and based on our preview, the Raptor had a lot of growing up to do before it could achieve that goal.
Shortly after we published our preview, we were contacted by a number of other OEMs and system integrators that had been playing around with similar beta samples of the Raptor drive. Everyone that contacted us had similar disappointing performance results, but one company in particular mentioned the possibility that Western Digital disabled write caching on all early Raptor samples. We worked on seeing if there was a way to enable the write cache on our sample, but the end result was that the drive would need a firmware update.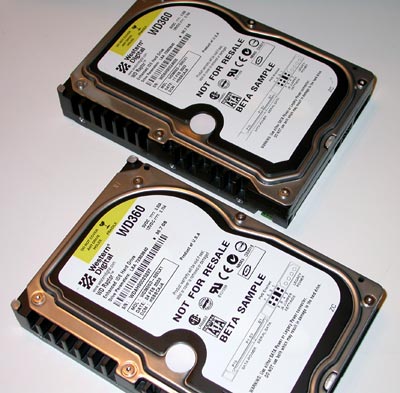 The new and old Raptor
Western Digital contacted us to arrange for a new sample, with write caching enabled, to be provided. They confirmed what we had heard, as well as mentioned that there were other optimizations present in the shipping firmware that weren't there before; by far the biggest performance improvement would be due to enabling write caching. A day later, we had a new Raptor drive in our hands and started putting it through the paces…