Breeding a Raptor
In talking to Western Digital, we managed to get a bit of clarification about exactly what technology was borrowed from previous drives in order to maintain the Raptor's lower-than-SCSI price point.
As you know from our original article, the Raptor is a single platter design with an initial capacity of 36GB. The reason Western Digital went for a relatively low capacity for the Raptor is because of the target market (we'll address this more in the next section). With the vast majority of SCSI drives in use in the enterprise market limited to 18 - 36GB size ranges, Western Digital figured a 36GB introductory capacity would make sense. Since there's only one platter in action on the Raptor, there are clear chances to increase capacity simply by moving to more platters, but for the near future you won't see more than a 36GB capacity available.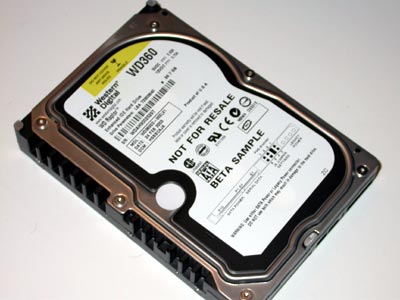 Western Digital expects 36GB Raptor drives to sell for around $160, compared to $200+ for most 36GB 10,000 RPM SCSI offerings. Where's the 20% lower price coming from?
It's not coming from smaller capacities because we're comparing apples to apples here, and it's definitely not coming from the interface, because implementing a Serial ATA connector vs. a SCSI connector doesn't reduce the overall price of a drive by 20%.
It turns out that Western Digital was able to save a significant amount by reusing the drive electronics from their 7200 RPM Special Edition Caviar drives. A combination of essentially "free" electronics from their Caviar line and a slightly slower actuator assembly than what the fastest SCSI drives use left Western Digital with a SCSI class drive, at a 20 - 30% lower cost.