Conclusion
In this review we were able to source the three 6th Generation Intel Core i3 processors with a thermal design power of 51W. These three are the main focus of the 6th Gen Core i3 range, which also features lower power T/TE parts and a reduced graphics P SKU. The Core i3 line are characterized by their design: two cores with Hyperthreading, no Turbo boost, no overclocking, support of ECC and SGX/MPX, but no support for TSX. Prices for the Core i3 processors range from $117 to $149-$157, making them an interesting choice for ~$800 gaming PC builds.
Intel's Skylake i3 LGA1151 CPUs
C/T
L3
Base
Turbo
HD
HD Turbo
TDP
MSRP
Core i3-6320
2/4
4 MB
3.9
-
530
1150
51W
$149 OEM
$157 box
Core i3-6300
2/4
4 MB
3.8
-
530
1150
51W
$138 OEM
$147 box
Core i3-6100
2/4
3 MB
3.7
-
530
1050
51W
$117
Core i3-6300T
2/4
4 MB
3.3
-
530
950
35W
$138
Core i3-6100T
2/4
3 MB
3.2
-
530
950
35W
$117
Core i3-6100TE
2/4
4 MB
2.7
-
530
1000
35W
$117
Core i3-6098P
2/4
3 MB
3.6
-
510
1050
54W
$117
This review tested the Core i3-6320, the i3-6300 and the i3-6100. All three differ in their base frequency in a regular fashion, going from 3.9 GHz to 3.8 GHz and 3.7 GHz respectively. The Core i3-6100 also has another two adjustments: the integrated graphics also comes down by 100 MHz, and it only has 3 MB of L3 cache rather than 4 MB like the other two. This cache deficit affects several benchmarks in our test, although it is workload dependent and most of the time acts similar to another 100 Mhz CPU frequency decline. But, at $19 less than the step up to the Core i3-6300, it sits higher on the price/performance ratio.
The main competition for these processors comes from three directions.
First, Intel is its own competition - while we typically talk about people upgrading from the previous generation to the new generation, the Core i3 isn't necessarily a part that has a similar refresh cycle, but Intel still has to convince users on the 2-5 year upgrade cycle that moving from i3 to i3 is a worthy pursuit.
The next two directions come from AMD, in the form of the FX CPUs and A10 APUs. The FX-6300 and FX-8300 families of CPUs are several years old in terms of microarchitecture, but offer six and eight threads respectively at nearly similar price points (the FX-6350 is more in line with the Core i3s than the FX-8350). On the APU side, the A10-7860K and A10-7890K are both in the right price range and come with AMD's upgraded CPU cooler, which we recently reviewed and gave an award as the best bundled stock CPU cooler on the market. The APUs, while fairly newer than the FX parts, are known for their strong integrated graphics performance that easily surpasses Intel's gaming performance at this price point. It is worth noting that the older Intel CPUs and the AMD competition both use the higher powered DDR3 memory interface, while the Skylake-based Core i3 CPUs in this review are on the newer DDR4.
From our results, we can track whether the Core i3 parts have the best price/performance: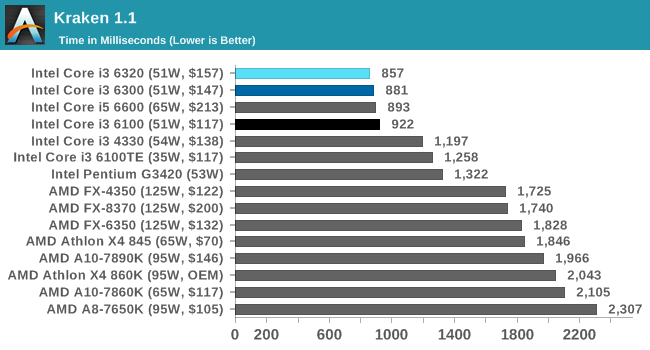 In our web tests using Chrome, Intel CPUs seem to have a significant advantage here which might be a deal breaker for users who spend a lot of time online.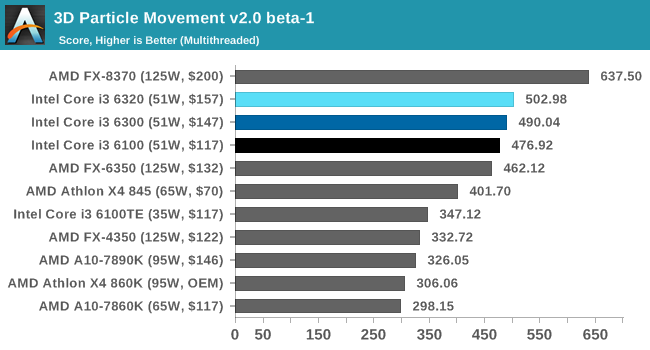 On our updated 3DPMv2 scientific benchmark, good cache management, a high IPC, and a high thread count is key to the results here. The Core i3 parts sit above the much older FX-6350 despite having two fewer threads, but AMD's latest microarchitecture in the Athlon X4 845 is close and gets a better price/performance rating.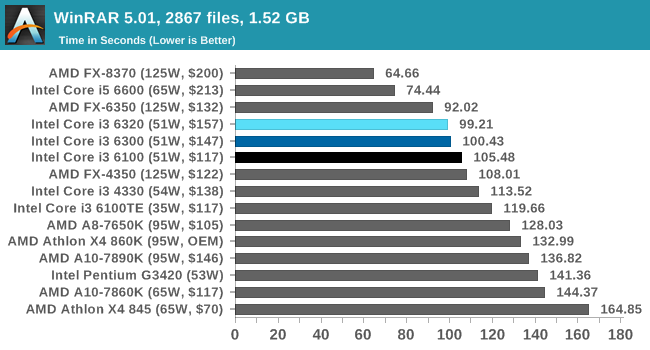 WinRAR is a variable threaded workload that requires large caches, high IPC and preferably a high frequency as well. The higher thread CPUs sit at the top here, followed closely by the set of Core i3 parts.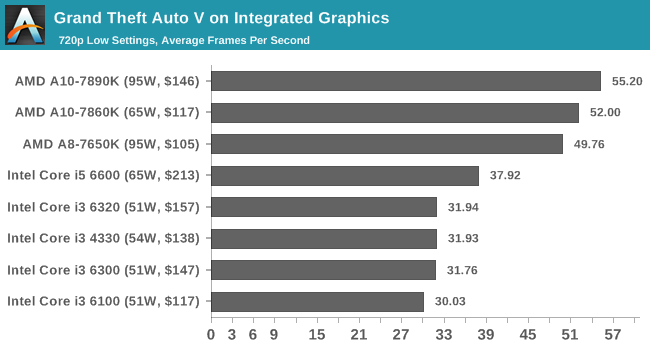 For integrated graphics, the Core i3 parts have no answer to what AMD offers at this price point. This is an important aspect, as Intel struggles to offer a part that can cope with year-old premium games at 30 FPS average at super low resolution and settings, let alone 30 FPS minimum (eSports may be a different story). The AMD parts are sole solution for premium gaming on integrated graphics at this price.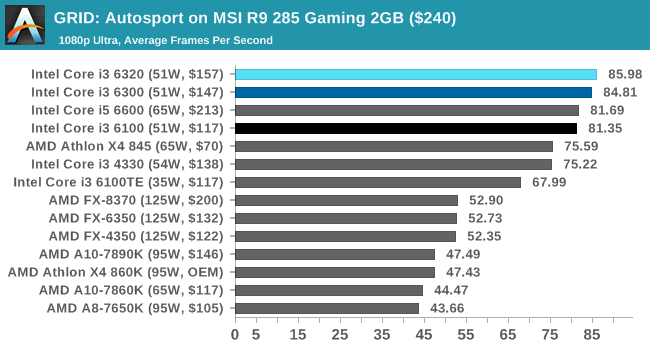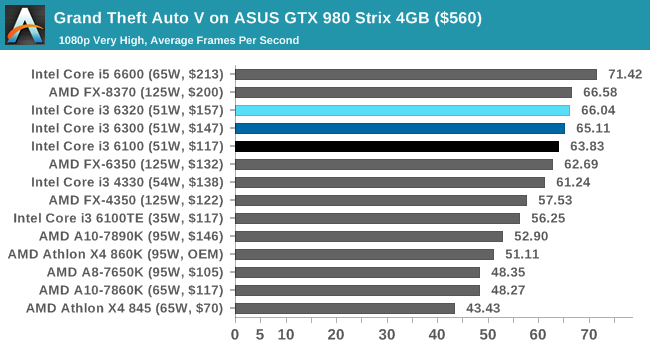 For discrete gaming, the results are particularly game and GPU dependent. In some cases, such as GRID with a mid-range AMD GPU, the Intel CPUs take the top spots with the latest Carrizo CPU from AMD coming up close behind. However, in other cases such as GTA on a high-end NVIDIA GPU, having more cache and physical cores in a modern game can push ahead of the Core i3, albeit at a higher price, and the Carrizo CPU comes in at the bottom due to its 2 MB of last-level cache.
Final Words
The Skylake Core i3 parts represent the best 'all-round' CPUs at their price. Choosing one for a system guarantees a good return in performance, and while it might not always be the best for specific applications, it's certainly near the top for almost everything. There were no circumstances where the Core i3-6100 is playing significant catchup to the other two, or that the lower cache was more of a hindrance. For ~$800 gaming builds that $30 difference between the i3-6100 and the i3-6320 could be spent elsewhere in the system. In our gaming tests the i3-6100 was only 2-4 FPS down (~5%).
Out of the three we've tested today, I would have to go for the Core i3-6100 as the processor of choice. For price and performance, the lower frequency and less cache only amounts to a 2-4% deficit at best compared to the next CPU up. The savings for 2-4% performance comes in at $30, or 20% cheaper, when we compare boxed versions.