Power, Temperature, & Noise
As always, last but not least is our look at power, temperature, and noise. Next to price and performance of course, these are some of the most important aspects of a GPU, due in large part to the impact of noise. All things considered, a loud card is undesirable unless there's a sufficiently good reason – or sufficiently good performance – to ignore the noise.
GeForce Video Card Voltages
GTX 1060FE Boost
ASUS 1060 OC Boost
GTX 1060FE Idle
ASUS 1060 OC Idle
1.062v
1.062v
0.625v
0.625v
Starting with voltages, unsurprisingly we find that the GP106 GPU in GTX 1060 operates in the same voltage range as the GP104 parts, topping out at 1.062v according to GPU-Z. That said, when putting the card through its paces, it seemed like it needed to go to the maximum voltage less often than GTX 1080/1070 did. This bodes well for power efficiency, but it also means that the temperature compensation effect is a bit different for GTX 1060: voltage has room to go up for a bit before clockspeeds finally need reined in.
Moving on, let's take a look at average clockspeeds. GTX 1060 has the same base GPU clockspeed as GTX 1070, but a slightly higher boost clockspeed rating. So if NVIDIA's boost ratings are accurate, GTX 1060 should maintain a slightly higher average clockspeed.
GeForce Video Card Average Clockspeeds
Game
GTX 1070FE
GTX 1060FE
ASUS GTX 1060 OC
Max Boost Clock

1898MHz

1911MHz

2025MHz

Tomb Raider

1721MHz

1860MHz

2012MHz

DiRT Rally

1797MHz

1835MHz

2012MHz

Ashes

1797MHz

1835MHz

2025MHz

Battlefield 4

1771MHz

1835MHz

2012MHz

Crysis 3

1759MHz

1835MHz

2012MHz

The Witcher 3

1759MHz

1835MHz

2012MHz

The Division

1771MHz

1822MHz

2025MHz

Grand Theft Auto V

1822MHz

1847MHz

2025MHz

Hitman

1797MHz

1835MHz

2025MHz
And this is what we see. In fact the average clockspeed is a little higher than I would have expected. GTX 1060 never averages less than 1822MHz, which is a good 100MHz over its rated boost clock. Part of this comes down to the fact that the GTX 1060FE never temperature throttles (more on this later), which means it's held back by only a combination of TDP limits, utilization, and temperature compensation.
Meanwhile the factory overclocked ASUS Strix GTX 1060 OC and its overbuilt design mean that the card essentially never has to yield to anyone or anything. With a maximum boost bin of 2025MHz, the average game clocks are either at 2025MHz or just a single boost bin lower at 2012MHz. Suffice it to say, the only thing stopping the GP106 GPU in this card from running faster is that it has run out of boost bins to reach for.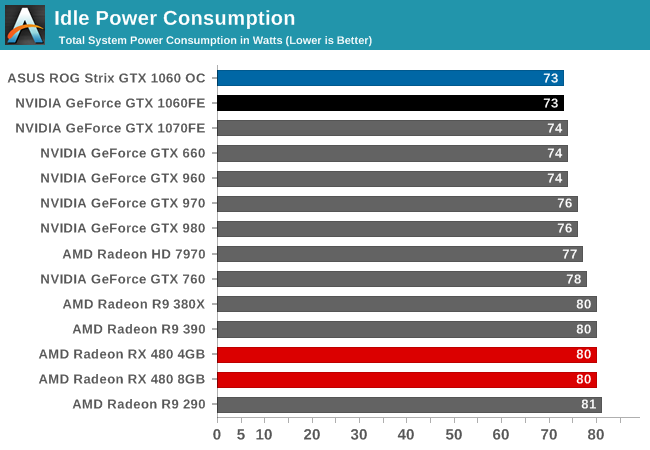 With clockspeeds out of the way, let's get down to business with power numbers. As we've already seen with GTX 1080/1070, Pascal's idle power consumption looks quite good, and GTX 1060 continues this trend. At 73W at the wall, the low idle power consumption of GTX 1060 is crowded out by the rest of our testbed components. It also highlights that NVIDIA still holds an edge here versus AMD cards.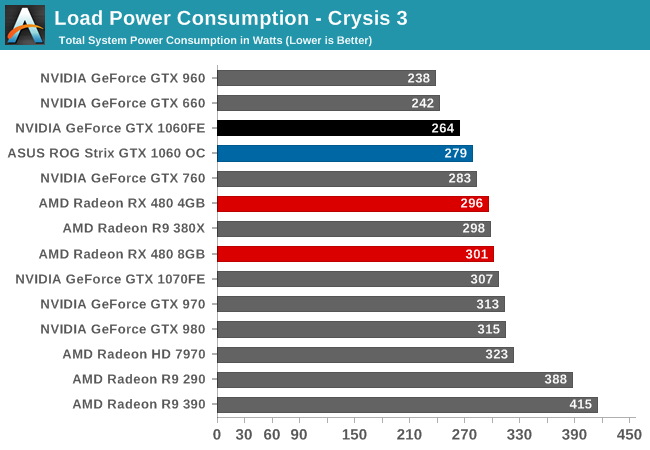 With load power consumption under Crysis 3, GTX 1060 slots in right where we expect it for a 120W TDP card. In practice power consumption is higher than past GTX x60 cards under Crysis 3 due to the card's higher performance, but otherwise it's second to none. GTX 1060FE holds a significant power consumption advantage over GTX 1070FE, drawing 43W less at the wall, illustrating the power/performance tradeoff as we climb up and down the NVIDIA product stack.
Meanwhile GTX 1060 holds a similarly impressive lead over AMD's Radeon RX 480. Against the 8GB card, NVIDIA's mainstream competitor draws 37W less for 14% better gaming performance. Since Maxwell NVIDIA has enjoyed a significant power efficiency advantage, and while AMD's recent Polaris architecture has helped to close the gap, GTX 1060 proves that NVIDIA continues to execute well here. In the big picture the framerate advantage is the icing on the cake for NVIDIA; it's the power advantage that helps to cement any NVIDIA claims of an architectural advantage.
On that note though, one interesting observation is that when looking at perf-per-watt from a performance-constant point of view – that is, how power consumption changes for a given performance level – NVIDIA's power consumption gains are good, but not fantastic. GTX 1060 saves 51W at the wall over GTX 980, a 165W TDP part. Though not an exact science, the power savings are the ballpark of 30% for a full generation node shrink plus FinFET implementation.
Digging a bit deeper, what we see is that while NVIDIA enjoys a power reduction, it's less than the relative reduction in GPU size. A lot of this, I suspect, comes down to the fixed function blocks of the GPU that are always present: the display controller, PCIe controller, memory controllers, etc. These are still active on GP106, and because the GPU has fewer SMs, they account for a relatively larger portion of the TDP budget. Which is not to say that TSMC's 16nm FinFET process hasn't paid off well for NVIDIA – one only needs to look at how much performance has increased at 120W – but it would appear that node shrinks scale up performance to a greater degree than they scale down power consumption.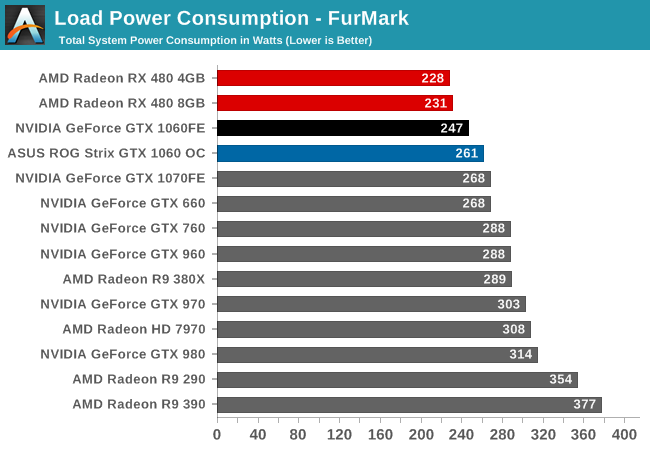 As for load power consumption under FurMark, we're in an interesting scenario. In practice the GTX 1060 cards draw more power than the RX 480 cards, but at the same time neither of the GTX 1060 cards need to temperature throttle here. The situation is still a bit more complex than that, but ultimately this is why I have more faith in the Crysis 3 numbers, as FurMark in a backwards sort of way can reward cards that throttle too soon.
Meanwhile looking at the ASUS GTX 1060 in particular, while ASUS doesn't publish an official TDP for their cards, this test strongly hints that their card has a higher default TDP than the NVIDIA standard 120W. NVIDIA does allow manufacturers to do this within reason – when cards are built to handle higher TDPs – and it looks like ASUS has gone ahead and done just this. The Strix GTX 1060 OC's TDP limit is likely around 130-135W.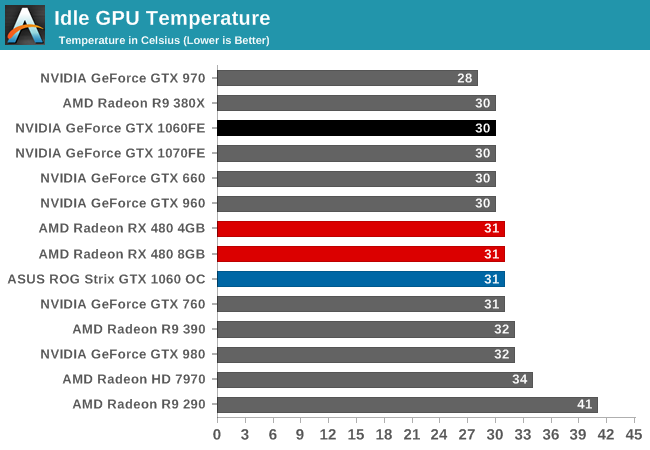 Up next we have idle temperatures, with no real surprises in store. GTX 1060FE is built similarly to NVIDIA's other blowers, and the ASUS Strix is a large, open air cooled card. Though it is worth noting that in the case of the latter 31C is with zero fan speed idle active, meaning that ASUS's card is able to achieve great idle temperatures without any active cooling to speak of.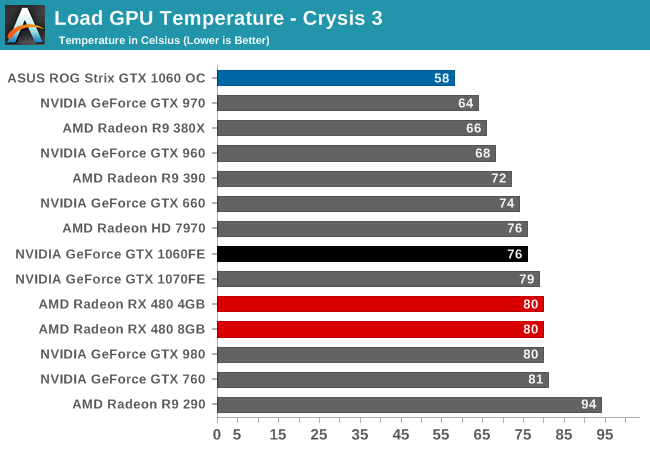 Moving on to load temperatures, both GTX 1060 cards perform well here. As I've mentioned earlier, the GTX 1060FE never temperature throttles; NVIDIA's cooler is powerful enough (and tuned such) that the card doesn't need to compromise between temperatures and performance. This is basically the best case scenario for a blower, and one admitted that more powerful cards can't usually hit without compromising on acoustics.
As for the ASUS Strix GTX 1060, it's in a class all of its own. At 58C it's not only ahead of other open air cooled cards like the GTX 970, but it's downright cool for a video card under load. This is the advantage ASUS enjoys for overbuilding the card like they did: it doesn't take very much effort to cool a 120W video card with a triple fan cooler.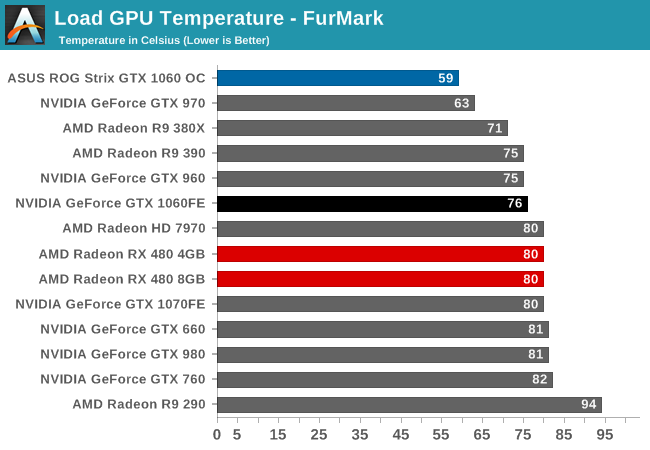 The story is much the same under FurMark. The GTX 1060FE still doesn't temperature throttle – though to be clear, it's absolutely TDP throttling – keeping it at 76C. Meanwhile compared to Crysis 3, the ASUS card warms up by all of 1C to 59C.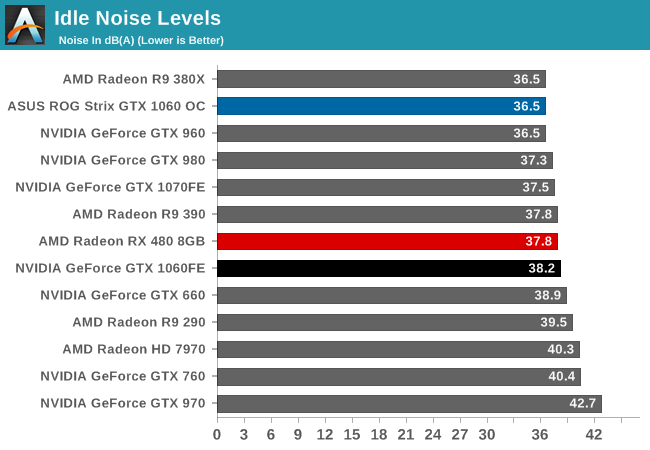 Finally, let's take a look at noise, starting with idle noise levels. As the ASUS Strix is a zero fan speed idle card, it joins the other cards at the top of our idle noise chart, which happens to be the noise floor. The GTX 1060FE, meanwhile, performs just a bit worse than both the GTX 1070FE and RX 480, idling at roughly 1dB and 0.5dB higher respectively.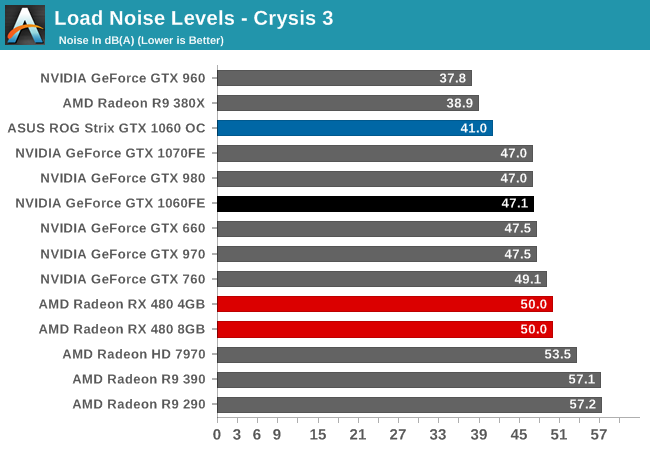 Shifting to load noise, we'll start with the GTX 1060FE. NVIDIA's card may not be built with the full metal shroud of their high-end cards, but its noise performance is virtually identical. At 47.1dB it's tied with the GTX 980 and GTX 1070FE. On the one hand this means that the GTX 1060FE doesn't really gain anything with respect to acoustics despite its lower TDP, but on the other hand this is a significantly cheaper card than either of the NVIDIA high-end cards. In any case, the GTX 1060FE's acoustic performance is right where we'd expect to see it, and competitive with the best of the blower style cards we have in our charts. This is also in significant contrast to the reference RX 480, which although it also uses a blower style cooler, can't manage the same acoustics, leaving the GTX 1060FE 2.9dB quieter.
As for ASUS's Strix GTX 1060 OC, the open air cooled card is in a league of its own, generating very little noise thanks to its large cooler. And in any other review, a 41dB load noise level would likely top the chart. However the similarly open air cooled R9 380X and GTX 960 do edge out the ASUS card here, likely due to the fact that the cooling profile on the ASUS card is a bit more aggressive (e.g. sub-60C temps). Either way this is a strong performance for an open air cooled card.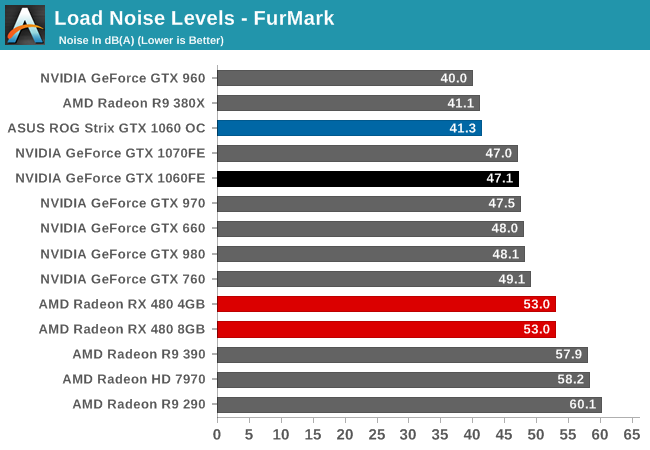 Finally, under FurMark the story with acoustics is basically unchanged. Neither GTX 1060 card has to ramp up much further to handle the load, so acoustic performance is unfazed. This also allows the GTX 1060FE to edge ahead of the GTX 980 (or rather, not fall behind), as the GTX 980 had to ramp up a bit more under this test thanks to its higher TDP.