Overclocking
For our final evaluation of our GTX 1060 cards, let's take a look at overclocking.
We'll start things off with NVIDIA's GeForce GTX 1060 Founders Edition. This card has a 3+1 power delivery system and a 116% TDP limit. Like the earlier GTX 1080 and 1070 cards, the GTX 1060FE can be "overvolted" to 1.093v to unlock an additional boost bin.
GeForce GTX 1060FE Overclocking
Stock
Overclocked
Core Clock
1506MHz
1706MHz
Boost Clock
1709MHz
1909MHz
Max Boost Clock
1911MHz
2100MHz
Memory Clock
8Gbps
9Gbps
Max Voltage
1.062v
1.093v
We were able to overclock the GTX 1060FE's GPU an additional 200MHz (12%), bringing the boost clock to 1909MHz. Unsurprisingly, this is very similar to the GTX 1080 and 1070, both of which overclocked by around 200MHz as well. Consequently it looks like both GP104 and GP106 seem to have similar voltage/frequency curves. Meanwhile we were able to push the memory another 1Gbps (13%) to 9Gbps.
Our other GTX 1060 is ASUS's ROG Strix GTX 1060 OC. This card features a more advanced cooler and 6+1 power delivery system, but it also ships with a factory overclock. So all things held equal it's likely that there's not as much headroom for additional end-user overclocking. Meanwhile the card also ships with a built-in OC setting via ASUS's GPU Tweak II software, which offers a small, virtually guaranteed overclock.
ASUS Strix GTX 1060 OC Overclocking
Stock
OC Mode
Overclocked
Core Clock
1620MHz
1646MHz
1720MHz
Boost Clock
1848MHz
1874MHz
1948MHz
Max Boost Clock
2025MHz
2050MHz
2113MHz
Memory Clock
8.2Gbps
8.2Gbps
9.2Gbps
Max Voltage
1.062v
1.062v
1.093v
As expected, due to its factory overclock the ASUS GTX 1060 doesn't offer quite as much end-user overclocking. We were able to add another 100MHz (5%) to the GPU, half that of the stock clocked GTX 1060FE. Though it should be noted that in absolute terms the ASUS card has overclocked a bit farther than NVIDIA's card, with a base clock 14MHz higher and a boost clock 39MHz higher. Meanwhile we got a slightly higher memory overclock out of the card as well, with the card topping out at 9.2Gbps, 1Gbps (12%) over the card's shipping memory frequency.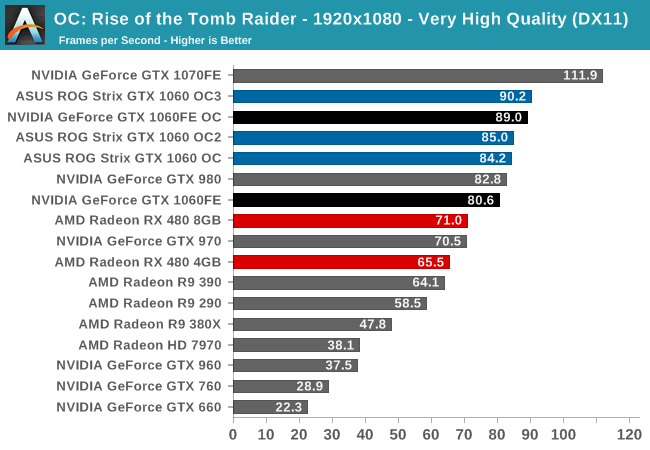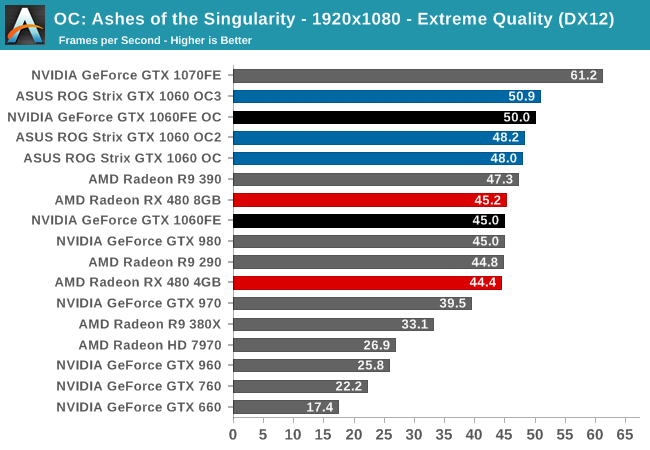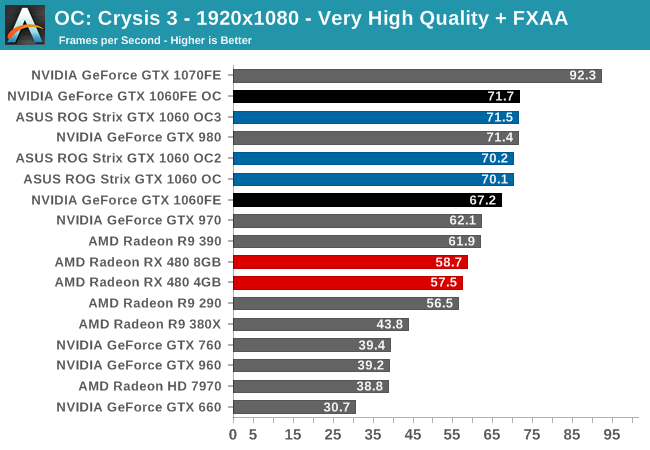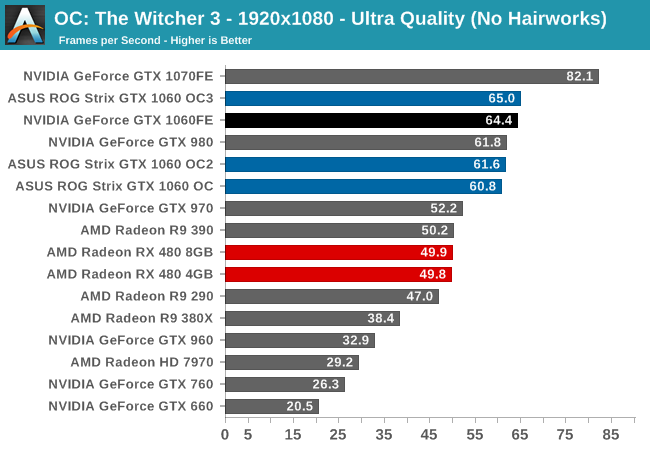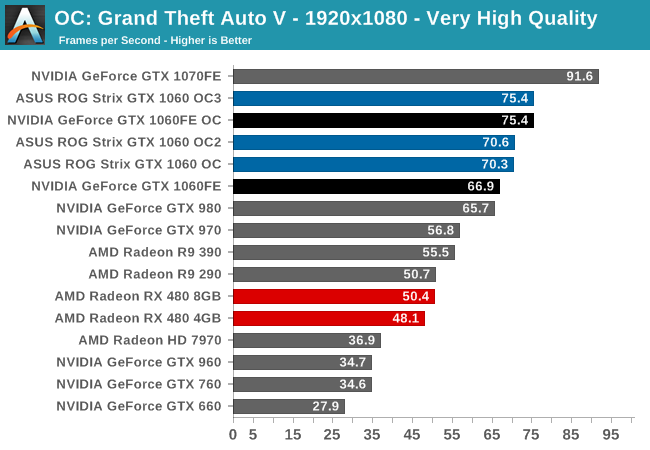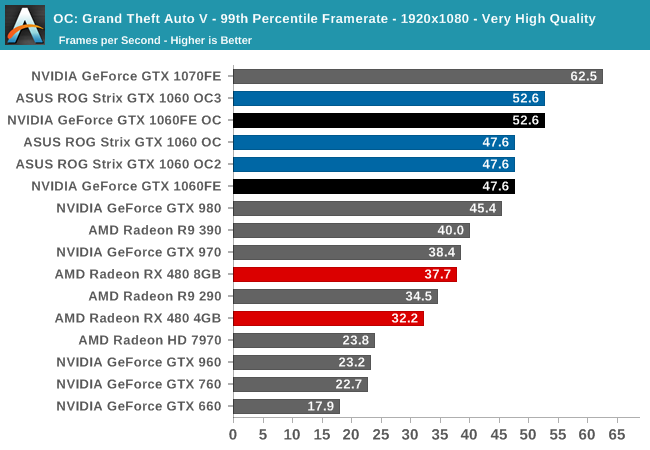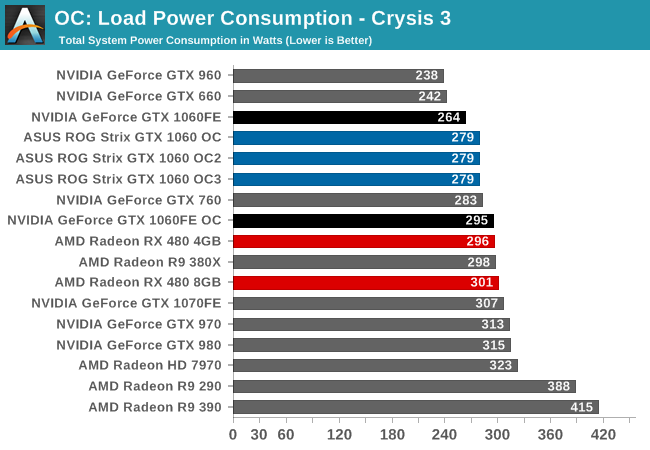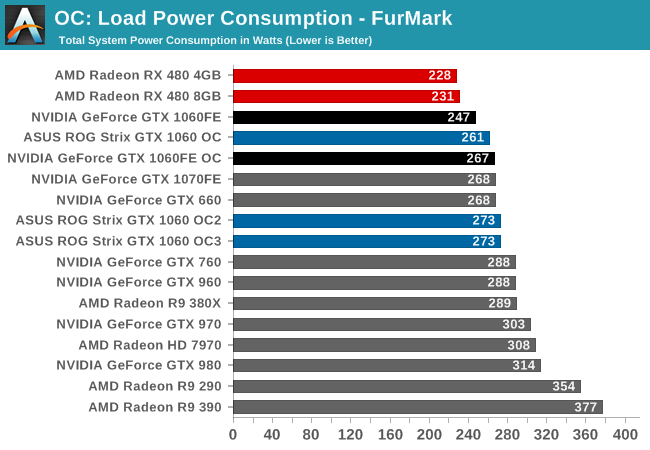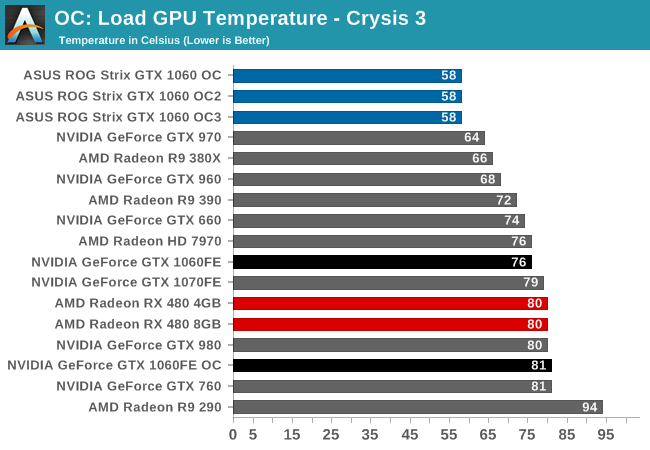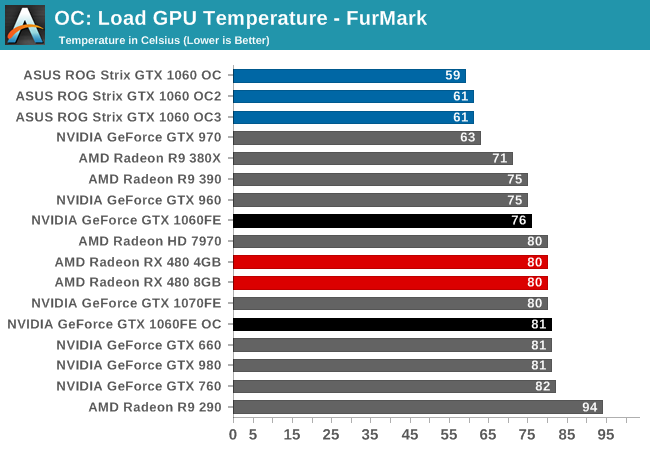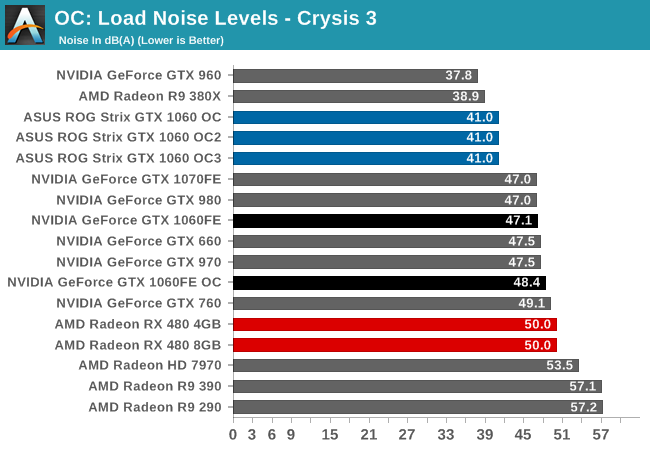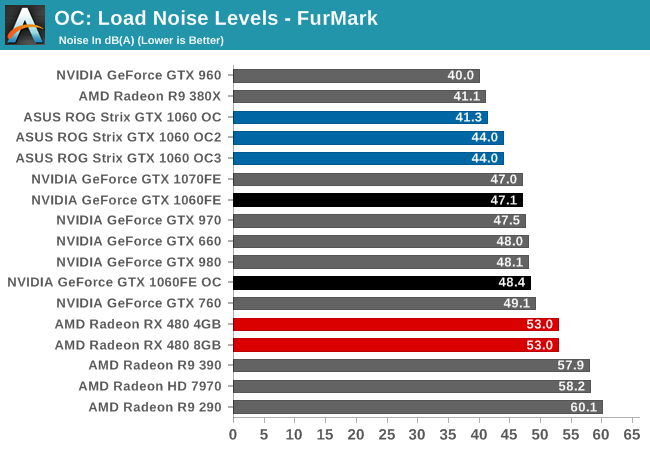 The overall performance gains and resulting power/temperate/noise costs are about as expected. The additional overclock helps the performance of the GTX 1060, but it's nowhere near enough to close the gap with the GTX 1070. Meanwhile the final overclocks of the NVIDIA and ASUS cards are close enough that their peak performance is neck-and-neck.