System Performance
When you buy a Razer Blade Stealth, you get just a single CPU option in the Intel Core i7-6500U processor. This is a dual-core chip with hyperthreading, and it has a base frequency of 2.5 GHz with a turbo frequency of 3.1 GHz. On the CPU side, it's the second fastest offering in the standard "2+2" 15W Skylake-U series, with only the i7-6600U above it . This 15-Watt processor has Intel's HD 520 graphics, with 24 execution units and a maximum frequency of 1.05 GHz. With Razer's gaming heritage, it would have been nice to see the new "2+3e" Iris parts with eDRAM, but likely due to the target price this wasn't an option. Meanwhile the 8 GB of RAM is DDR3-1866 in a dual-channel configuration.
The model tested is the Core i7-6500U with 8 GB of memory, 512 GB of storage, and the UHD display.
To test the system performance, the Stealth has been put through our standard notebook workload. The Stealth has been put up against several other Ultrabooks to see where it fits in performance wise, but if you want to compare it to any other device we've tested, please check out our Notebook Bench.
PCMark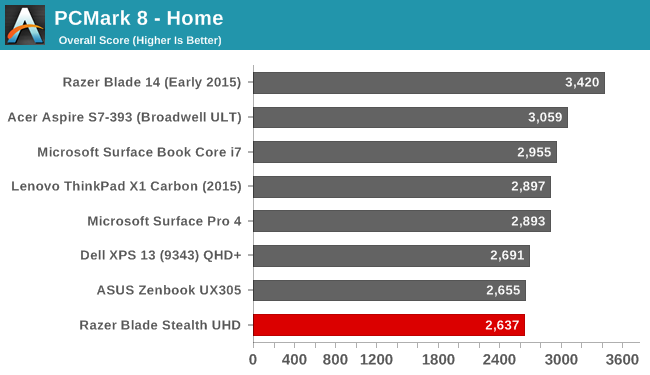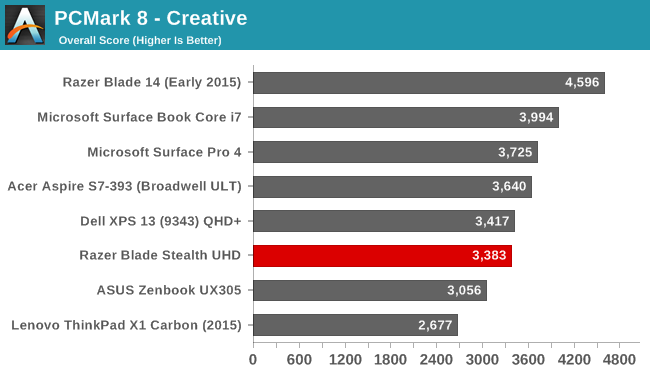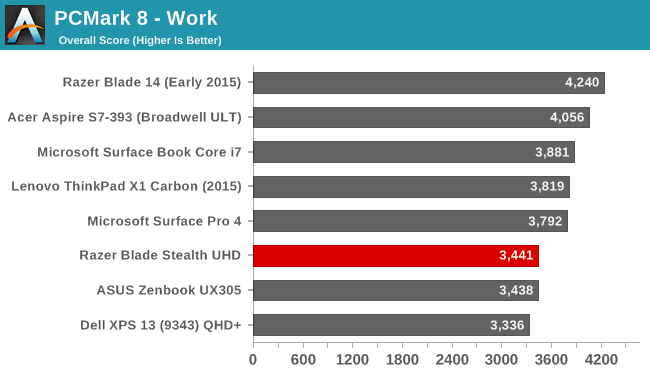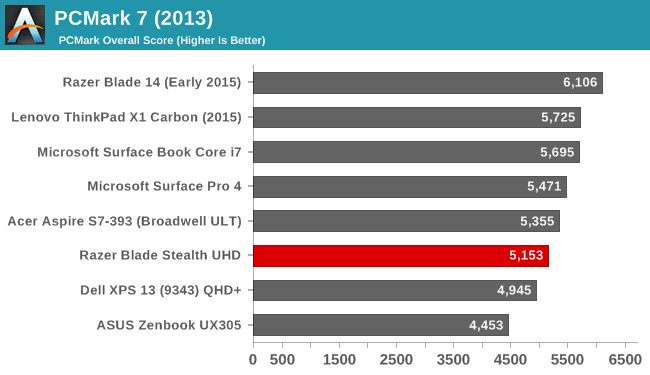 PCMark attempts to simulate real-life workloads with several sets of tests. The workload tests all aspects of the device, and factors like the display resolution can come into play here on the gaming tests. Storage has its own set of tests which recently changed, so the new results are not comparable to the old ones. The workload is varied, and the Stealth falls in-line with other similar devices, although the high resolution display certainly pulls the scores down a bit compared to the competition.
Cinebench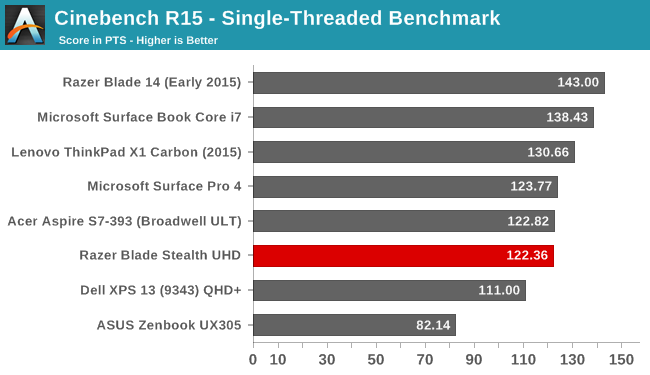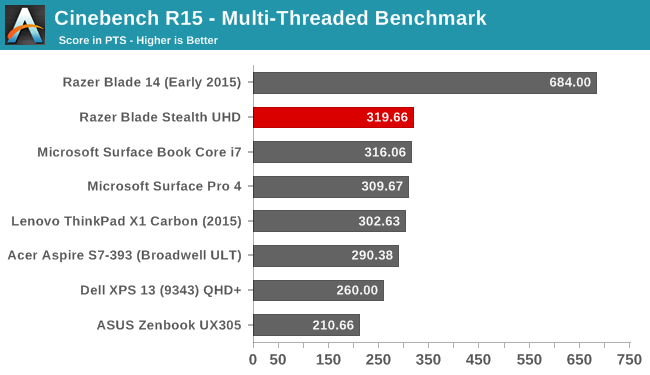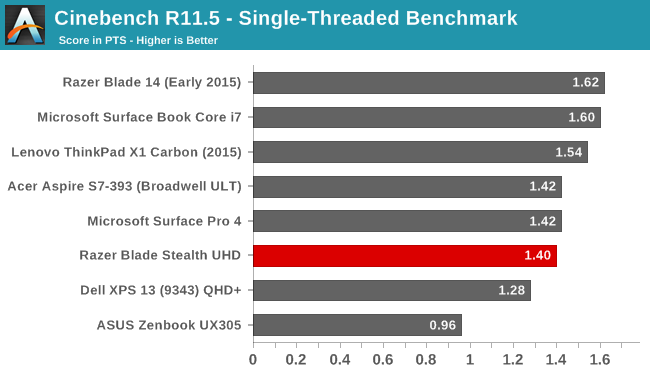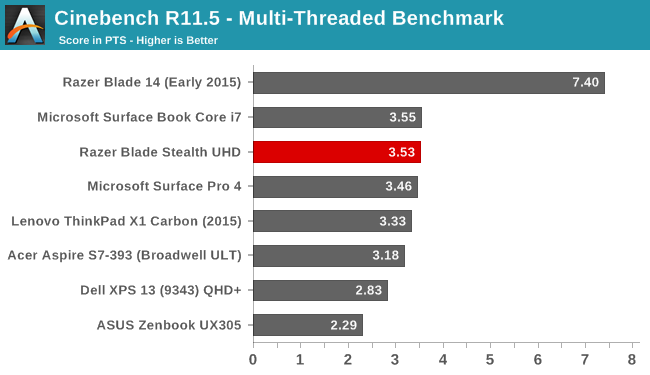 Cinebench is a rendering program, with single-thread, multi-thread, and OpenGL tests. For notebooks, we focus on the single and multi-threaded tests, and this is a good indication of CPU performance. The i7-6500U does especially well in the multi-threaded portion.
x264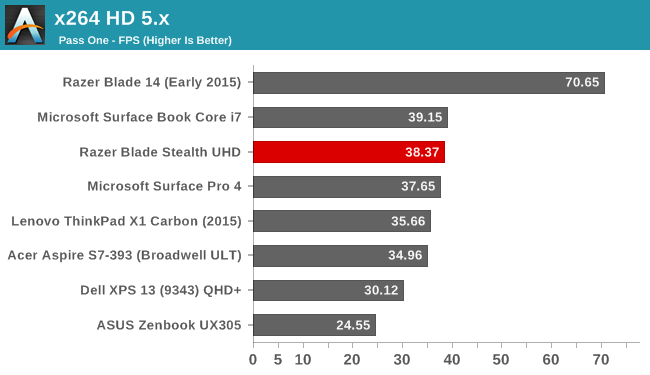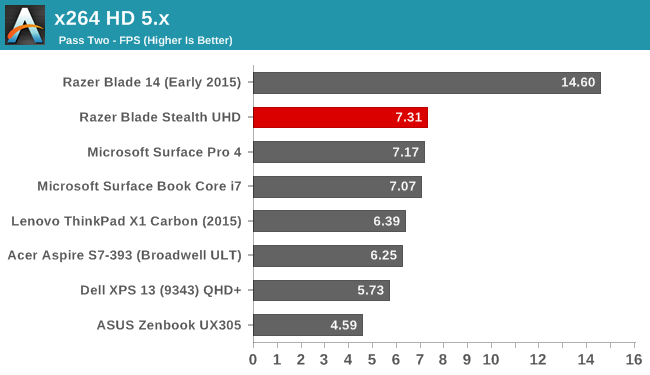 This test converts a 1080p video into the x264 format, and like Cinebench, it prefers high CPU frequencies and more cores. The Core i7 does very well in this test relative to other Ultrabooks.
Web Tests
Web browsing is still one of the most common tasks anyone does on a PC, so strong performance here is always a benefit. The scores below will be either done with Google Chrome as the browser if the machine was running Windows 8.1, or Microsoft Edge if the device was running Windows 10.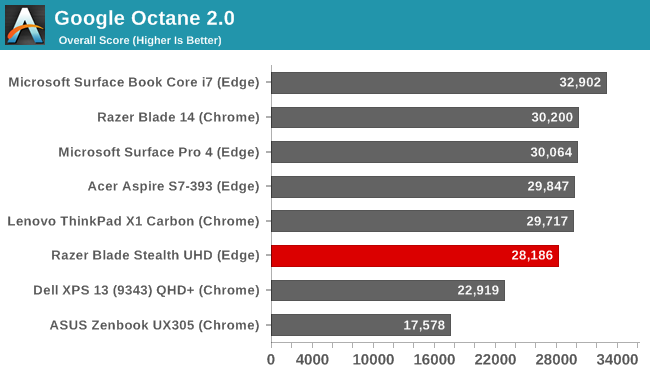 While not quite as fast as the Microsoft Surface Book, the Razer Blade Stealth still does very will in these tests.