Board Features
For $128, it is perhaps odd that we're not seeing USB 3.1 here as it is one of the primary reasons for users to upgrade to a Skylake based system. The audio and networking portion are good for the price, and there are certainly plenty of USB 3.0 ports/headers to make up for the deficit. The lack of fan controls is somewhat of an issue, especially with all the headers, and for this price we would have also liked to have seen a two-digit debug to help with errors.
Supermicro C7H170-M
Warranty Period
3 Years
Product Page
Link
Price
Amazon US
Size
mATX
CPU Interface
LGA1151
Chipset
Intel H170
Memory Slots (DDR4)
Four DDR4,
Supporting 64GB,
Dual Channel,
Up to 2133 MHz
Memory Slots (DDR3L)
None
Video Outputs
HDMI
DisplayPort
DVI-D
Network Connectivity
Intel I219-V
Onboard Audio
Realtek ALC1150
PCIe Slots for Graphics (from CPU)
1 x PCIe 3.0 (x16)
PCIe Slots for Other (from PCH)
1 x PCIe 3.0 x4
1 x PCIe 3.0 x1
Onboard SATA
Six, RAID 0/1/5/10
Onboard SATA Express
None
Onboard M.2
1x PCIe 3.0 x4, RAID 0/1/5/10
Onboard U.2
None
USB 3.1
None
USB 3.0
4 x Rear Panel
4 via headers
USB 2.0
2 x Rear Panel
2 via headers
Power Connectors
1 x 24-pin ATX
1 x 8-pin CPU
1 x 4-pin
Fan Headers
1 x CPU (4-pin)
4 x Fan (4-pin)
IO Panel
1 x Combination PS/2
2 x USB 2.0
4 x USB 3.0
1 x Network RJ-45
HDMI
DisplayPort
DVI-D
Audio Jacks
Other Features
Thunderbolt Header
Power/Clear CMOS Buttons
BIOS Restore Button
Front Panel Header
Front Audio Header
COM Header
In The Box
We get the following:
Quick List
Rear IO Shield
Driver DVD
M.2 Screws
Four double-length SATA cables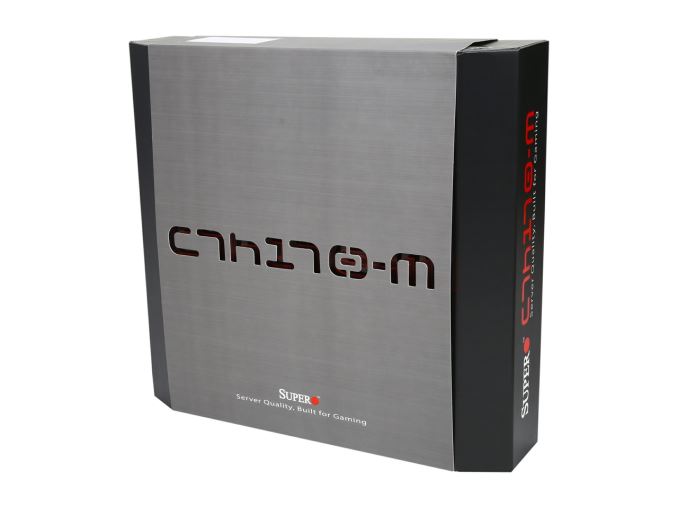 The C7H170-M certainly comes in an interesting box shape, but in the box there isn't much to talk about – but this is to be expected for a $128 motherboard. The double length SATA cables are interesting though, as it's a first on a motherboard that I've ever tested. Perhaps Supermicro's customer research teams gave SATA cable length as one of their primary concerns? Not sure there.
Visual Inspection
Supermicro's gaming line is designated 'SuperO', and much like almost all of the gaming motherboard lines on the market comes in a red and black livery. Whether you like the red plus black combination, it seems that Supermicro is coming up against a few aesthetic issues that the other motherboard manufacturers have come up against: placing the white box around every part for the automated placement machines detracts from the overall look. This will probably be looked at but take time to adjust, as it did with the other manufacturers.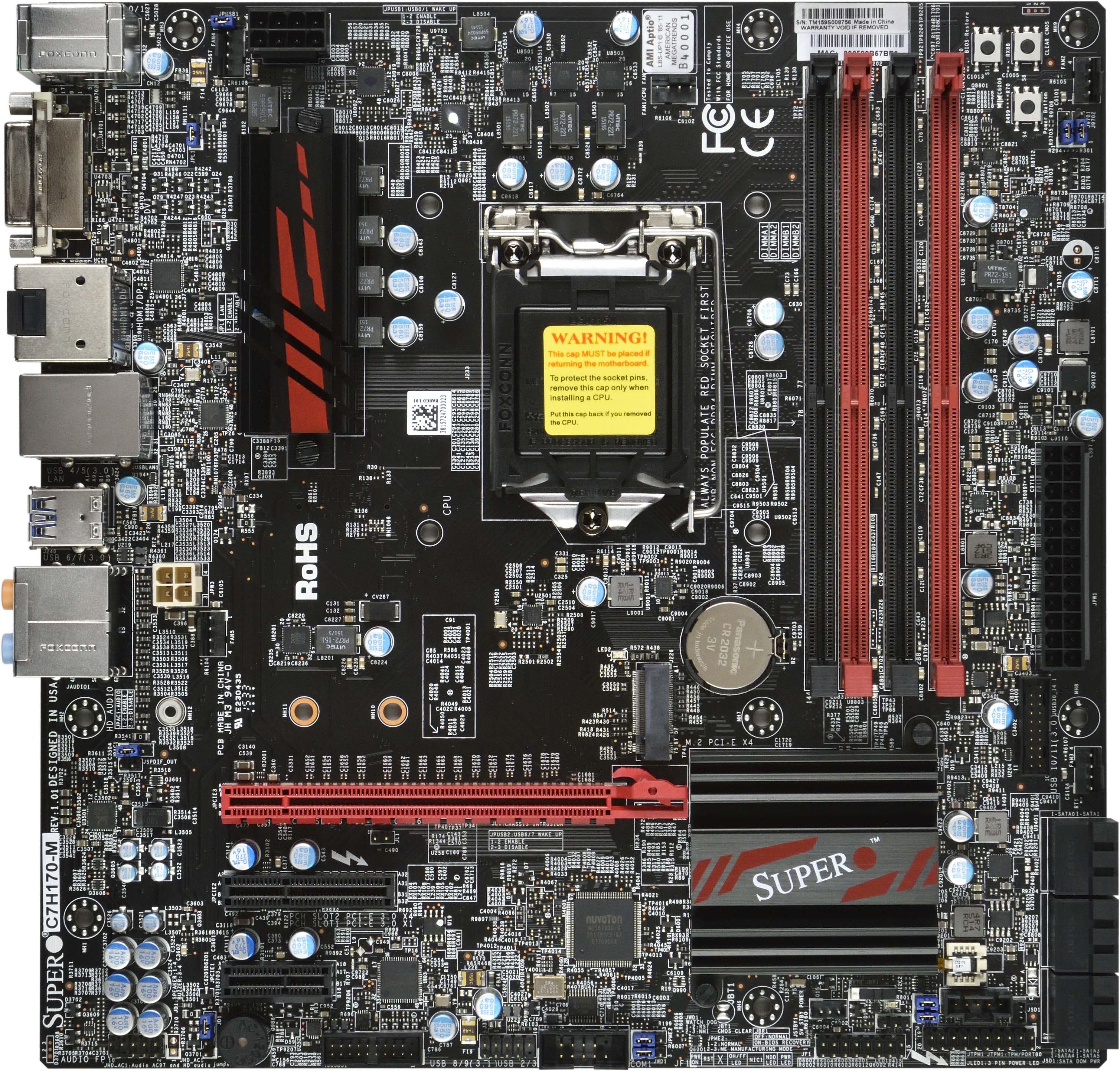 By virtue of this being a H series chipset, there is not much of the over engineering we see on the Z series chipset based motherboards. The power delivery has a small heatsink over one part of it rather than the whole set, and this doesn't extend over other areas or to the chipset heatsink because it doesn't really need to. The socket area around the CPU bracket is very busy, with plenty of standard filter caps and resistors, which also takes away from the look. I would also point out that the DRAM spacing between the slots is irregular, which also looks odd and given this I would assume that Supermicro is not implementing a T-topology memory design.
For users keeping track of fan header placement, the socket has immediate access to all five – three 4-pin headers along the top (the CPU one is the one in the middle), one 4-pin on the left near the 4-pin power, and one to the right above the SATA ports.
On the top right side of the motherboard, we have three buttons. In most motherboard designs, these would be power, reset and reset BIOS – but here they are power, reset BIOS and BIOS restore. The last one is to restore the BIOS in the event of a corruption – because Supermicro does not have an easy way to update the BIOS yet, any attempt to flash the BIOS is more risky than the other manufacturers right now, so this button may be vital in some circumstances.
At this point I want to talk about the excessive amount of jumpers on this motherboard.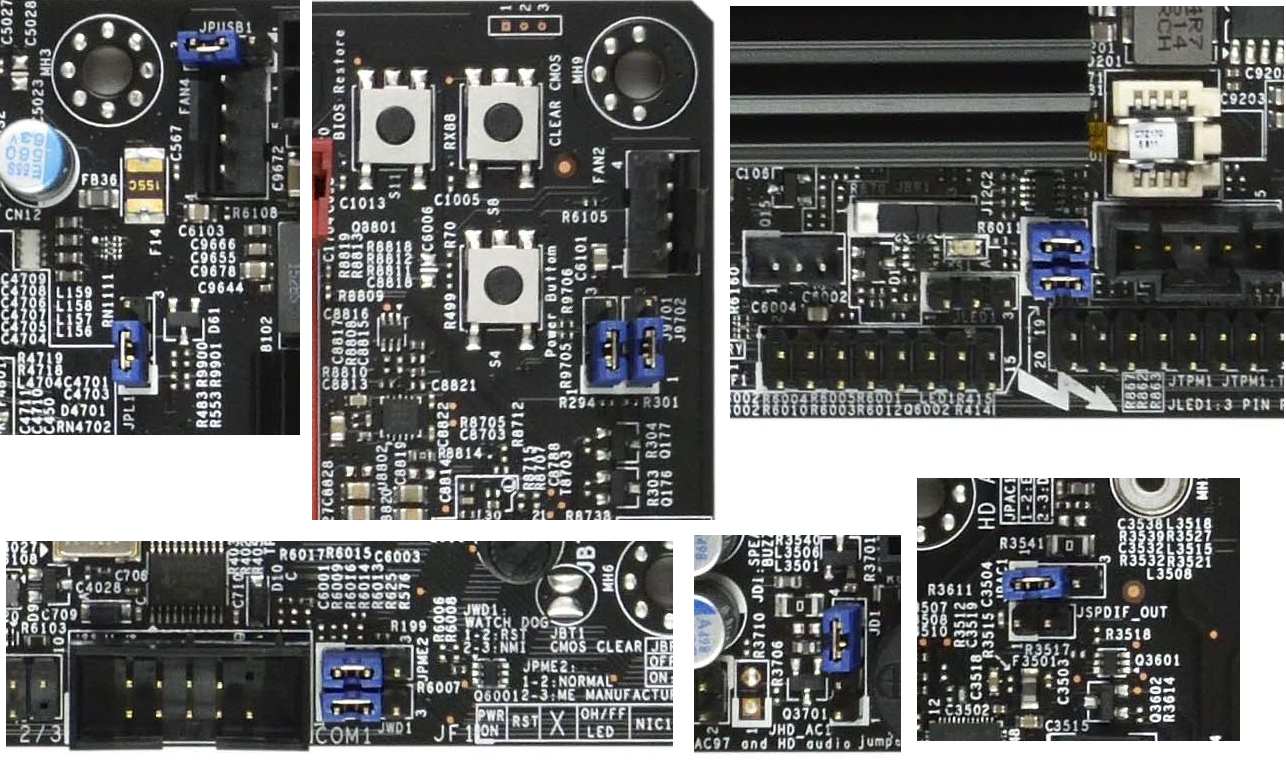 In total I count ten, most of which are not labelled in the materials which leads me to believe that they're just for internal testing when designing the motherboard. These are typically removed in the final design, but for whatever reason they are kept here.
Most of them are on the bottom of the motherboard, and this is where we find the second USB 3.0 header (the first being above the SATA slots), a TPM header, the front panel header, a COM header, a USB header and a Thunderbolt card header.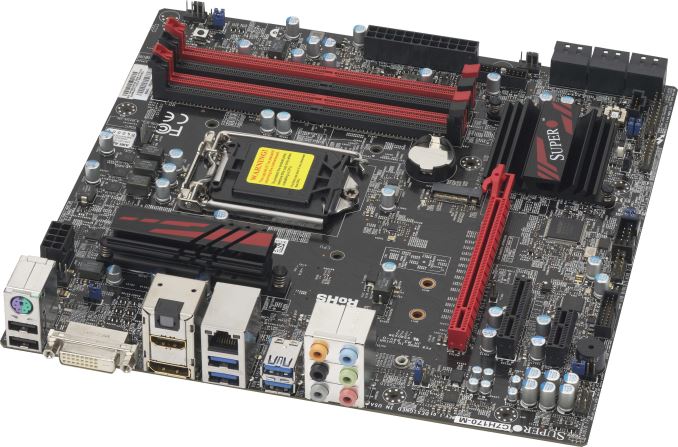 There is no special shielding here in play for the Realtek ALC1150 audio codec on the left hand side, but it seems to perform well in our tests. The PCIe layout gives a single PCIe 3.0 x16 from the CPU – the H series chipset means that Supermicro has to play by the rules and only offer a single PCIe slot from the CPU when the H-series is in use. The other two PCIe slots are an x4 and x1 from the chipset – I would have preferred if these were open ended, as this would allow other x8 or x16 cards to be used, albeit with limited bandwidth. Above the PCIe slots is our M.2 slot, supporting PCIe 3.0 x4 M.2 drives.

The rear IO panel has a combination PS/2 port, two USB 2.0 ports, three video outputs (DVI-D, HDMI, DisplayPort), four USB 3.0 ports, a network port and the audio jacks.
Test Setup
Readers of our motherboard review section will have noted the trend in modern motherboards to implement a form of MultiCore Enhancement / Acceleration / Turbo (read our report here) on their motherboards. This does several things, including better benchmark results at stock settings (not entirely needed if overclocking is an end-user goal) at the expense of heat and temperature. It also gives in essence an automatic overclock which may be against what the user wants. Our testing methodology is 'out-of-the-box', with the latest public BIOS installed and XMP enabled, and thus subject to the whims of this feature. It is ultimately up to the motherboard manufacturer to take this risk – and manufacturers taking risks in the setup is something they do on every product (think C-state settings, USB priority, DPC Latency / monitoring priority, overriding memory sub-timings at JEDEC). Processor speed change is part of that risk, and ultimately if no overclocking is planned, some motherboards will affect how fast that shiny new processor goes and can be an important factor in the system build.
For reference, the Supermicro C7H170-M, on our testing BIOS 1.0c, MCT was not enabled by default. Also, the FCLK 10x ratio was not present in the BIOS tested at the time of testing.
Many thanks to...
We must thank the following companies for kindly providing hardware for our test bed:
Thank you to AMD for providing us with the R9 290X 4GB GPUs.
Thank you to ASUS for providing us with GTX 980 Strix GPUs and the R7 240 DDR3 GPU.
Thank you to ASRock and ASUS for providing us with some IO testing kit.
Thank you to Cooler Master for providing us with Nepton 140XL CLCs.
Thank you to Corsair for providing us with an AX1200i PSU.
Thank you to Crucial for providing us with MX200 SSDs.
Thank you to G.Skill and Corsair for providing us with memory.
Thank you to MSI for providing us with the GTX 770 Lightning GPUs.
Thank you to OCZ for providing us with PSUs.
Thank you to Rosewill for providing us with PSUs and RK-9100 keyboards.