Supermicro Going Consumer
When it comes to consumer grade motherboards, or at least on the enthusiast side, our coverage consists of 90%+ of the top four manufacturers - mostly due to sales figures and reader interest. Every so often we get in a sample from the next tierof vendor, which can throw us for a curveball based on price, software and/or utility. Arguably Supermicro is in this latter crowd, purely in terms of consumer volume, but they have been a primary Intel partner for two decades and make most of their revenue in the enterprise space. Back in Computex 2015, I sat down with one of the CEOs main advisors and we spoke about the consumer motherboard space, and how/if/whether Supermicro should launch into the area. At the time mentioned three points to them:
The base quality of consumer motherboards is a relatively high bar to match. The four main companies going at it have had multiple generations of learning, updating, fixing and tweaking their design. Customers expect a lot, even at the bottom end of the market.
The motherboard market is declining in volume. Each manufacturer is redoubling efforts to maintain their sales volume, let alone keeping their market share. This means having engineers, good marketing, and a clear working relationship with customers on all levels, some of which Supermicro may not be familiar with
Brand presence and technical prowess are the main avenues to get people talking about your product. Having both the correct stack of parts for your customers as well as something new and innovative (either livery or active feature) is how users will understand your parts, and simple gimmicks are easy to see through.
At the time, Supermicro were quietly confident. They have large technical teams, albeit server based, and a large number of enterprise customers that would appreciate the server touch at a consumer grade sale. However, I would argue that from my perspective, 2014 and 2015 were relatively dull from Supermicro. We technically had the Z87 overclocking motherboard in for review, for example, but I read several reviews where the BIOS needed a lot of work, the software was non-existent, and enthusiasts wanting to push the boat were going nowhere.
We never got around to reviewing the motherboard, due to time constraints with other reviews, but Supermicro was willing to listen to my feedback last year on the state of the industry. They have since moved to selling motherboards through the regular retail channels to get a semblance of market share, and are also trying to build a brand around the SuperO name, which has seen several motherboards launched for Skylake including this green one we reported on late last year. But by some swift engineering, Supermicro managed to be at the center of one of the most interesting overclocking stories in a number of years.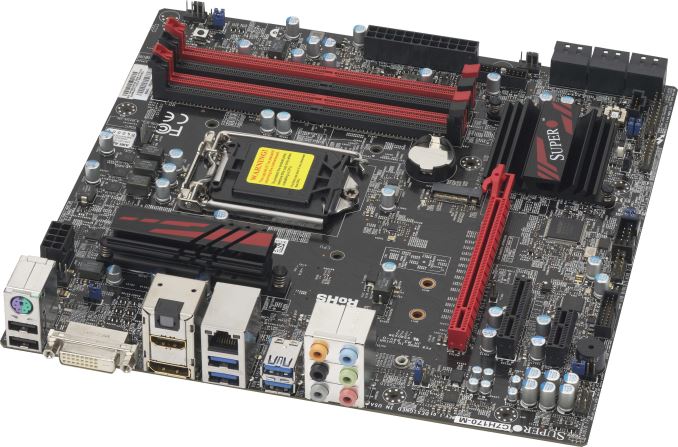 The OC story started with the motherboard we are reviewing in this piece, the C7H170-M. If you read the previous page, we go through the trials and tribulations of how base frequency over clocking on Intel non-K processors is fundamentally encouraged by the base CPU design but was locked by default, then enabled if certain hardware changes were made, then locked again by firmware, but might be re-enabled in certain circumstances. Throughout the debacle, Supermicro has held firm and not removed any product from the market, but is also being tight lipped on their updates.
Supermicro C7H170-M Overview
At $128 as the current retail price over at Newegg, the Supermicro C7H170-M is the cheapest motherboard we have tested on the Skylake platform so far, but also uses the cheaper H series chipset in a microATX sized motherboard. The H170 chipset is the first step down from the high end Z170, and as such comes with a few more restrictions. H series chipsets, for example, are designed for systems that incorporate a single discrete graphics card (which fundamentally covers most PC users), and have a lower number of high speed ports for PCIe based RAID storage or extra controllers connected to the chipset.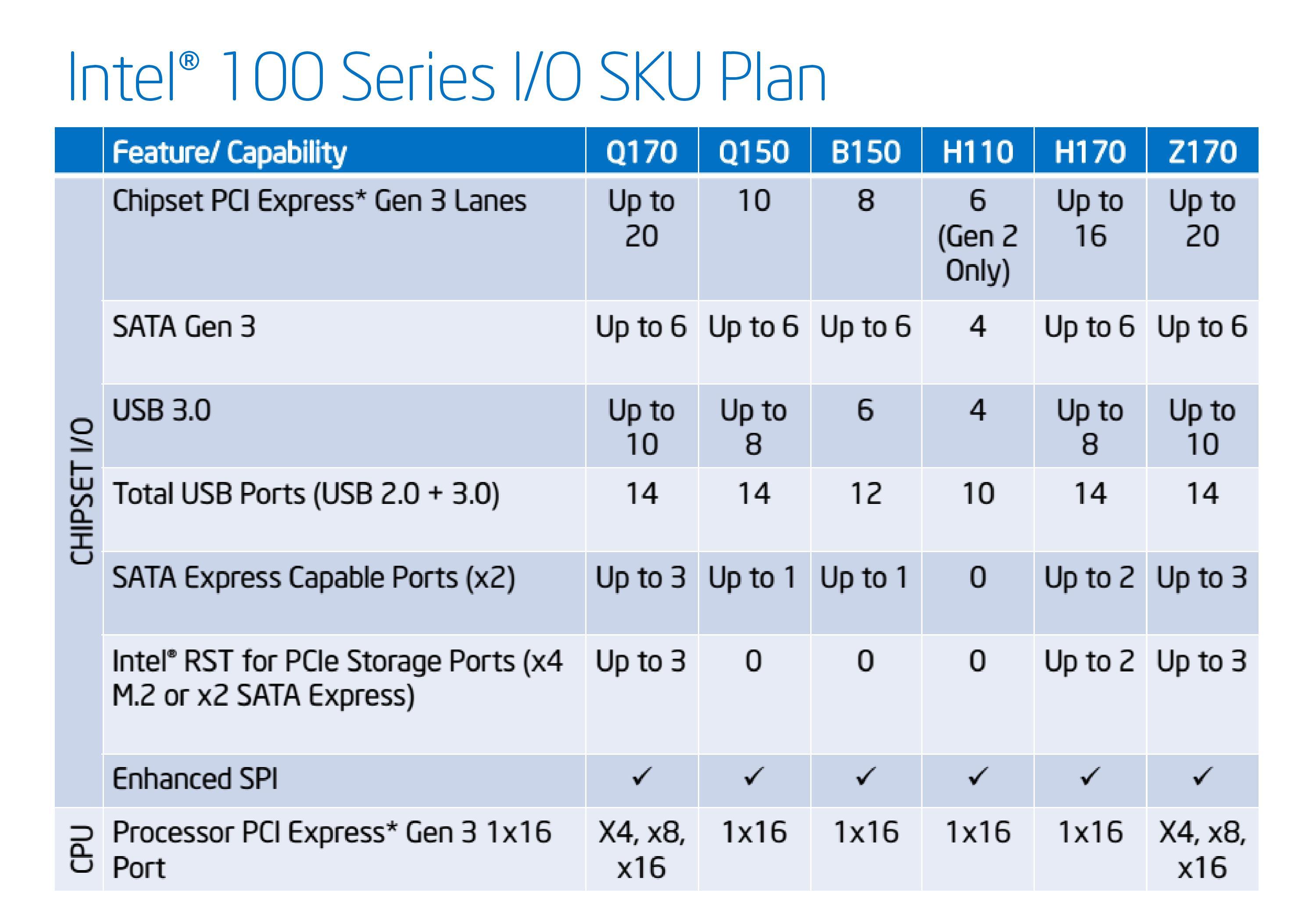 As for the motherboard, it's clear that Supermicro are taking things like livery a bit more seriously. The board is busy - lots of contact pads, pin-connection switches and new sizes/combinations of push buttons. This is mixed with the new color scheme, which can be a bit off putting. But for $128, there are a number of points both positive and negative on the bill of materials.
At this price point I was glad to see an Intel I219-V network controller as well as the high end Realtek ALC 1150 audio code. Typically with a cheaper motherboard, audio and networking are the first to be downgraded but Supermicro has kept them here. We have no USB 3.1 unfortunately, which is atypical from our 100-series coverage so far, but the board has support for all the USB 3.0 ports that the chipset offers. As a server motherboard company we get a trusted platform module header as well as a power switch, but not a two-digit debug display for error codes. At this price point and board size there is a full complement of memory slots, supporting JEDEC speeds up to 16GB per module of DDR4. This is a motherboard that isn't really built for overclocking, despite the nature of this review, so as a result we get a five phase power delivery design using standard server-grade VRMs and chokes.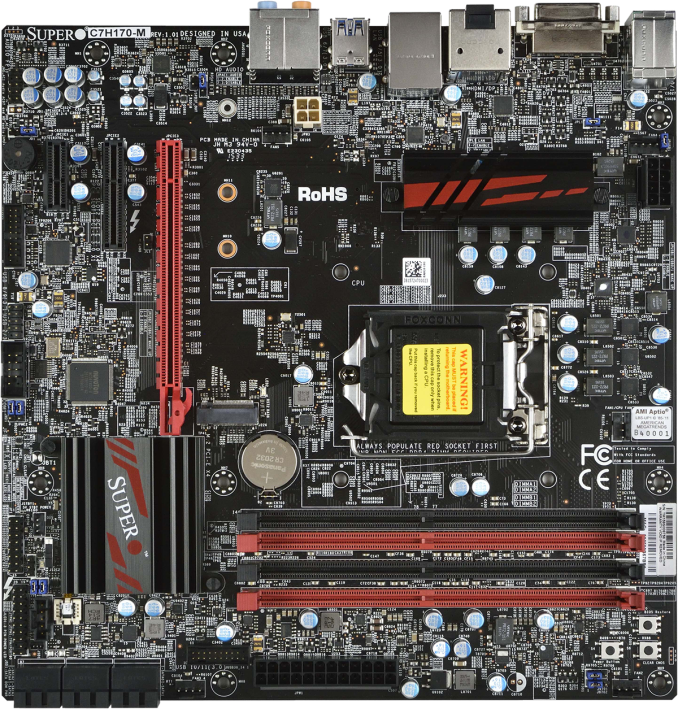 On the BIOS and software side, it is clear that Supermicro has a lot of work still to do in terms of user experience. They have transitioned from a bland BIOS interface to something graphical, though it is significantly clunky with both mouse speed and the ease of use of the keypad to move into certain sections. There's also the utility aspect, such as fan controls, which have been reduced the optimal or full-speed only. I would say that the overclocking options, although basic, give an easy way for most people to go and overclock by offering an automatic look-up-table in 5 MHz increments.
The software stack uses monitoring software, oddly through a HTML interface which is probably indicative of how server systems are usually controlled (even though we don't have an IPMI connection here). That being said, the software tool does provide a lot of information, even though it is not as extensive as what the regular consumer motherboard manufacturers provide.
Performance was a mixed bag in the grand scheme of things, albeit with a few interesting segments above the price band: there's no Multi-Core Turbo here, the DPC Latency was high and POST times are beyond 30 seconds, but the power consumption between idle and load is decent enough and the audio results put the solution as one of the best we've tested so far on Skylake.
At this point, for $128, the C7H170-M comes across as a nice motherboard to have, but only if it comes with the overclocking feature and/or retains its position as the only motherboard capable of non-Z and non-K base frequency overclocking. That's where the true value lies, mostly because there are other motherboards in this price range that have more features. As it currently stands, base clock overclocking is still listed on retailers as its main feature (3/17), so if it still says that when purchased but is removed at a later date, I would assume it could be returned.
Quick Board Feature Comparison
Motherboard Comparison
Supermicro C7H170-M
Socket
LGA1151
LGA1151
MSRP at Review
$128
$230
DRAM
4 x DDR4
4 x DDR4
PCIe Layout
x16
x8/x8
BIOS Version Tested
v1.0c
142
MCT Enabled Automatically?
No
Yes
USB 3.1 (10 Gbps)
No
ASMedia ASM1142
1 x Type-A
1 x Type-C
M.2 Slots
1 x PCIe 3.0 x4
2 x PCIe 3.0 x4
U.2 Ports
No
No
Network Controller
1 x Intel 219-V
1 x Killer E2400
Audio Controller
Realtek ALC1150
Realtek ALC1150
HDMI 2.0
No
No