Performance
The first SPECIntRate 2006 estimates were published by "CPU meister" Andreas Stiller. If we combine his findings with what we know and what is available at SPEC.org, we get the benchmark graph below.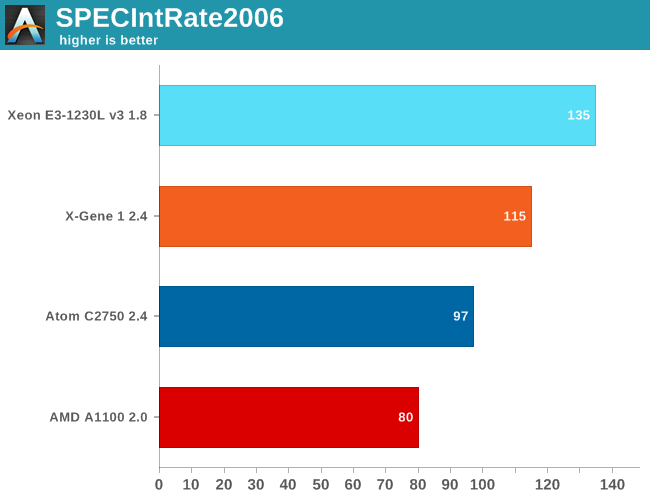 Intel's own published SPECintrate scores are up to 20% higher, so at first sight the ARM competition is not there yet. However, we prefer to show the "lower numbers" as they have not been benchmarked with masterfully set ICC configuration settings.
The most aggressive architecture, the X-Gene, is quite a bit slower than the Xeon E3-1230L. The latter needs about 40W per node (SoC + chipset), while an X-Gene node would need almost 60W. AppliedMicro really needs the 28nm 2.8GHz X-Gene 2, which apparently can offer a 50% better performance per watt increase in SPECintrate 2006.
However, we have shown you that while SPECintrate 2006 is the standard often used, popular with most CPU designers, analysts and academic researchers, it is a pretty bad predictor of server performance. We should not discount the chances of the server ARM SoCs too quickly. A mediocre SPECint SoC can still perform well in server applications.