Power Consumption & Thermal Performance
The power consumption at the wall was measured with a 1080p display being driven through the HDMI port. In the graphs below, we compare the idle and load power of the GIGABYTE GB-BXBT-1900 with other low power PCs evaluated before. For load power consumption, we ran Furmark 1.12.0 and Prime95 v27.9 together. The numbers are not beyond the realm of reason for the combination of hardware components in the machine.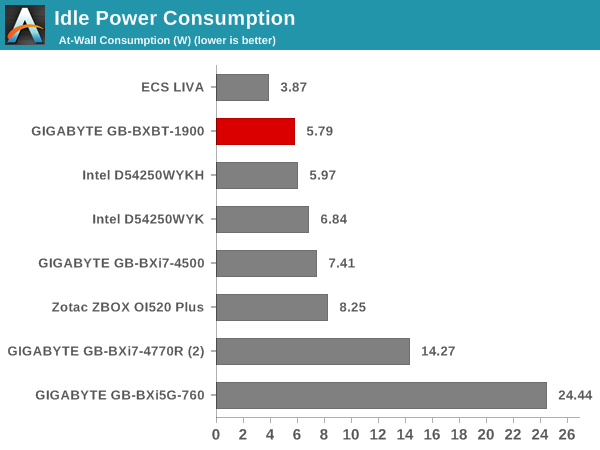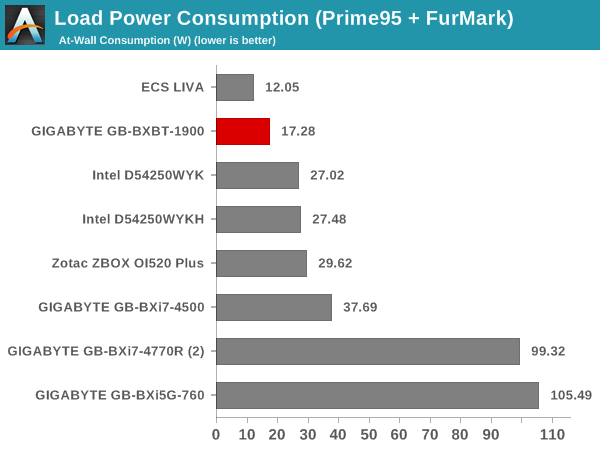 As expected, the power consumption numbers closely track the performance of the system. The BXBT-1900 might be on the lower end of the performance spectrum, but it is beaten only by the passively cooled ECS-LIVA in the power consumption numbers.
The active cooling for the SoC in the system ensures that the thermal performance is good. We don't see any thermal throttling and the temperatures are well within specifications even when the system is subject to power viruses. The various clocks in the system as well as the temperatures within the unit are presented below. We start with the system at idle, followed by 30 minutes of pure CPU loading. This is followed by another 30 minutes of both CPU and GPU being loaded simultaneously. After this, the CPU load was removed, allowing the GPU to be loaded alone for another 30 minutes.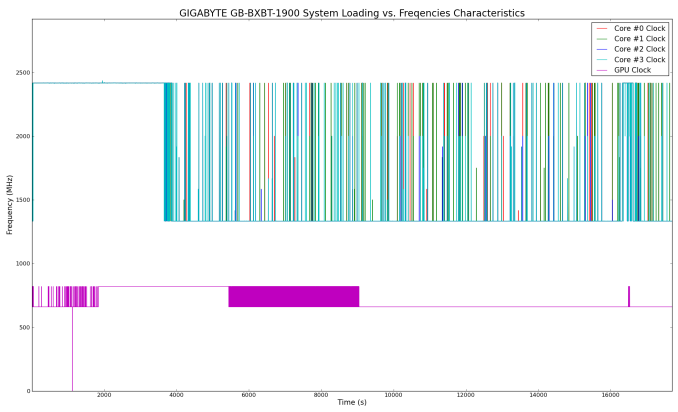 The frequency characteristics above indicate that the CPU cores clock in at the maximum turbo rate of 2.41 GHz for the entire 1 hour duration of CPU loading. With the CPU load removed, the frequency of the cores drops down to around 1.3 GHz. The GPU clock remains at a steady 800 MHz under full loading. With both CPU and GPU loaded, the core temperature is only around 65 C, quite far from the maximum junction temperature of 105 C. All in all, the thermal design is excellent, making us wonder what could be achieved with a fanless system.