Seasonic Platinum SS-1200XP3 Hot Test Results
Surprisingly, even though they are both based on the exact same platform, the power quality of the Seasonic Platinum SS-1200XP3 is better than that of the less powerful 1050W model. It is not a very large difference, but it is evident. Whether this is true of all the 1200W models vs. the 1050W models is impossible to say, as there is always some small variance between individual units, but it is interesting to note nonetheless. The maximum voltage ripple that our instrumentation recorded is 40mV under maximum load, while siphoning 85.26 Amperes from the 12V line. Voltage regulation is a little better as well, at 0.71%, 0.82% and 0.95% for the 3.3V, 5V and 12V lines, respectively.
Main Output
Load (Watts)
242.86 W
604.83 W
905.43 W
1202.76 W
Load (Percent)
20.24%
50.4%
75.45%
100.23%
Line
Amperes
Volts
Amperes
Volts
Amperes
Volts
Amperes
Volts
3.3 V
4.26
3.36
10.66
3.35
15.99
3.33
21.31
3.33
5 V
4.26
5.1
10.66
5.08
15.99
5.07
21.31
5.06
12 V
17.05
12.13
42.63
12.08
63.94
12.06
85.26
12.01
Line
Regulation
(20% to 100% load)
Voltage Ripple (mV)
20% Load
50% Load
75% Load
100% Load
CL1
12V
CL2
3.3V + 5V
3.3V
0.7%
14
16
18
18
14
20
5V
0.82%
14
18
22
24
16
24
12V
0.95%
16
26
32
40
36
18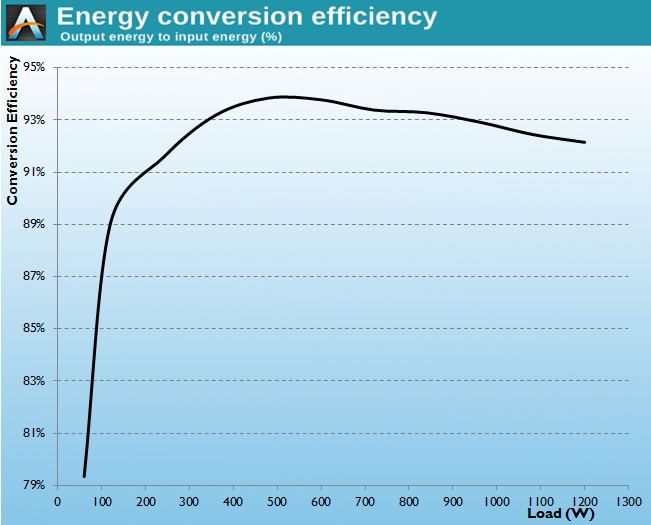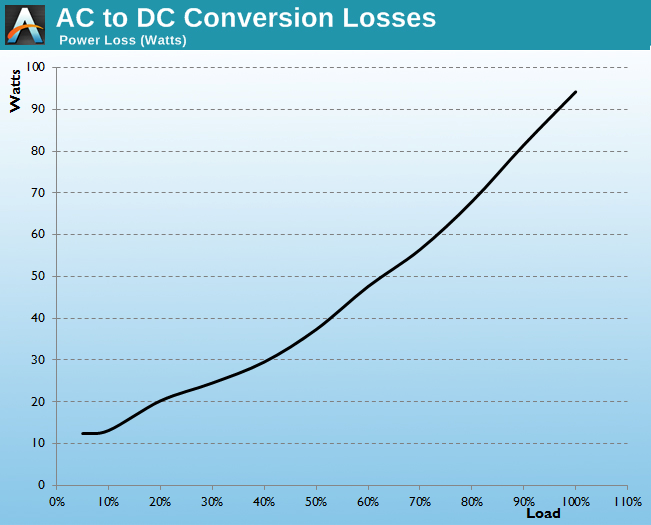 High ambient temperature has a discernible impact on the efficiency and performance of the Seasonic Platinum SS-1200XP3 as well, but not as large an impact as it did with the 1050W model. The average nominal load (20-100%) efficiency is reduced by 0.4%, with the maximum efficiency being 93.8% at 50% load. Apparently, the higher ratings of the components used to create the Platinum SS-1200XP3 are a bit more resilient to heat than those of the 1050W model.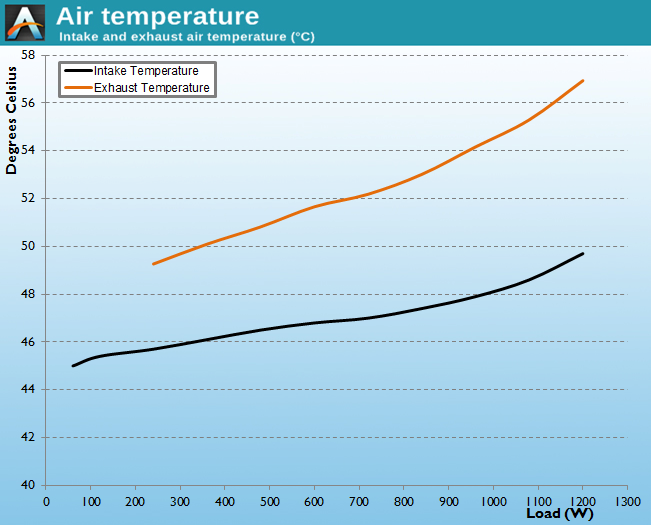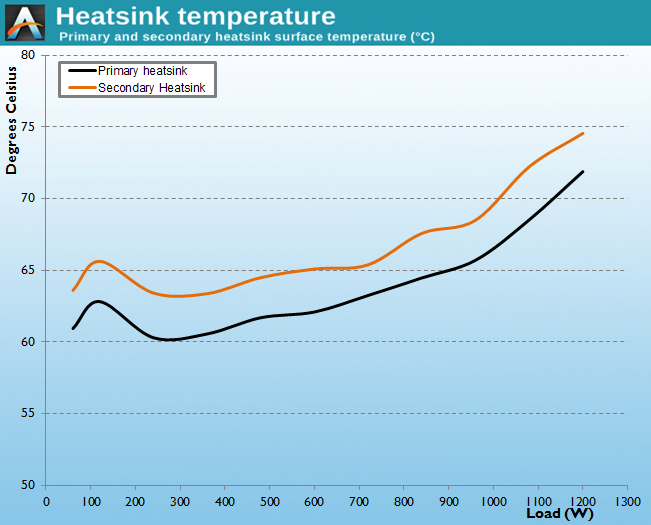 The thermal and noise test results of the Seasonic Platinum SS-1200XP3 inside our hotbox were unsurprising, displaying similar behavior to that of the 1050W model. The cooling fan once again starts at 20% load but this time the Platinum SS-1200XP3 does not remain silent for long, as the cooling system reacts aggressively to the increasing temperatures, rapidly increasing the speed of the fan. This way the Platinum SS-1200XP3 maintains very low operating temperatures for a 1200W unit, effectively increasing its long-term reliability, but it sacrifices acoustic comfort in the process.