Conclusion
Seasonic is one of the oldest PSU manufacturers and they are a very experienced company. There is no randomness about the products they design; each and every one of them serves an exact and specific purpose. This is also true for their two latest additions to the Platinum series that we have tested here today. With the power requirements of typical computers in constant decline, it is known that such powerful units have a very limited target audience.
Both of the units that we tested here today share the same external and internal design, with the only difference being the ratings of some components. Externally, the understated appearance and fully modular design will be appreciated by users. The design of the sides is a little tricky, as whether the user will be seeing a sticker with electrical specifications or decorative engravings depends on whether the PSU will be installed with the fan facing downwards or upwards.
Internally, we found an advanced full-bridge topology platform, components of the highest quality and an immaculate soldering job. The assembly job confounded us somewhat, as it is rather messy and we were surprised to see such a thing in a Seasonic product, but it should not really affect the performance or reliability of the PSUs. Besides, Seasonic covers these units with a seven year warranty, removing any concerns that we could express about the longevity of these units.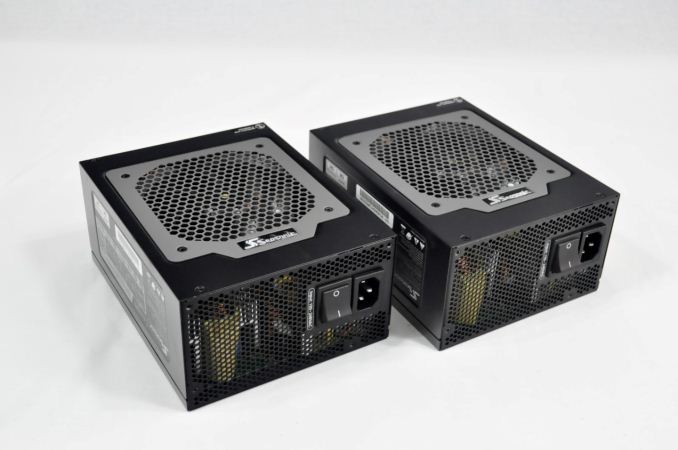 What both of the new Seasonic Platinum units really excel at is electrical performance. Both units displayed excellent energy conversion efficiency and outstanding power output quality, with the Platinum SS-1200XP3 slightly outpacing the Platinum SS-1050XP3. It appears that the more powerful components of the 1200W version give it a slight performance edge as well, despite the identical platform. They also maintain very low operating temperatures, even when heavily loaded and in adverse environments, yet at the expense of acoustic comfort. However, we do believe that very few users actually require their system to remain silent while it is heavily loaded.
The majority of the users that actually have to buy a >1kW PSU are either hardcore gamers or cryptocurrency miners. What hardcore gamers want is ample and clean power for their multi-GPU gaming system, ensuring its stability. Gamers also often seek good aesthetics, as their systems frequently include cases with windowed side panels. A gaming system requires very high power when loaded but just a small portion of it while performing simple everyday tasks. With the cooling profile that Seasonic's Platinum series has, the units will be quiet while the system is idling, discernable only when it is heavily loaded (i.e. while the gamer is actually gaming), and thus it is unlikely that any environmental noise will overcome the sound from the speakers or headphones.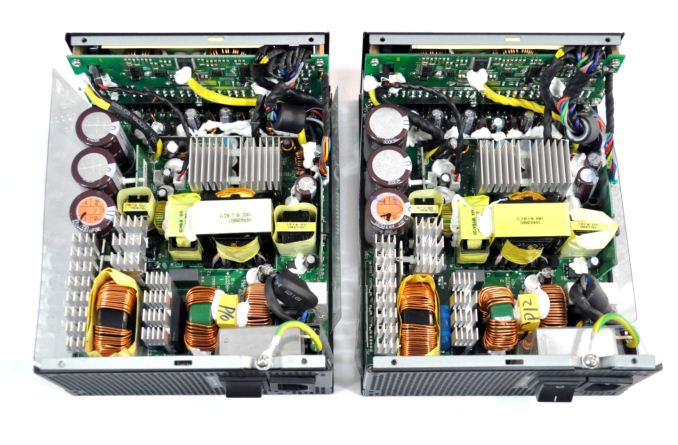 Cryptocurrency miners on the other hand simply require highly efficient units that can sustain a continuous heavy load. Energy conversion efficiency is required for obvious reasons; when such a system is working 24/7, energy losses are important both financially and practically, as they cost the user money and heat up the unit, reducing its lifetime and performance. Seasonic's Platinum series units however have aggressive cooling profiles that will keep their operating temperature very low, even while the PSU is heavily loaded. Their efficiency at high loads is excellent as well, surpassing 92%. The seven year manufacturer warranty is the cherry on top for users that plan on running cryptocurrency mining rigs with these units, and likely the other components of the system will fail long before the PSU gives out. The high speed of the fan will definitely make these units loud under such conditions, but that is of little importance for cryptocurrency mining rigs.
The Seasonic Platinum SS-1050XP3 currently retails for $230 and the 1200W Platinum SS-1200XP3 can be purchased for just $20 more at the time of this review. Considering the small price difference and the slightly better performance, the 1200W version potentially offers a better value, though if the pricing gap widens, the 1050W version may become more appealing. As far as competition goes, Seasonic's new units are considerably cheaper than most of the competitive products. The Platinum SS-1200XP3 is $50 cheaper than Corsair's AXi series (e.g. $300 after rebate for the 1200W version), but it's simpler and without Corsair's Link interface. It's also cheaper than Cooler Master's V1200 Platinum ($300 as well, though it's only $252 on Amazon), with the only actual competition coming from the Leadex-based EVGA Supernova P2 1200W ($232 at the time of this review).
Ultimately, the number of use cases for 1kW and higher PSUs is rather limited. For cryptocurrency mining rigs, the good price and specific performance profile of the Seasonic Platinum units makes them an excellent choice. Of course, GPU mining has become generally unprofitable at this stage, so buying a new $200+ PSU could take the better part of a year to break even. Gamers on the other hand will have to consider other factors as they decide whether the Seasonic Platinum units can fully cover their needs or if they require the features and/or different performance profile of another model. Seasonic delivers high quality PSUs with their XP3 series, and does so at reasonable prices, so if you're in the market for such a power supply they're worth a look.