Crysis 3
Still one of our most punishing benchmarks, Crysis 3 needs no introduction. With Crysis 3, Crytek has gone back to trying to kill computers and still holds "most punishing shooter" title in our benchmark suite. Only in a handful of setups can we even run Crysis 3 at its highest (Very High) settings, and that's still without AA. Crysis 1 was an excellent template for the kind of performance required to drive games for the next few years, and Crysis 3 looks to be much the same for 2013.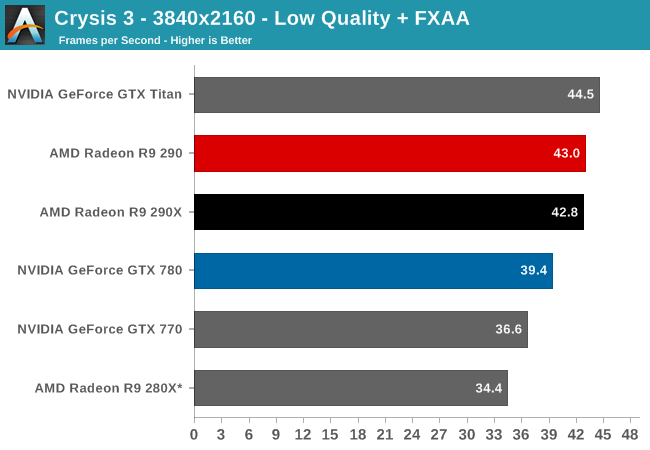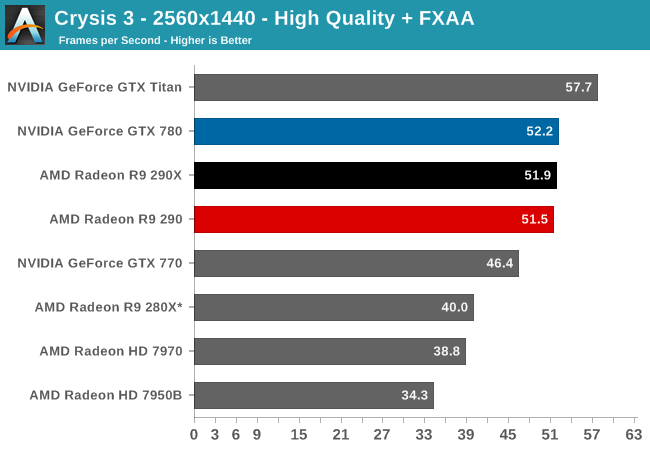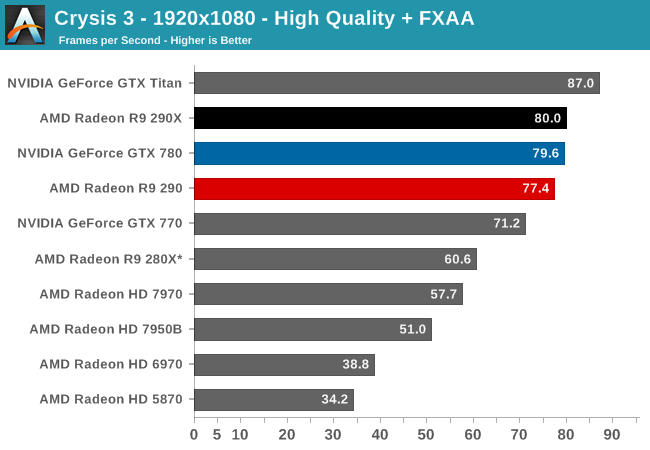 Crysis 3 happens to be another game that the 290X sees significant throttling at, and as such this is another game where the 290X and 290 are neck and neck. With all of a .4fps difference between the two, the two cards are essentially tied, once more showcasing how the 290X is held back in order to get reasonable acoustics, and how fast the 290 can go when it does the opposite and lets loose.
This also ends up being a very close matchup between the 290 and the GTX 780, with the 290 losing to the GTX 780 by just 1%, making for another practical tie. Which coincidentally will make our power and noise tests all the more meaningful, since this is the game we use for those tests.
Meanwhile compared to the GTX 770 and 280X, this is actually the narrowest victory for the 290. Despite the solid performance of the 290 and 290X, it beats the GTX 770 by just 11%. The margin of victory over the 280X however is closer to normal at 29%.