(For a look at parts one and two of the fans we're testing (or actually have tested) you'll want to go back and check here.)
Enermax Magma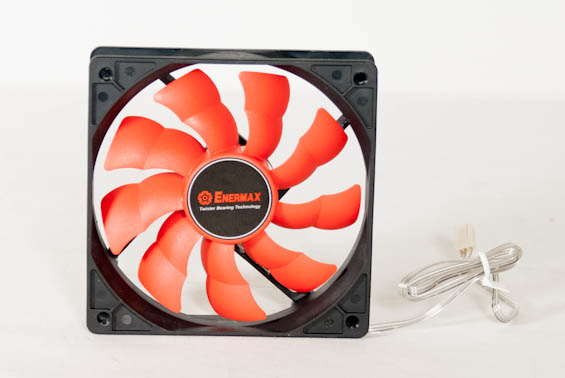 | | | | |
| --- | --- | --- | --- |
| Airflow (in CFM) | Static Pressure (in mm/H2O) | RPM | Rated dBA |
| 69.15 | 1.4 | 1500 | 18 |
The Enermax Magma has pretty generous ratings, but it's also been one of the fans I've seen repeatedly pop up on forums as a solid choice for a 120mm radiator fan. Enermax's advertising materials promote the fact that it can run silently even at exceedingly high temperatures, but it'll be interesting to see if this fan is really all it's cracked up to be.
CoolerMaster Excalibur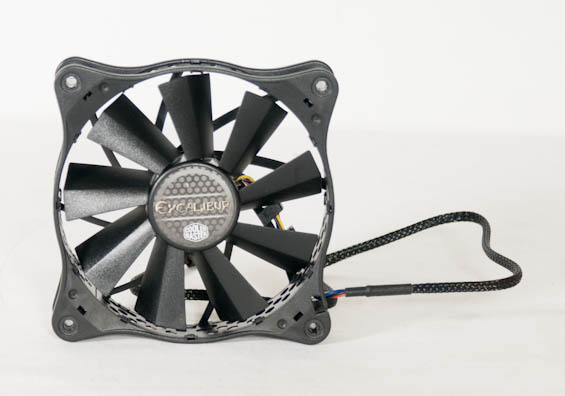 | | | | |
| --- | --- | --- | --- |
| Airflow (in CFM) | Static Pressure (in mm/H2O) | RPM | Rated dBA |
| 26.4-85.6 | 0.75-3.53 | 600-2000 | 13-30 |
The first of CoolerMaster's two entrants, the Excalibur is also one of the only PWM fans we have on hand for testing. Interestingly, both of CoolerMaster's fans look to have placed an emphasis on blingy design, but the Excalibur at least doesn't seem to have the same grossly exaggerated "miracle fan" ratings than the Sickle Flow from the last review had. And while the Sickle Flow was just grabbed off the shelf at a Fry's Electronics, the Excalibur and Turbine Master were both handpicked by CoolerMaster for this roundup.
CoolerMaster Turbine Master MACH 1.8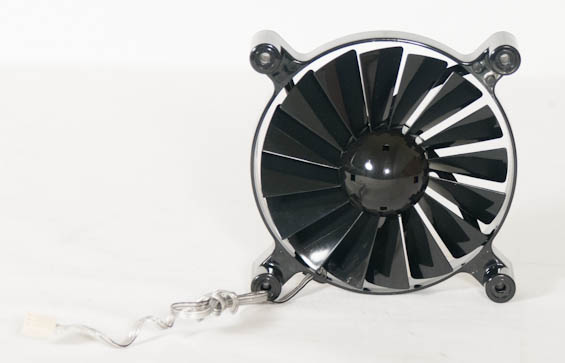 | | | | |
| --- | --- | --- | --- |
| Airflow (in CFM) | Static Pressure (in mm/H2O) | RPM | Rated dBA |
| 80.3 | 1.96 | 1800 | 30.5 |
There are actually two models of Turbine Master; the MACH 1.8 is the faster of the two and designed for high performance rather than silence (in much the same way that Corsair has both silent and performance models of their 120mm fans). I'll say this for CoolerMaster; they can produce an interesting looking fan. The Turbine Master has more blades than any other fan in either roundup and comes with a nifty little removable dome for the fan hub.
Noctua NF-F12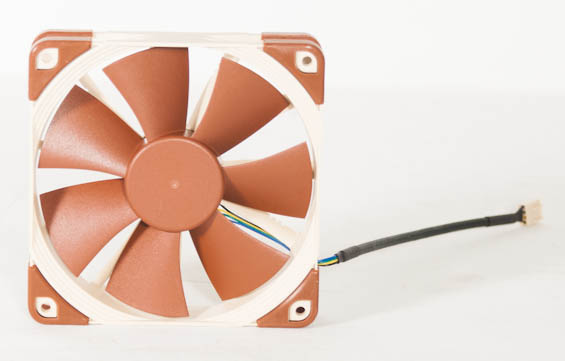 | | | | |
| --- | --- | --- | --- |
| Airflow (in CFM) | Static Pressure (in mm/H2O) | RPM | Rated dBA |
| 55 | 2.61 | 1500 | 22.4 |
I'll admit this is the fan I was most interested in checking out. The ratings listed on the packaging aren't particularly exciting, but Noctua has seen fit to equip the NF-F12 with a PWM connector as well as boxing it with a low noise adaptor. The whole package was actually pretty fancy, and while I'm not sure I'm a fan of the "chai latte" coloring I definitely got the impression that this was going to be a strong contender. Of course, for the price, it had better be.