Performance Metrics and Power Consumption
The performance evaluation reports are organized under two categories: Standalone and NAS-based. In the latter case, we have two NAS systems which are not in the officially sanctioned list (LaCie 2big NAS and Netgear NV+ v2) and one recommended by WD as definitely compatible (Synology DS211+). As mentioned earlier, we present the equivalent performance numbers for the 3 TB Seagate Barracuda 7200 rpm drives. We make use of the standard single-client NAS testing methodology using NASPT / robocopy.
First, let us take a look at the HD Tune Pro benchmarks on the standalone drive.
The sequential access speeds vary between 59 MBps and 148 MBps depending on whether the outer or inner parts of the platter are being accessed. 4KB random accesses aren't going to win any performance benchmarks (the numbers reported by HD Tune Pro above aren't directly comparable with what we have reported using IOMeter in other HDD reviews).
The following graphs summarize the results from our NAS testing. In all configurations, the drives were put in RAID-1.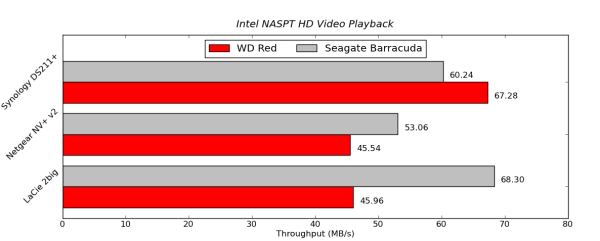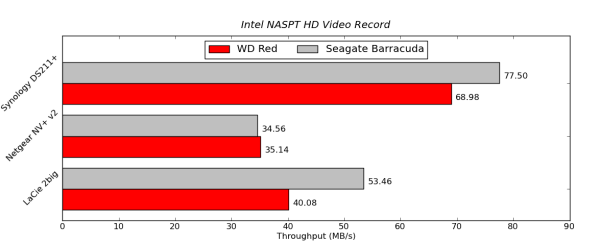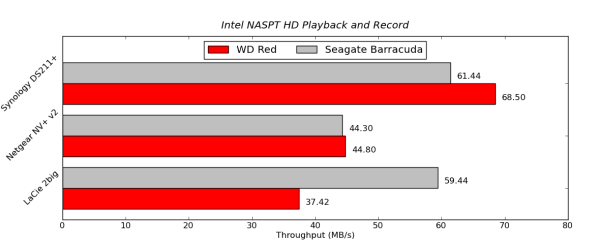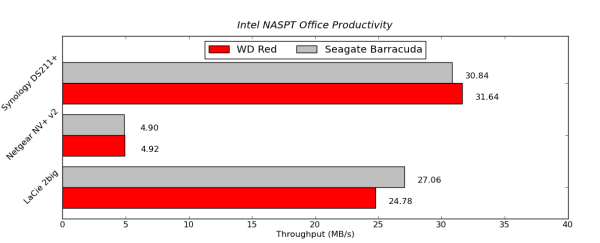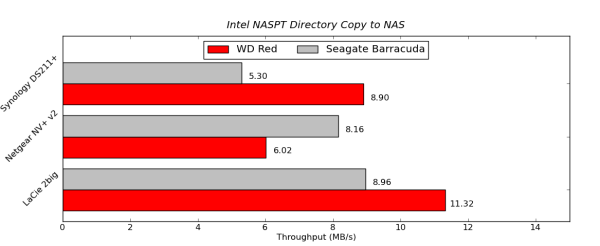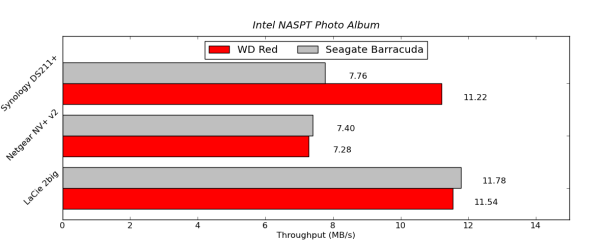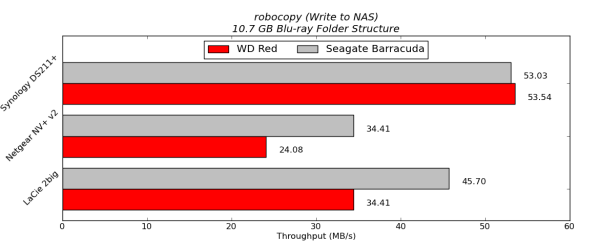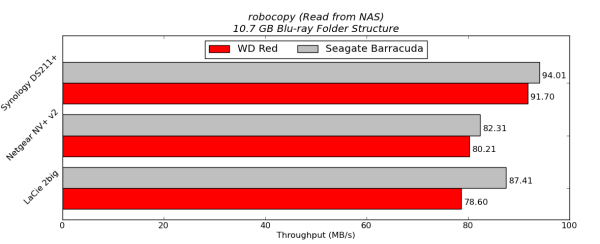 In order to put the final two graphs in perspective, we note that the standalone WD Red (freshly formatted) connected to a SATA 6 Gbps port of the Asus P8H77-M Pro delivered 130.07 MBps in the write test and 137.46 MBps in the read test. In the NAS systems, the WD Red performs quite well, particularly in the Synology DS211+. It does lose out to the Seagate 3TB hard drives under some circumstances. However, one can safely say that in 2 - 5 bay NAS systems based on ARM chipsets, it is unlikely that 7200 rpm drives are going to consistently deliver better performance than the 5400 rpm / IntelliPower drives.
In order to get an idea of how much power savings one can expect from using these drives, we took the LaCie 2big NAS and ran the disk performance bench using both the Seagate and WD drives in RAID-1 configuration. The following table summarizes the power consumption under various operating modes.
LaCie 2big NAS Power Consumption
Mode
Seagate 3 TB
WD Red 3 TB
Sleep
7.7 W
7.7 W
100% Read
20.6 W
14.8 W
60% Rand, 65% Read
21.2 W
15.9 W
50% Read
20.9 W
14.9 W
Rand 8K 70% Read
20.6 W
14.7 W
It is interesting to see that the WD Reds consume just slightly more than two-thirds the power of the 7200 rpm drives when subject to similar accesses over the network. Of course, one might say that 7200 rpm drives such as the Seagate one we used above are not suitable for NAS applications at all. However, note that LaCie had in fact bundled them with their 2big NAS with the OS pre-installed.