Color Uniformity and Color Gamut
The calibrated results on the ZR2740w were pretty good, but with such a large panel was the uniformity going to suffer because of it? 23" 1080p displays have a hard time with uniformity and are easier to fix, but perhaps since the HP is a higher end display more work has been put into keeping the screen uniform all around. Measuring nine points around the screen at the 200 nits calibrated setting, you can see what we found.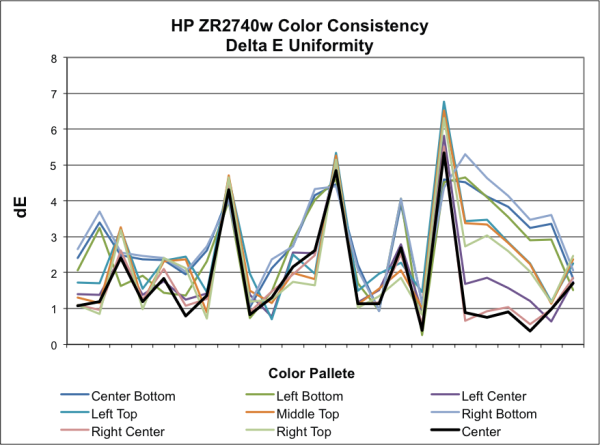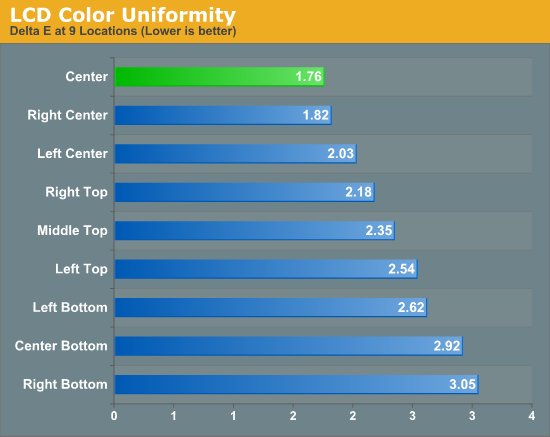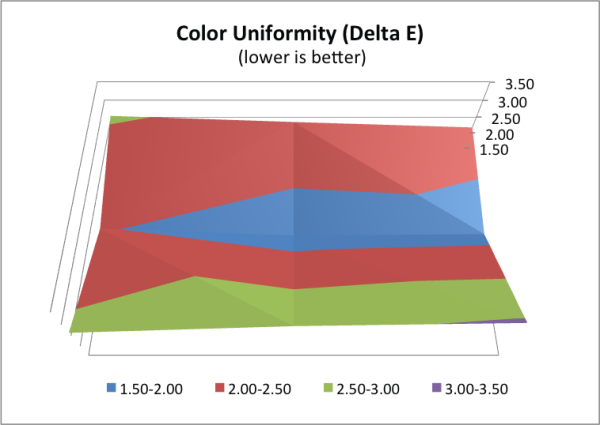 Only one of the nine locations had an average dE above 3, and the median value there was still below 2.75. What concerned me the most is that the uniformity on the grayscale was so bad, so when you have a solid white background, which is likely on a monitor like this with spreadsheets and other applications, you will be able to clearly see a shift in the white point as you look at it. Colors were far more consistent than white was across the display, so it seems to be a shift when the panel is fully driven, probably due to unevenness in the lighting I would assume.
While it has an 8-bit panel and can do 10-bit colors with A-FRC, the backlight system of the HP means that you aren't going to get the full AdobeRGB colorspace on it. The HP comes out of Gamutvision with 76.82% of the AdobeRGB space, pretty much dead on to the 77.2% in the specs.