Brightness and Contrast
Is your work environment bright? Are there massive spotlights behind you that shine directly onto your screen? Well, don't worry; the ZR2740w will produce more than enough light for you. I'd expect screens to get a little dimmer as the size gets larger, since a backlight would need to be more powerful and more expensive to light it up, but apparently that is not the case. The HP managed to put out almost 450 nits of brightness when turned up all the way, which is plenty for anyone no matter what their work environment.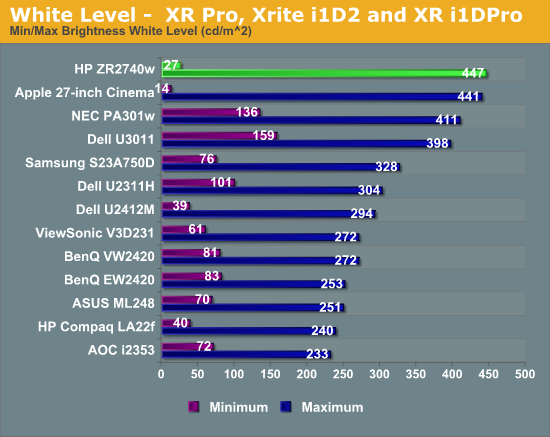 I can only assume that to evenly light up a 27" or larger LCD panel, vendors need to use larger, more powerful backlights and it is as easy to use one that does this much brightness as one that only does 250 nits of light, but I'm going to say this is a good thing. The downside to a larger light is that it might cause the black levels to be higher than on other displays, and that does seem to be the case here with the HP.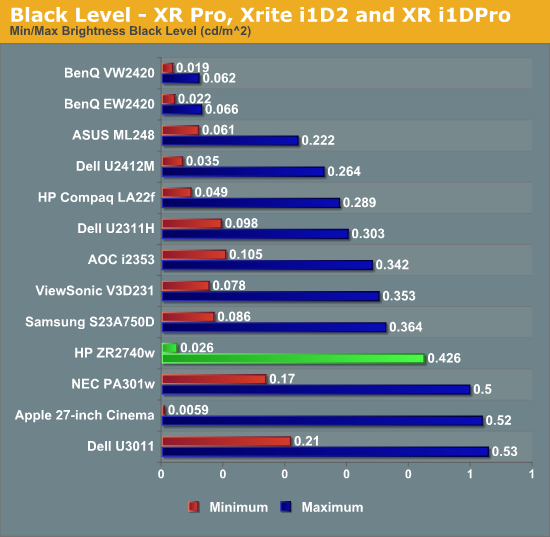 The black levels on the HP are higher, but they are right in line with other 27" and 30" displays, so it really is a middle of the road result for it. Given the cost difference between the displays, that the HP equals them in performance is very nice to see on here. One area that the larger panels fell behind in was contrast ratio, where they only manage around 750:1 which is a little disappointing given their cost. The HP manages to exceed this, offering over 1,000:1 at both maximum and minimum brightness levels.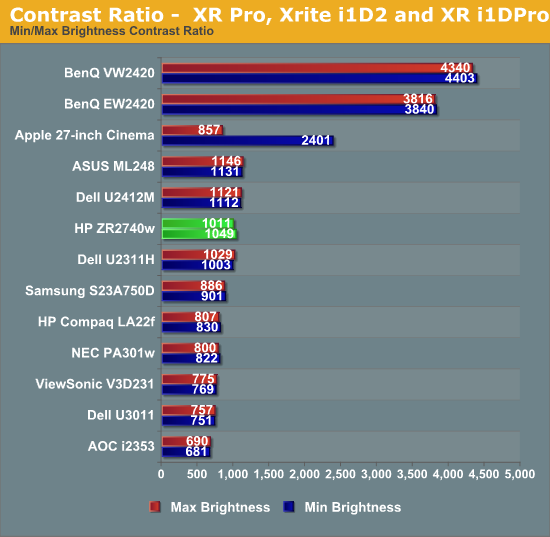 The only high resolution display we have tested that can exceed this is the Apple Cinema Display, but it only does that at peak brightness as the contrast ratio falls off at lower light levels. The more consistent results from the HP gives it the best contrast of any high resolution display currently tested in my mind. Of course a larger panel also means a higher chance of uniformity issues, so hopefully the powerful backlight is able to correct for that.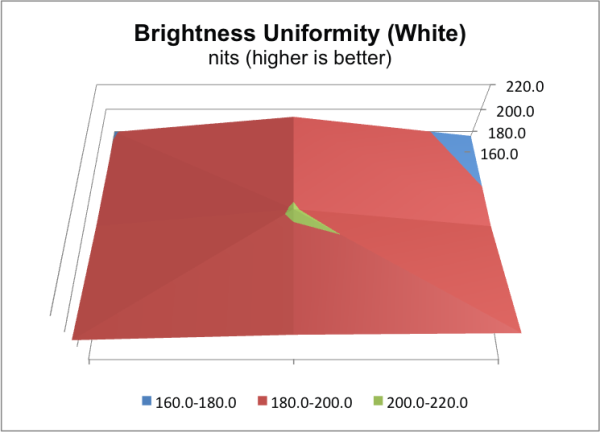 There is certainly a bright spot in the center of the screen and fall-off around the edges, but the variance comes in at a very respectable 4.67%, which outperforms many smaller panels. The black uniformity also comes in very well, with just 6.6% variance. Of course I'd expect the black level to perform better since the higher black level in general will lead to a smaller variance percentage, even if the amount of variance is higher. To account for that, I'll start to report the percentage for the white uniformity, since that target is always 200 nits, and the actual variance for the black level, in this case 0.011 nits, as we target the minimum level for black. I wish the units were the same so it was easier to compare, but to do that we would have to have a black level target, which would hurt displays that can do a lower level of black than others.