TrueCrypt 7.1 Benchmark
TrueCrypt is a software application used for on-the-fly encryption (OTFE). It is free, open source and offers full AES-NI support. The application also features a built-in encryption benchmark that we can use to measure CPU performance. First we test with the AES algorithm (256-bit key, symmetric).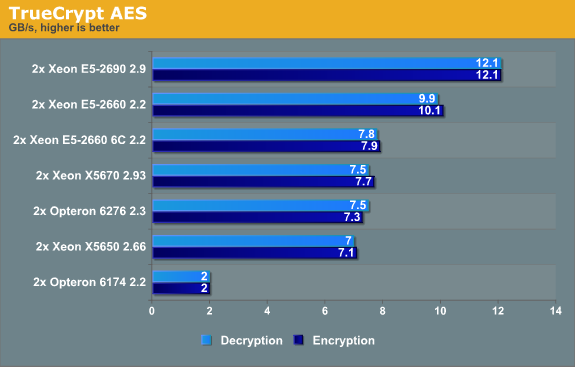 Core for Core, clock for clock, the Xeon E5 - which also supports AES-NI - is about 30% faster than the best Opteron (Xeon E5-2660 vs Opteron 6276). At a similar pricepoint (Opteron 6276 vs Xeon E5-2660 6C) however, the Opteron and Xeon E5 perform more or less the same, with a small advantage for the latter.
We also test with the heaviest combination of the cascaded algorithms available: Serpent-Twofish-AES.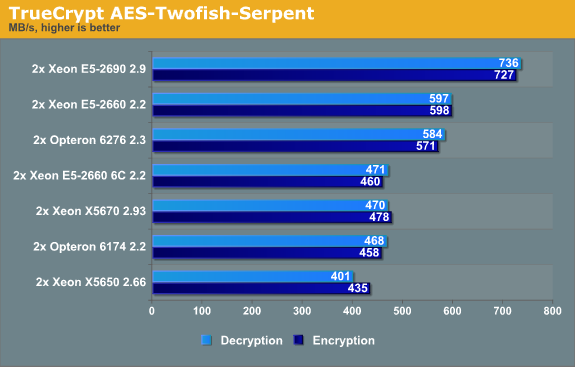 The combination benchmark is limited by the slowest algorithms: Twofish and Serpent. This one of the few benchmarks where the Opteron 6276 is able to keep up with the Xeon E5.
It is important to realize that these benchmarks are not real-world but rather are synthetic. It would be better to test a website that does some encrypting in the background or a fileserver with encrypted partitions. In that case the encryption software is only a small part of the total code being run. A large performance (dis)advantage might translate into a much smaller performance (dis)advantage in that real-world situation. For example, eight times faster encryption resulted in a website with 23% higher throughput and a 40% faster file encryption (see here).
7-Zip 9.2
7-zip is a file archiver with a high compression ratio. 7-Zip is open source software, with most of the source code available under the GNU LGPL license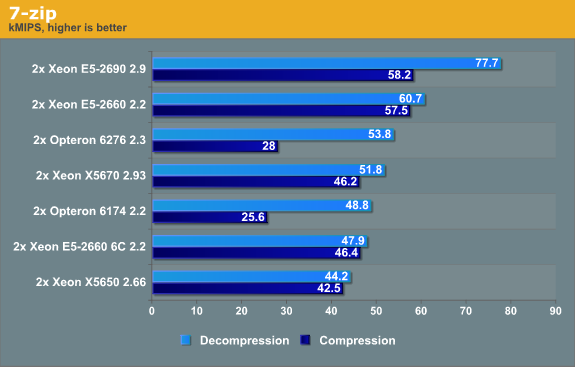 Compression is more CPU intensive than decompression, meanwhile the latter depends a little more on memory bandwidth. When it comes to load/stores and memory bandwidth, the Xeon E5-2660 is about 13% faster than AMD's flagship. Compression is for a part determined by the quality of the branch predictor. The new and improved Sandy Bridge branch predictor is one of the reasons why a 2.2 GHz 6-core 2660 is able to keep up with a 2.93 GHz (!) Xeon 5670, which is also a six-core processor. The Opterons get blown away in the compression benchmark: each core of Xeon E5 is about twice as efficient in this task. The overall winner is thus once again the Xeon E5.