Civilization V
Our final game, Civilization 5, gives us an interesting look at things that other RTSes cannot match, with a much weaker focus on shading in the game world, and a much greater focus on creating the geometry needed to bring such a world to life. In doing so it uses a slew of DirectX 11 technologies, including tessellation for said geometry, driver command lists for reducing CPU overhead, and compute shaders for on-the-fly texture decompression.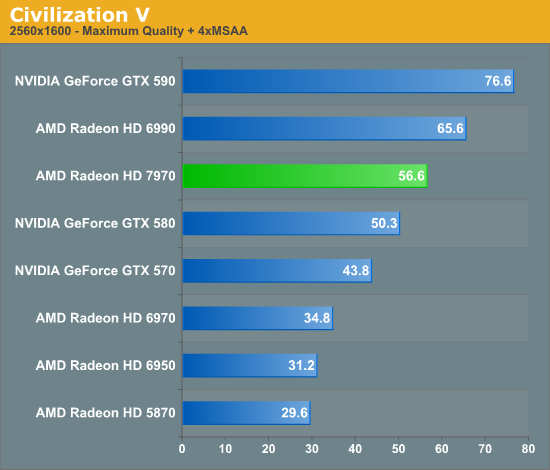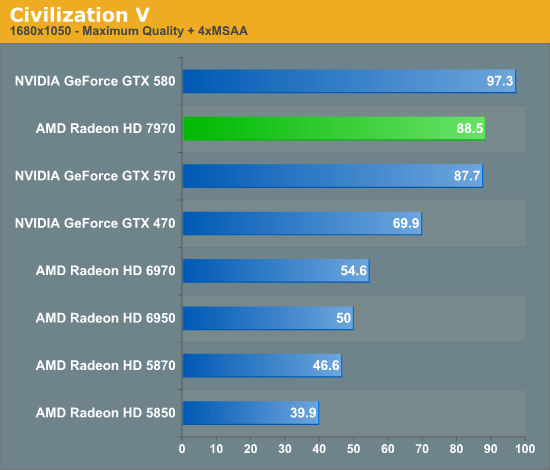 Because of the fact that Civilization V uses driver command lists, we were originally not going to include it in this benchmark suite as a gaming benchmark. If it were solely a DCL test it would do a good job highlighting the fact that AMD doesn't currently support the feature, but a poor job of actually explaining any hardware/architectural differences. It was only after we saw AMD's reviewer's guide that we decided to go ahead and include it, because quite frankly we didn't believe the numbers AMD had published.
With the GTX 580 and the 6970, the 6970 routinely lost to the GTX 580 by large margins. We had long assumed this was solely due to NVIDIA's inclusion of DCLs, as we've seen a moderate single-GPU performance deficit and equally moderate multi-GPU lead for AMD melt away when NVIDIA added DCL support. The 7970 required that we rethink this.
If Civilization V was solely a DCL test, then our 2560 results would be impossible – the 7970 is winning by 12% in a game NVIDIA previous won by a massive margin. NVIDIA only regains their lead at 1680, which at this resolution we're not nearly as likely to be GPU-bound.
So what changed? AMD has yet to spill the beans, but short of a secret DCL implementation for just CivV we have to look elsewhere. Next to DCL CivV's other killer feature is its use of compute shaders, and GCN is a compute architecture. To that extent we believe at this point that while AMD is still facing some kind of DCL bottleneck, they have completely opened the floodgates on whatever compute shader bottleneck was standing in their way before. This is particularly evident when comparing the 7970 to the 6970, where the 7970 enjoys a consistent 62% performance advantage. It's simply an incredible turnabout to see the 7970 do so well when the 6970 did so poorly.
Of course if this performance boost really was all about compute shaders, it raises a particularly exciting question: just how much higher could AMD go if they had DCLs? Hopefully one day that's an answer we get to find out.