Starcraft II
Our next game is Starcraft II, Blizzard's 2010 RTS megahit. Much like Portal 2 it's a DX9 game designed to run on a wide range of hardware so performance is quite peppy with most high-end cards, but it can still challenge a GPU when it needs to.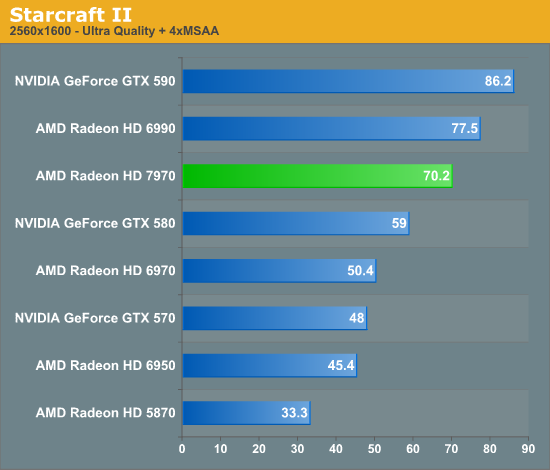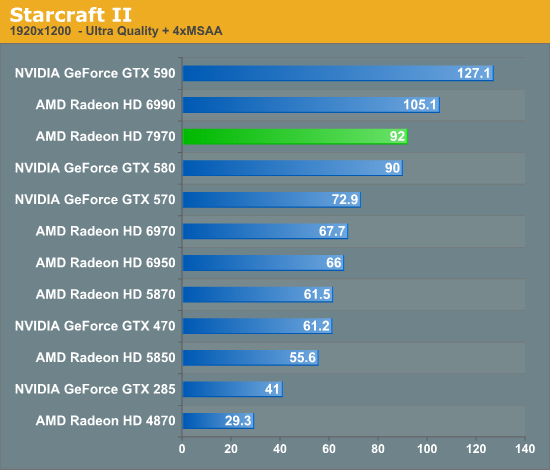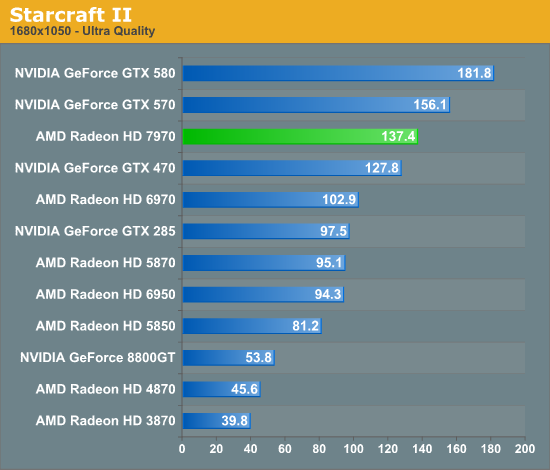 For 2560 and 1920 we're using 4x MSAA, which must be forced through the driver control panel as Starcraft II does not natively support anti-aliasing. As is often the case with forced MSAA the resulting performance hit is rather high, which is why SC2 can still tax our high-end GPUs.
Starting at 2560, things are looking good for the 7960. At 70.2fps it takes a 19% lead over the GTX 580, and is the only single-GPU card to crack 60fps at that resolution. Against the 6970 it also looks quite good, with a lead of just under 40%.
But when we drop down to 1920, the 7970's tendency for its lead to drop with the resolution takes full force. Here the 7970 is only 2% ahead of the GTX 580, and looking at 1680 (without MSAA) has the 7970 being outright outgassed by the older GTX 580 by nearly 33%. Interestingly enough however we don't see the same thing happen against AMD's own cards, as the 7970 remains ahead of the 6970 by about 35%.
While it's primarily 1920 and 2560 we're interested in, it's still worth pondering on 1680 for a moment. Given the consistent performance of the 7970 versus the 6970, it looks like we're not simply seeing architectural strengths and weaknesses here. AMD simply cannot hit the high framerates of the GTX 580 here, and at this point we have to suspect that unless AMD is somehow ROP-bound, that we're looking at a driver limitation of some kind that starts to particularly manifest itself at 1920 and below.
In any case while Starcraft II is not a particularly strong game for the 7970, at the very least the raw performance is there. The performance differences are largely academic as the 7970 is more than capable of powering through even 2560. As such if the 7970 is going to struggle to beat the GTX 580 at any game, this is one of the less meaningful games to struggle at.