Battlefield 3
Its popularity aside, Battlefield 3 may be the most interesting game in our benchmark suite for a single reason: it's the first AAA DX10+ game. It's been 5 years since the launch of the first DX10 GPUs, and 3 whole process node shrinks later we're finally to the point where games are using DX10's functionality as a baseline rather than an addition. Not surprisingly BF3 is one of the best looking games in our suite, but as with past Battlefield games that beauty comes with a high performance cost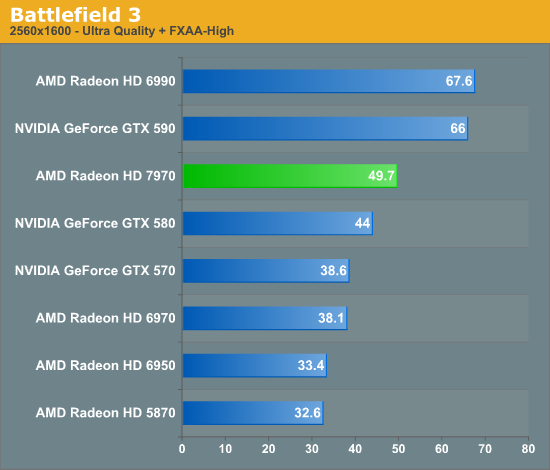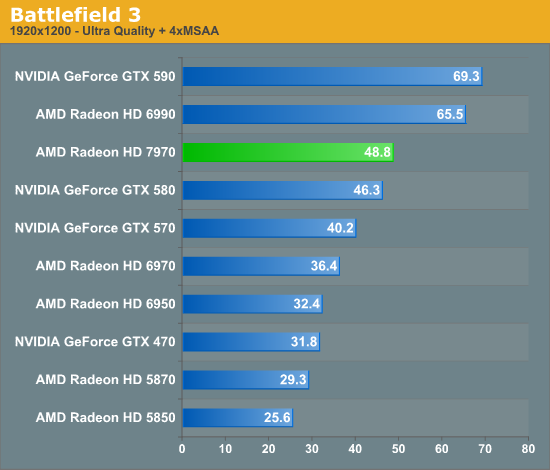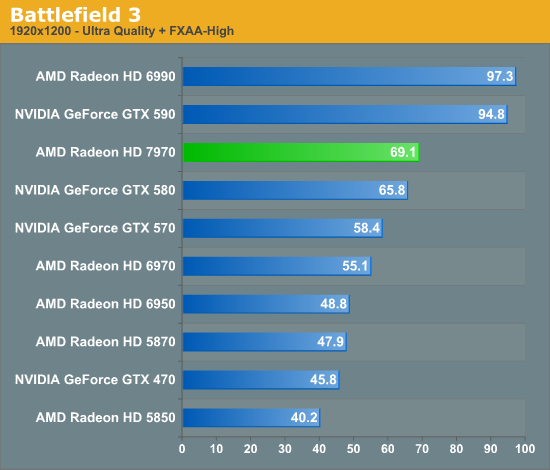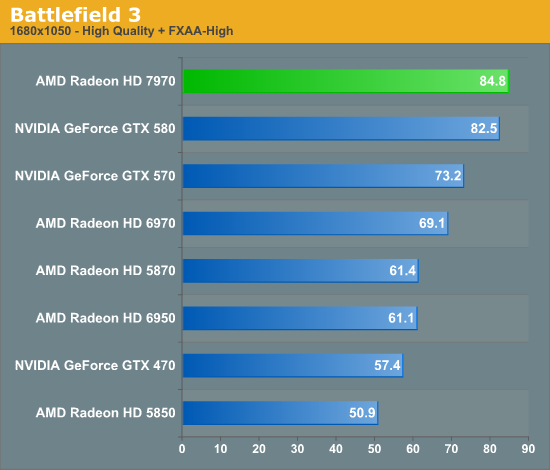 How to benchmark BF3 is a point of great contention. Our preference is to always stick to the scientific method, which means our tests need to be perfectly repeatable or very, very close. For that reason we're using an on-rails section of the single player game, Thunder Run, to do our testing. This isn't the most strenuous part of Battlefield 3 – multiplayer can get much worse – but it's the most consistent part of the game. In general we've found that minimum framerates in multiplayer are about half of the average framerate in Thunder Run, so it's important to frame your expectations accordingly.
With that out of the way, Battlefield 3 ends up being one of the worst games for the 7970 from a competitive standpoint. It always maintains a lead over the GTX 580, but the greatest lead is only 13% at 2560 without any MSAA, and everywhere else it's 3-5%. Of course it goes without saying that realistically BF3 is only playable at 1920 (no MSAA) and below on any of the single-GPU cards in this lineup, so unfortunately for AMD it's the 5% number that's the most relevant.
Meanwhile compared to the 6970, the 7970's performance gains are also a bit below average. 2560 and 1920 with MSAA are quite good at 30% and 34% respectively, but at 1920 without MSAA that's only a 25% gain, which is one of the smaller gaps between the two cards throughout our entire test suite.
The big question of course is why are we only seeing such a limited lead from the 7970 here? BF3 implements a wide array of technologies so it's hard to say for sure, but there is one thing we know they implement in the engine that only NVIDIA can use: Driver Command Lists, the same "secret sauce" that boosted NVIDIA's Civilization V performance by so much last year. So it may be that NVIDIA's DCL support is helping their performance here in BF3, much like it was in Civ V.
But in any case, this is probably the only benchmark that's really under delivered for the 7970. 5% is still a performance improvement (and we'll take it any day of the week), but this silences any reasonable hope of being able to use 1920 at Ultra settings with MSAA on a single-GPU card for the time being.