Portal 2
Portal 2 continues the long and proud tradition of Valve's in-house Source engine. While Source continues to be a DX9 engine, Valve has continued to upgrade it over the years to improve its quality, and combined with their choice of style you'd have a hard time telling it's over 7 years old at this point. Consequently Portal 2's performance does get rather high on high-end cards, but we have ways of fixing that…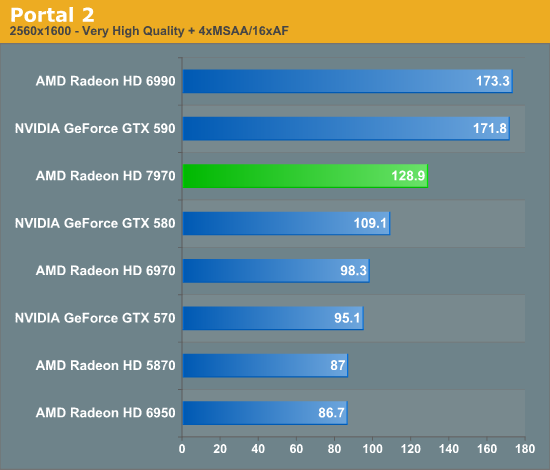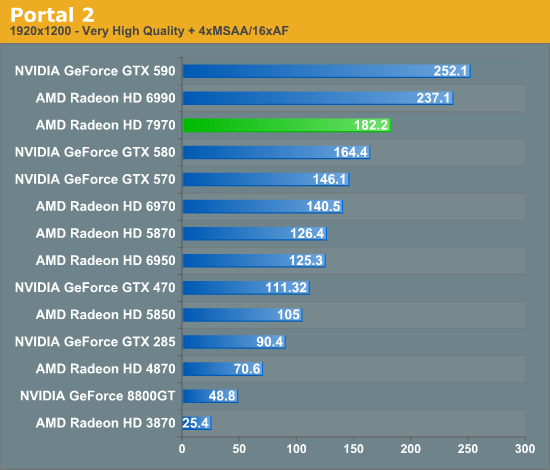 Given Portal 2's wide range of performance it's possible to at least somewhat bog it down on the GPU side without any special tricks thanks to its heavier use of shaders than in past Valve titles. Given a fast enough card I believe we could hit the 300fps internal Source framerate cap on our testbed, but thankfully at 2560 we're nowhere close. In any case at 2560 the 7970 is well into the stratosphere, delivering 128.9fps, which is 18% better than the GTX 580. Meanwhile at 1920 as with so many other benchmarks that lead shrinks, this time down to 11%. Meanwhile the 7970 enjoys a smaller lead over the 6970, beating it by only around 30% at either resolution.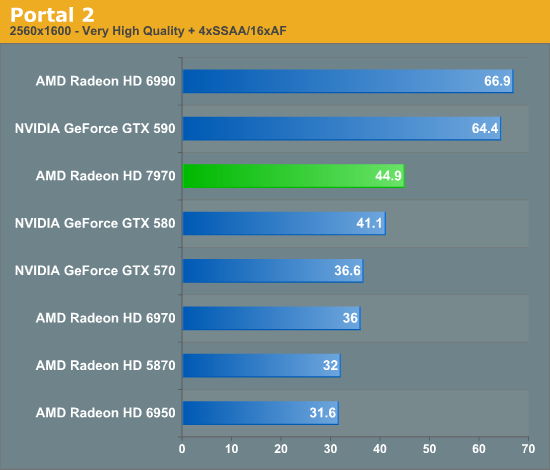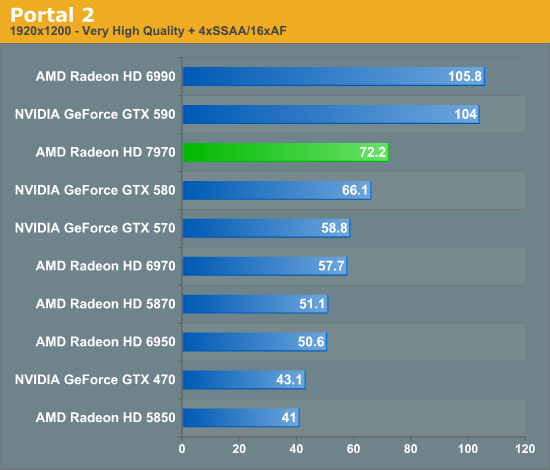 The great thing about the Source engine is that it's well studied, and by utilizing DirectX9 it's open to a few more image quality enhancements than DX10+ games. We've always wanted to have a standard benchmark with more anti-aliasing than just MSAA, and Portal is the perfect candidate. So for the second part of this test, we've turned on Super Sample Anti-Aliasing (SSAA) through NVIDIA and AMD's driver control panels. With SSAA the entire scene gets anti-aliased, going beyond just removing the jaggies at polygon edges and removing all signs of shader aliasing too, making Portal 2 a very good looking game.
As expected, SSAA makes the performance of everything tank. At 2560 the 7970 is well below 60fps, and every other single-GPU card is slower yet. Once we get down to 1920 performance finally reaches a point where it's playable, as the 7970 reaches 72.2fps.
Compared to its competition, it's interesting to note that we appear to have hit an entirely different set of bottlenecks by using SSAA. The 7970 leads the GTX 580 by 9% at both resolutions while it leads the 6970 by 25% under the same conditions. We believe that at this point we're seeing the limitations of ROP performance, which would explain why the 7970's lead diminishes versus both the GTX 580 and 6970. The additional bandwidth the 7970's design affords the ROPs can only go so far until it once again becomes a matter of pixel pushing power.