Camera - UI and Video Quality
The cameras on SGS2 get a sizable upgrade from the previous generation. To start, SGS1 shipped with a 5 MP rear facing camera with AF, and VGA front front facing camera, (though the USA variants only got one when SGS4G packed one), and devices that are essentially SGS at their core have since shipped with them, and sometimes with flash.
SGS2, however, includes an 8 MP rear facing camera with LED flash and autofocus, and a 2 MP front facing camera. Thus far it appears as though things are going to be considerably more constant across SGS2 variants, with all three USA-bound variants including the same specs on paper at least.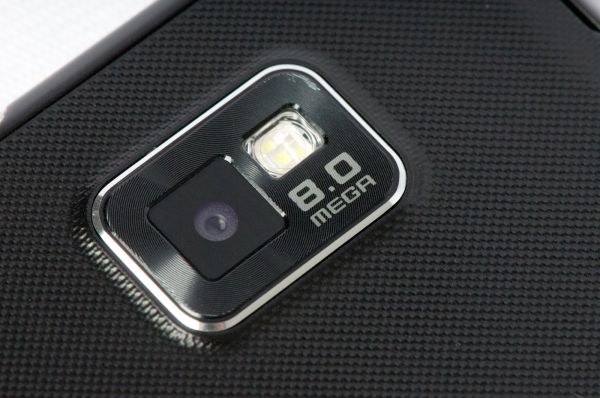 I suppose a good a place as any to start is the camera UI, which gets a significant revamping in SGS2. The UI is much cleaner and looks more mature, with less of the bubbly rounded edges and more of a clean square look. There's also no toggling UI elements on and off for a 'lite' view, you get this and this only. The bottom or right bar mirrors iOS' camera application, with a toggle for photo and video, preview on the other side, and rectangular capture button in the center.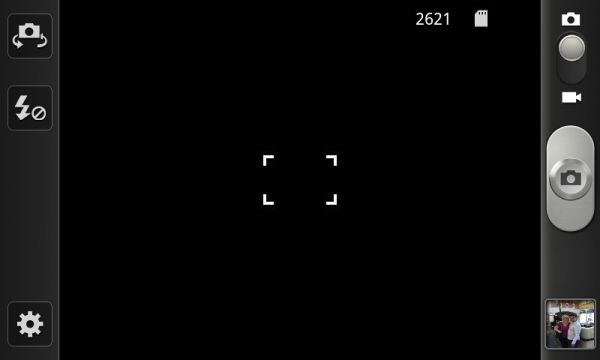 Tapping anywhere in the preview does an autofocus for that region, though auto exposure is either done by center metering, spot, or a matrix - tapping doesn't change that.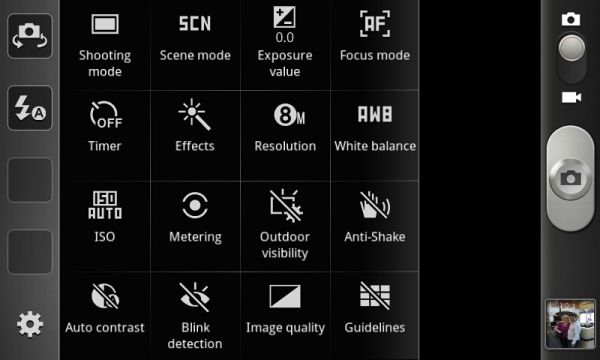 You can long-press on either of the two top left icons (switch cameras, change flash) and add two more shortcuts. The settings button on the bottom left brings up an overlay with more capture options, which there is a wealth of.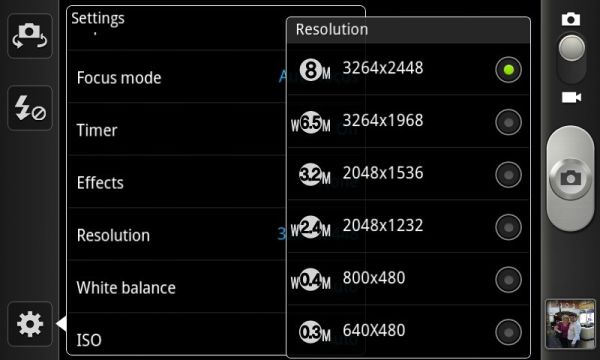 Self shot functionality, flash, shooting modes, scene modes, exposure, focus modes (auto, macro, or face), resolution, white balance, ISO, metering, outdoor visiblity (an mDNIe toggle), anti-shake (electronic), auto contrast, blink detection, image quality, GPS, and storage location, phew - anyone still with me? That's about everything, and I'd encourage checking out the gallery for a tour of all of it.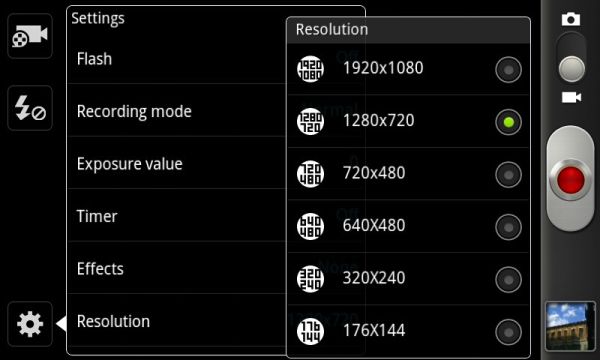 Switching to video mode keeps much the same settings, just with the differences you'd expect to accommodate video. Video capture resolutions include VGA, 480p, 720p, and 1080p, flash is either on or off, and there are fewer shooting modes. For some reason, the SGS2 uses 480p by default instead of 720p or 1080p, honestly I don't know why anyone would use anything but those two higher settings.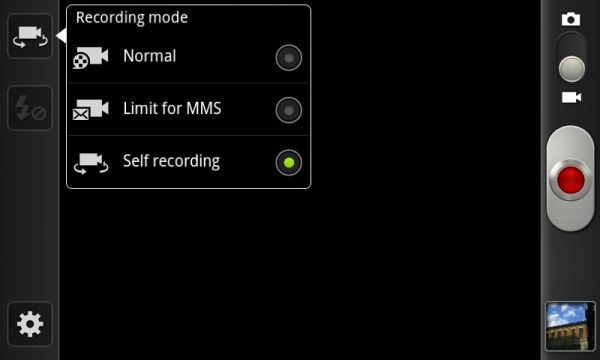 The UI also correspondingly goes transparent to accommodate the 16:9 aspect ratio of these modes, though it doesn't disappear or go away fully.
I suppose that's as good a time as any to talk about video quality on SGS2. The device has continual autofocus, which you can see working in our test videos. We've done the usual thing and taken videos at the bench location with a reference Canon Vixia HF20 alongside the phone-under-test on a dual-camera bracket. I've taken comparison video from the camcorder and the SGS2 and uploaded the lot to YouTube, in addition to putting zipped up copies on the server (415.1 MB) for interested parties to download and see without the YouTube transcode.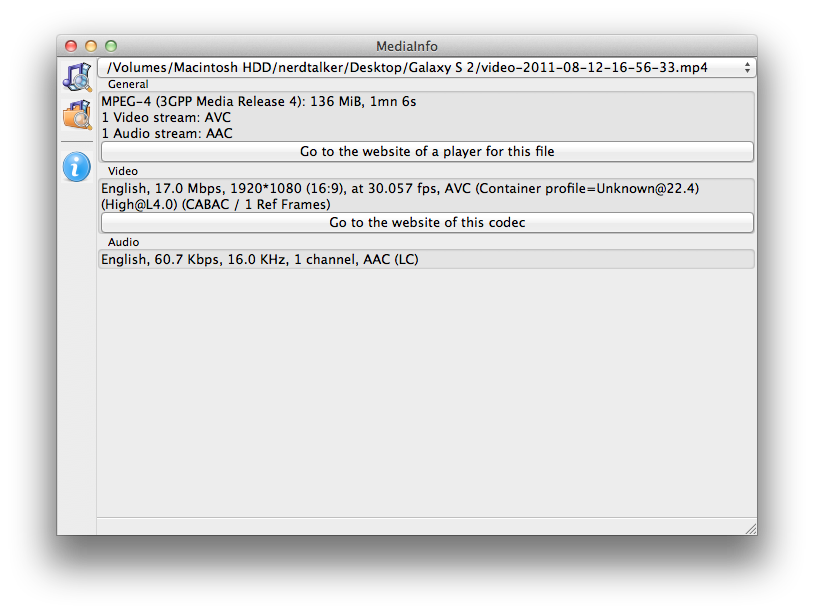 In 1080p mode, SGS2 records 1080p30 video in H.264 High Profile with 1 reference frame at 17.0 Mbps. This is 2 Mbps above the Droid 3's 15 Mbps High Profile 1080p video which we were a fan of, and it now appears that Exynos 4210 has just as competent of a hardware encoder as OMAP 4430, supporting high profile features and delivering high bitrate at the same time. Audio however is just single channel AAC at 60 Kbps, which is disappointing considering the SGS2 has two microphones, though it appears that top mic is used exclusively for Audience.
Subjectively the 1080p30 video shot on SGS2 looks like the best we've seen so far, there's no blocking in the dark regions, great high spatial frequency detail, and really nothing to complain about. Exynos also supports 16x16, 8x8, 4x4, and 8x16 DCTs, but only encodes with backward references and one reference frame (much like OMAP4's encoder). The point is that there's still room for even better encoder efficiency which would come from encoders that use 2–4 reference frames and forward references. Sadly such encoders probably won't be around for a while however.
The 720p30 preset records at 12.0 Mbps with the same encoding features as 1080p, meaning its encoding is of similar quality at this preset.
There's a difference in crop factor that takes place when switching between 720p and 1080p shooting modes. 1080p clearly puts the sensor in a mode where it only reports a square 1920x1080 shaped region back, whereas 720p appears to perhaps use a 2x2 binning, and 480p or lower resolutions appear to just decimate the full sensor output. The result is that as you move to lower video resolutions, you get a wider field of view.
Samsung Galaxy S 2 - 720p Sample

Samsung Galaxy S 2 - 1080p Sample

Canon Vixia HF20 - Reference Sample

Again video recording quality on SGS2 is decidedly awesome in 1080p mode, though 720p could be better with better encode settings, the device shoots some of the best video we've seen out of a smartphone to date.