Baby Steps into the Present
Credit where credit is due to Toshiba: while a lot of the design points I took issue with on their older laptops are still present in the Satellite L775D-S7206, they're still definitely progressing with each refresh. In the case of the L775D-S7206, much of the shell has been upgraded to an attractive navy blue aluminum finish. It still picks up smudges and fingerprints, but it looks nowhere near as cheap as the explosion-at-the-gloss-factory finishes of old.
I'm more liable to forgive Toshiba's design trespasses on a notebook like this one because of its low pricetag, but they're still worth pointing out: glossy plastic does not belong on the screen bezel. In fact, that's really part of the problem with this notebook: while the aluminum finish is fantastic, Toshiba has managed to put glossy plastic just about everywhere you don't want it. The screen bezel should be devoid of glossy plastic yet there it is, and worse, the keyboard is still comprised of the same flat, glossy keys that I derided last generation. There's something seriously wrong when the cheaper notebooks in your line have better keyboards by virtue of just using matte plastic instead of gloss.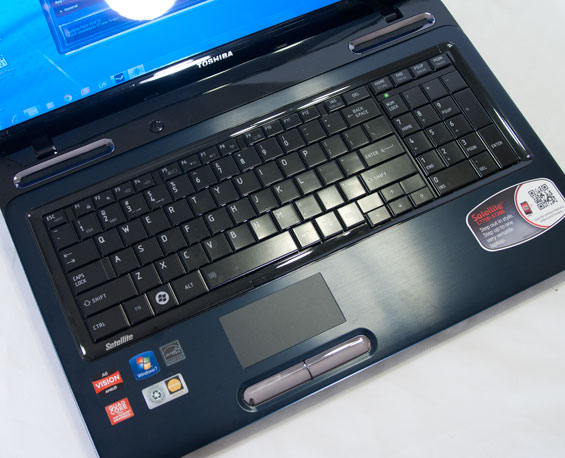 What makes that more frustrating is that Toshiba's keyboard layout is honestly one of the best I've seen. While Clevo continues to be utterly perplexed by the prospect of integrating a 10-key with the rest of the keyboard, Toshiba's layout is incredibly smart and as close to ideal as you could ask for. No keys are missing, the 10-key is the bog standard layout, and document navigation keys have their own row above the 10-key. Toshiba's layout is as good as I could ask for, I just wish they'd at least upgrade the rest of their notebooks to the keyboard they're using on their Tecra and Portege lines, or at least get rid of the gloss.
You'll also notice a stunning lack of media keys or touch-sensitive shortcuts above the keyboard. I've never liked the touch-sensitive strips and I'm happy to see it gone, though a few media shortcut keys would've been appreciated even as Fn combinations.
The touchpad is much easier to use, and thankfully it isn't a part of the chassis the way most inexpensive notebooks make it. You can see clearly in the photo that it's a different piece, and it's smooth and easy to track. The action on the mouse buttons is a little stiff, but not a huge deal: if you don't have an external mouse handy, you could do a lot worse than Toshiba's touchpad. The pad itself could be a bit larger, and the buttons are perhaps too large, but it works well regardless.
Honestly my biggest gripe is that Toshiba is still futzing with flat glossy keys and bulbous shell designs on their consumer notebooks. My experiences with Toshiba notebooks, barring design decisions, have typically been very positive, and anecdotally I have yet to see one actually die, no matter the age. Toshiba offers great options for budget users, and the navy blue aluminum panels are a major upgrade, but the overall curvy design still feels unattractive to me.