Oh My Stars: Application Performance
Most of the more informed of our readers are already going to have a pretty good idea of how the CPU-based tests are going to shake down. The Stars core at the foundation of the Llano APU was mostly competitive with mainstream Intel CPUs the day it released, but it hasn't aged well, and the cripplingly low 1.4GHz nominal clock rate of the A6-3400M powering the Toshiba L775D-S7206 is going to look pretty dire on paper. What's important to keep in mind is that this processor is still fast enough for most basic tasks, though: you can still edit video and photos with it, but it's definitely going to take longer than a comparable Intel chip. There's also that potential 2.3GHz Turbo Core available; we can't measure how often the cores are actually running above 1.4GHz, but look at the results.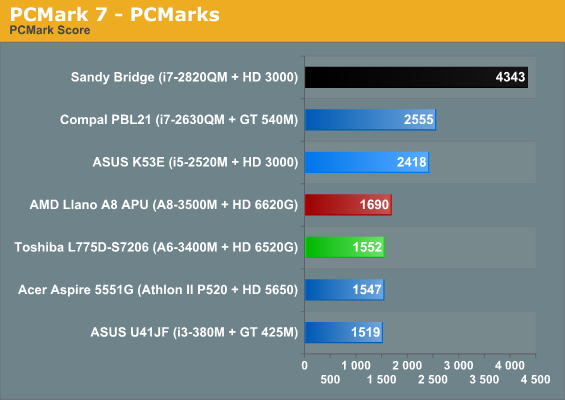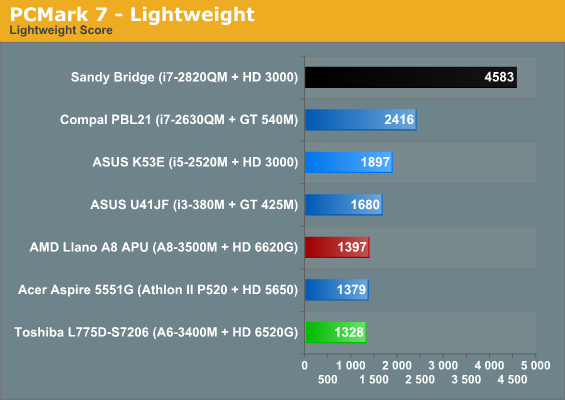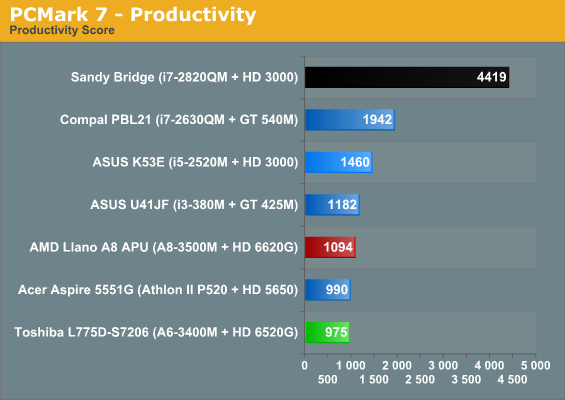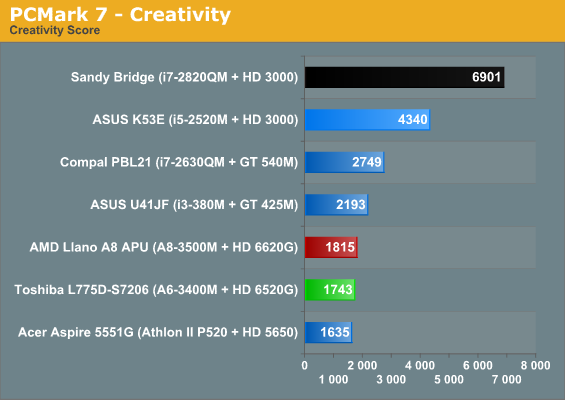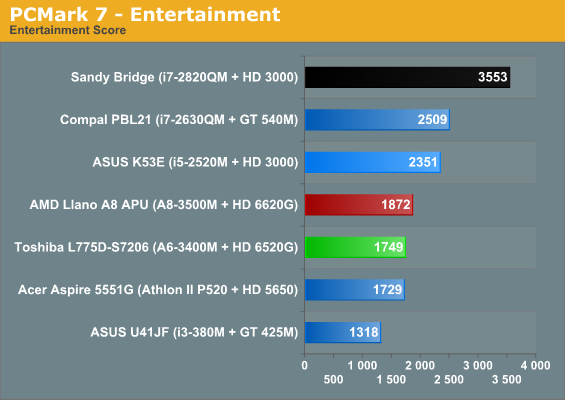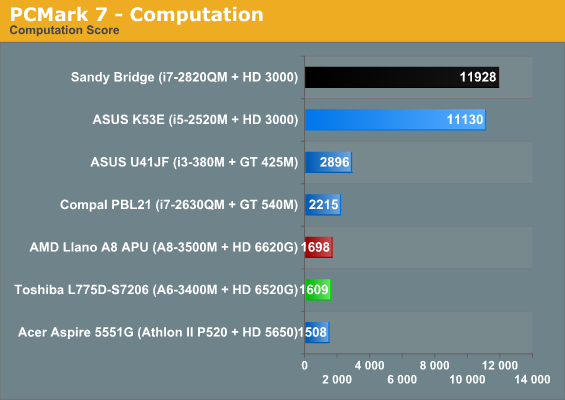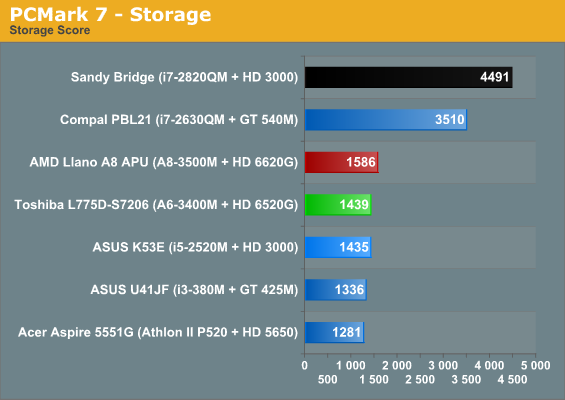 You can see in PCMark 7 that Sandy Bridge pretty much dusts the A6-3400M (noting that the quad-core Sandy Bridge test systems do benefit from SSDs), and it basically trades blows with Arrandale. The dual-core i5-2520M with an HDD is in the ASUS K53E, and outside of the storage test it also pummels Llano. What's particularly interesting, though, is that the A6-3400M is barely slower than the A8-3500M, at least in these synthetic tests. That makes sense: only 100MHz separates the two processors, but at least as far as the CPU goes you can make that sacrifice fairly comfortably since the A8 is much more rarefied in the wild than the A6. The Athlon II P520, meanwhile, boasts two cores at a nominal 2.3GHz and trades blows with the new Llano chips.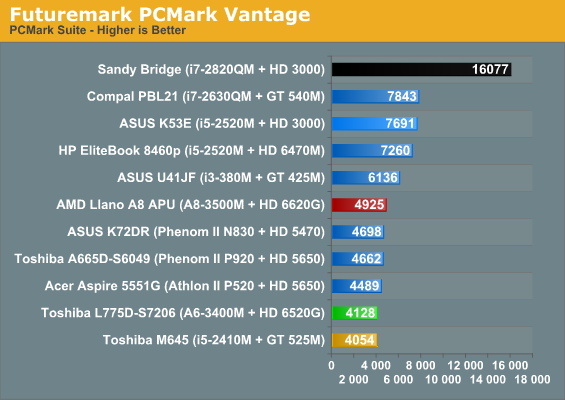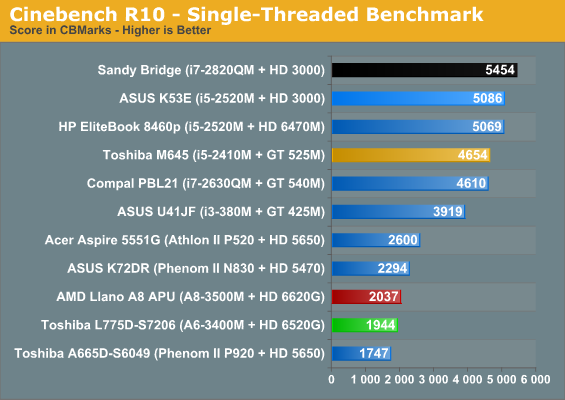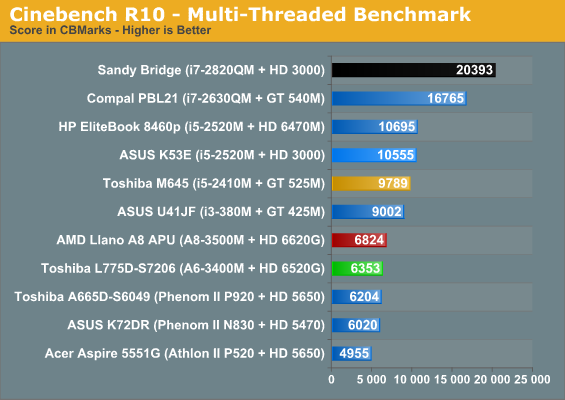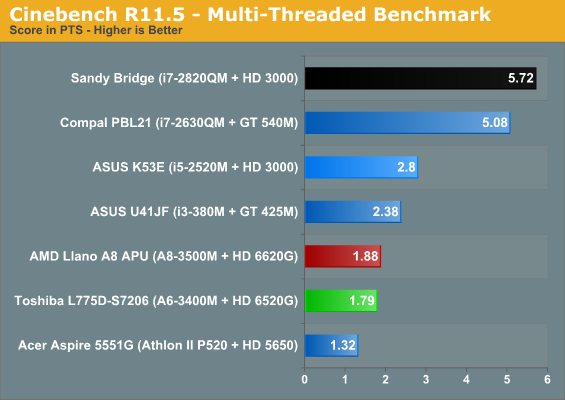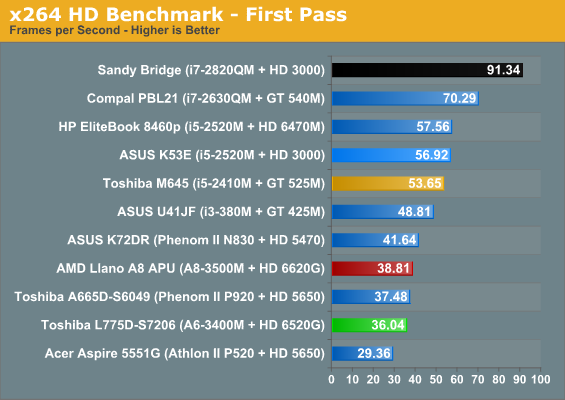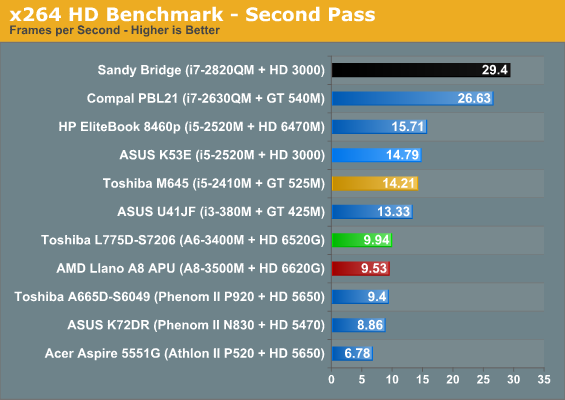 There's an awful lot to digest here. First, two of Intel's Hyper-Threaded cores running at a high clock speed basically run roughshod over four slow Stars cores: no surprsies there. But the Phenom II P920 in the Toshiba A665D-S6049 is a 1.5GHz quad core with 512KB of L2 cache per core instead of 1MB as in Llano, though the cores are otherwise almost identical. In most cases the AMD chips bunch together while the Intel chips gum up the top of the chart. The takeaway is brutal, though: Trinity, with its Bulldozer cores instead of Stars cores, can't get here fast enough. The i7-2820QM in our Sandy Bridge testbed is nearly three times faster than Llano, and the i5-2520M is about 60% faster on average.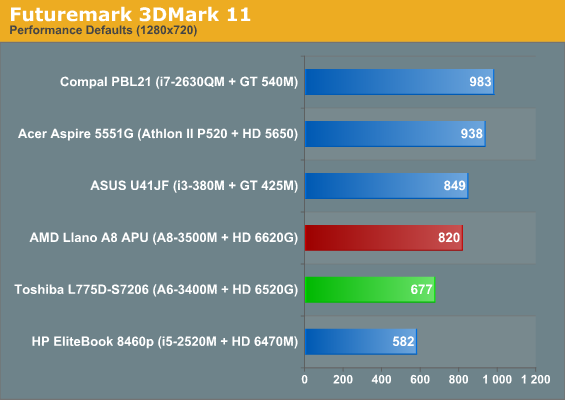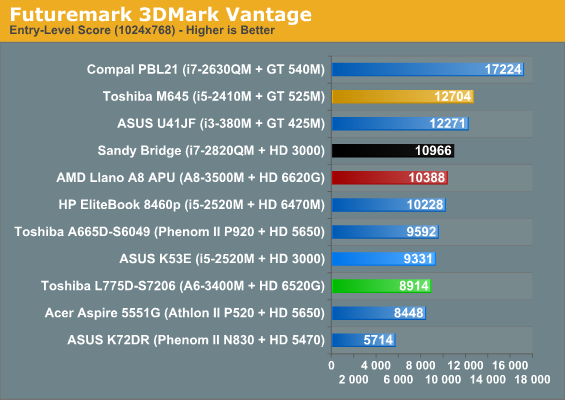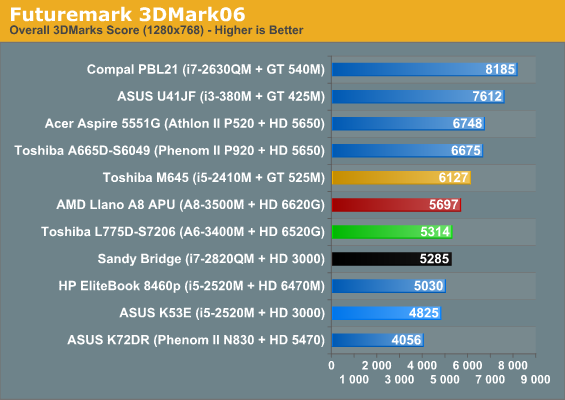 Things brighten up a bit when we get to 3DMark, where Llano's modified Redwood GPU core is able to hang fairly well with discrete-class GPUs. The A6-3400M may be closer to the bottom of the charts in each case, but it's still producing impressive performance compared to the string of dedicated graphics parts. It's easy to understand why AMD's PR splits hairs about calling Llano's graphics core an IGP and prefer to call it an "iGPU" or Fusion GPU, because while it's an IGP in the strictest sense, it doesn't necessarily deserve the negative connotations that have stigmatized the term as a result of Intel's pre-Sandy Bridge integrated graphics parts. Also worth pointing out in case you missed it is the lack of 3DMark11 results for any of the Intel IGPs; as a test that requires DX11, even Sandy Bridge can't run it without a dedicated GPU.