We ring in the New Year with the introduction of some great new power supplies courtesy of Enermax. Enermax has always had a wide selection products ranging from mid- to high-end PSUs in a variety of wattages. Enermax is mostly active in the retail market so they've always had a good idea about how to design products that appeal to end-users. They have maintained a stable business in the retail market, especially in Germany. It comes as little surprise that Enermax was one of the fastest companies to introduce high efficiency power supplies to the market, with a lot of new features. That trend continues with their new 87+ series.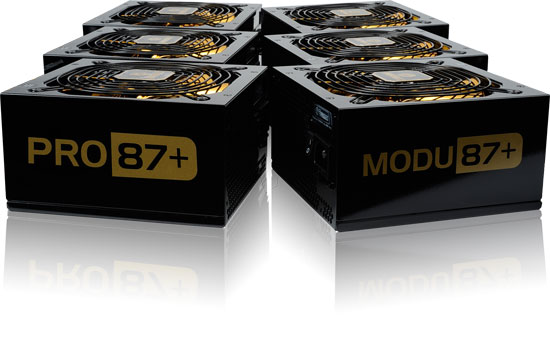 A little while ago Enermax introduced the Modu82+ and Pro82+ and we tested a total of four units. We thought it would be nice to continue with this trend and introduce all of the Modu87+ and Pro87+ series power supplies Enermax released this month. There is one feature on these new power supplies that helps them stand out in a crowded market: they are 80 Plus Gold certified. This alone doesn't make them unique as we already have many other 80 Plus Gold power supplies, but the Modu87+ and Pro87+ series both come with a starting wattage of 500W, making them far more interesting for a large number of end-users. Realistically, few systems really need a power supply that can output more than 500W, and getting a very high efficiency at common power draws is a bonus. Fortunately efficiency isn't the only noteworthy feature on these power supplies, but high efficiencies can only be reached with certain technologies. These technologies alone will make an overall better product out of a higher ranking 80 Plus certified power supply.
Both series are now available in three versions: of 500W, 600W, and 700W. There will be two more models rated at 800W and 900W in Q2 of this year. The good news is that the units we are introducing today have already been shipped and the first units should be on US shelves now or in the near future (we were unable to find any online as we publish this article). Enermax told us that there should also be some mail-in rebates and other incentives available to make these new power supplies even more attractive.