Watching Flash Video on the Ion
You should never have to worry about your system specs when it comes to watching Flash video. Sites like YouTube and Hulu exist simply because of the large number of PCs that can play Flash video. Can the dual-core Atom 330 in the Zotac Ion-A handle watching video online?
To test this I watched the season finale of 24 on Hulu. I performed three tests: I watched the season finale in its default window at low res, high res (480p) and then full screen.
Thankfully, Adobe's Flash player appears to be well threaded - all four cores (two physical, two virtual) had parts of the playback task running on them. The first test proved to work just fine: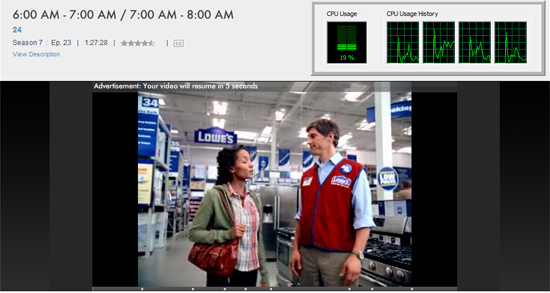 CPU utilization never hit above 27% and for the most part stayed around 19%.
Next I tried Hulu's high-res option, which keeps the playback window the same size but increases the resolution to 480p. While CPU utilization jumped to nearly 40%, playback was still smooth. Note that high-res Hulu isn't smooth on a single-core Atom, the 330 is necessary for a good Hulu experience.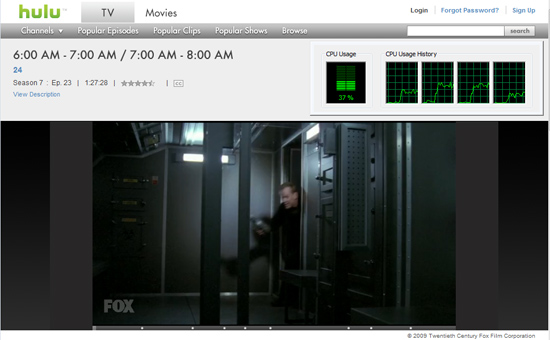 Note that I tested under Google Chrome, however if you use Internet Explorer your CPU utilization will drop a bit.
The experience you get when going full screen in Hulu is very dependent on your desktop resolution. With a 1920 x 1200 desktop resolution, 480p Hulu is unwatchable on the Zotac Ion. CPU utilization maxed out just under 80% and video playback was choppy.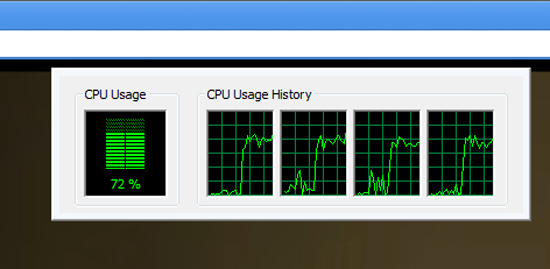 Dropping the desktop resolution to 1280 x 720 made things more bearable, with CPU utilization generally under 50% but it still wasn't totally smooth. I'm not sure how much of this is Adobe's fault and how much is the Atom just not being able to keep up, but full screen Flash video playback just isn't in the cards.