Introduction
The Corsair TX series has admittedly been in the market for a while, but we wanted to add another Corsair power supply to our pile of results. Corsair tends to be somewhat conservative with their power supplies, which isn't necessarily a bad thing. Their highest output power supply is "only" 1000W, the previously tested HX1000W, and today we are reviewing the TX750W. All of their other power supplies are rated at 400W to 650W. It's nice to see that Corsair doesn't feel the need to follow the current market trend of pushing extremely high wattage power supplies on users.
Corsair power supplies come from two different ODMs, Seasonic and Channel Well (CWT). Both are very good manufacturers for high-end products, but Seasonic tends to be a more conservative company that doesn't want to grow their business too fast whereas CWT is kind of the opposite and is interested in selling a large number of power supplies through many different companies. Corsair blurs the boundaries between these ODMs, letting the two manufacturers produce different wattages for the same series.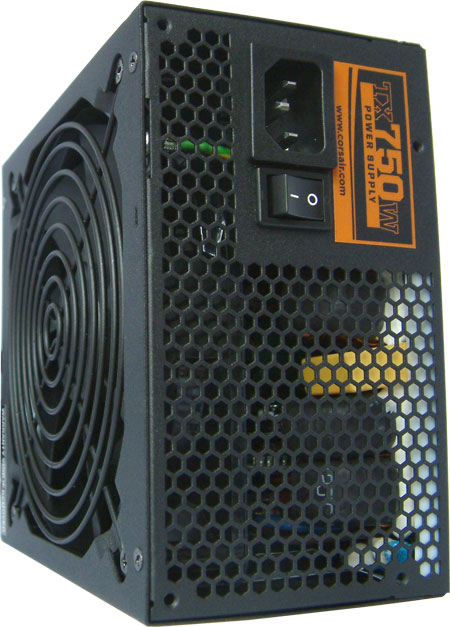 The TX series is a high performance series that doesn't include extra features like cable management. If you prefer cable management, you should look at Corsair HX series -- which we will be reviewing shortly. We also reviewed theVX450W, which did well in our low wattage roundup a year ago. However, the VX450W was produced by Seasonic while Channel Well makes the TX750 power supply.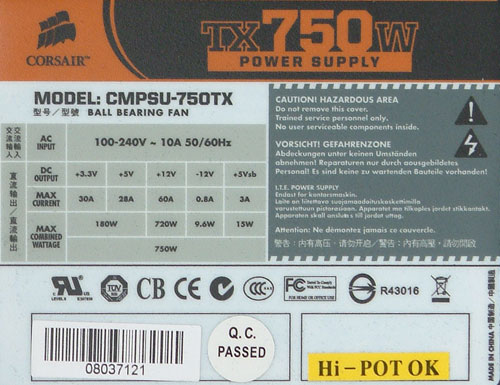 The label shows a single 12V rail with a massive 60A, which is common for Corsair products. The smaller voltage rails feature 30A and 28A and a combined power of up to 180W. Today's systems do not need much power from the smaller voltage rails, so the 180W combined power is acceptable.