Introduction
In our CPU Cooler review in March, the Noctua NH-U12P emerged as one of the best cooling performers we've tested here at AnandTech. However, at a price point of around $90 with two fans, that performance doesn't come cheap. Today we're going to look at a less expensive alternative, the Kingwin RVT-9225.
KWI Technology Inc., known as Kingwin, sells a number of PC components besides CPU coolers, including power supplies, fans, cables, and so forth. Their CPU cooler line has three recent models supporting modern processors; these are all part of the Revolution line, which consists of the RVT-9225, the RVT-12025, and the RVT-12025D. All of these incorporate "H.D.T." as they term it, Heatpipe Direct Touch, which essentially describes what it is: the heatpipes actually run through the CPU block and have a large contact surface to the CPU.
As we'll see, this is effectively marketing hype and does not provide performance gains over other approaches. The RVT-9225 is the smallest of the bunch, with a 92mm x 25mm fan (hence the name), and retails at Newegg for around $30.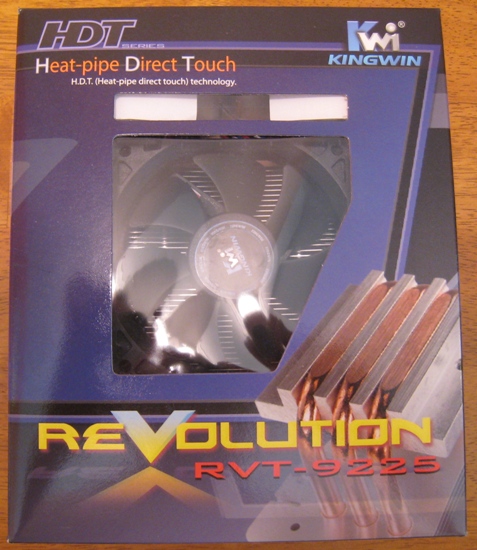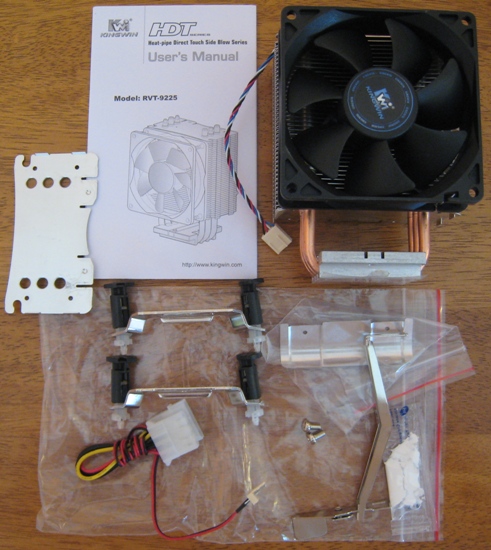 Specifications
Kingwin RVT-9225 Heatsink
Dimensions
3.63" x 5.27 x 1.97" /92(L) x 134(H) x 50(W) mm
Weight
0.91Lbs / 410 g (w/fan)
Material
Aluminum w/ copper base
Fan Configuration
Single 92mm fan, rubber mounts
Kingwin RVT-9225 Fan
Model
Kingwin Revolution RVT-9225
Fan Size
92 x 92 x 25 mm PWM
Bearing Type
Rifle bearing
Noise Level
23~35 dBA
Speed
1200~2800 RPM
Air Flow
39~54.6 CFM
Voltage Range
12V
Fan Life
50,000 hrs
Connector
4 Pin with PWM