Synthetic Graphics Performance
The 3DMark series of benchmarks developed and provided by Futuremark are among the most widely used tools for benchmark reporting and comparisons. Although the benchmarks are very useful for providing apple to apple comparisons across a broad array of GPU and CPU configurations they are not a substitute for actual application and gaming benchmarks. In this sense we consider the 3DMark benchmarks to be purely synthetic in nature but still valuable for providing consistent measurements of performance.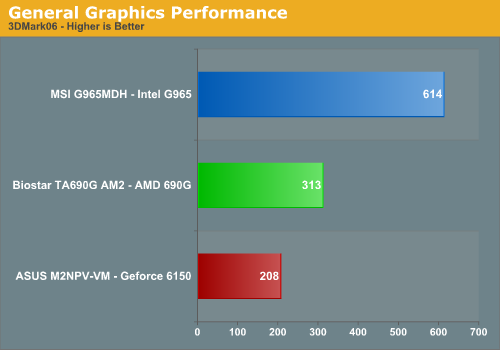 In our first test, the combination of the Intel Core 2 Duo and G965 makes for a great showing against the AM2 offerings. Okay, so we're being a bit sarcastic in that announcement as we consider these results to be anything but great. The Intel platform had no issues running the full 3DMark series but our AMD platforms could not complete the Shader Mark 3.0 tests. However, they exceeded the Intel platform scores in both the SM 2.0 and CPU tests. While the Intel platform passed the SM3.0 tests, this means little in actual game performance where the G965 failed to properly run games with SM3.0 capability.
General System Performance
The PCMark05 benchmark developed and provided by Futuremark was designed for determining overall system performance for the typical home computing user. This tool provides both system and component level benchmarking results utilizing subsets of real world applications or programs. This benchmark is useful for providing comparative results across a broad array of Graphics, CPU, Hard Disk, and Memory configurations along with multithreading results. In this sense we consider the PCMark benchmark to be both synthetic and real world in nature and it provides consistency in our benchmark results.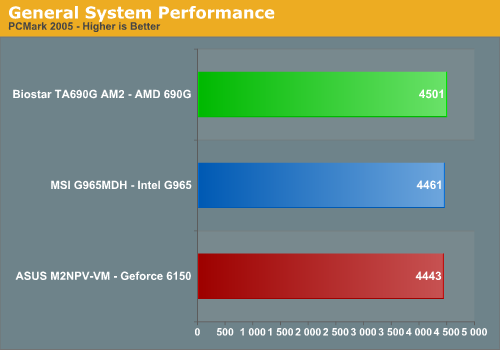 The margins are closer in the PCMark05 results with the 690G platform showing a minor advantage over the G965 and 6150 platforms. While this benchmark is designed around actual application usage, we will see if these results mirror our application testing.
Rendering Performance
We are using the Cinebench 9.5 benchmark as it tends to heavily stress the CPU subsystem while performing graphics modeling and rendering. Cinebench 9.5 features two different benchmarks with one test utilizing a single core and the second test showcasing the power of multiple cores in rendering the benchmark image. We utilize the standard multiple core benchmark demo and default settings.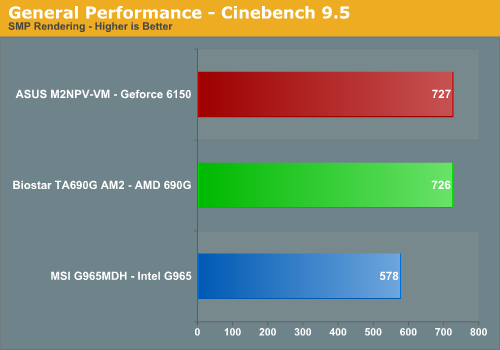 The AM2 processors have always enjoyed an advantage in this test and the results continue to show the AM2 platform being dominant in this benchmark with a 26% advantage. The two AM2 platforms basically tie each other indicating CPU throughput is equal on either solution.