Media Encoding Performance
A traditional weak spot of the current AM2 processor offerings has been in the media encoding arena when compared to the Intel Core 2 Duo. Considering the main optimizations for the Core 2 Duo centered on overall media encoding performance, we were very interested in seeing how this platform compared to current AMD lineups. We are utilizing an updated video encoding test suite for this article that includes AnyDVD, Nero Recode 2, Windows Media Encoder 9, and QuickTime Pro 7.1.
Our first series of tests is quite easy - we take our original Office Space DVD and use AnyDVD and Nero Recode 2 to copy the full DVD to the hard drive without compression, thus providing an almost exact duplicate of the DVD. We then fired up Nero Recode 2, selected our Office Space copy on the hard drive, and performed a shrink operation to allow the entire movie along with extras to fit on a single 4.5GB DVD disc. We then go back and use Nero Recode to shrink the full DVD copy and burn it onto our DVD disc. We left all options on their defaults except we checked off the advanced analysis option. The scores reported include the full encoding process and are represented in minutes/seconds, with lower numbers indicating better performance.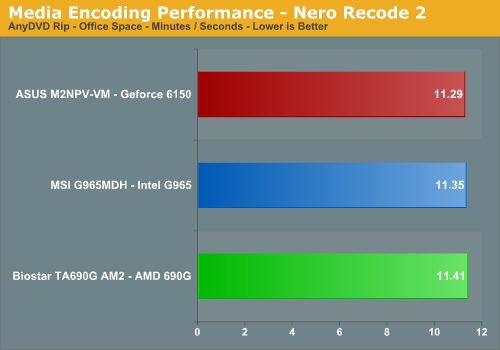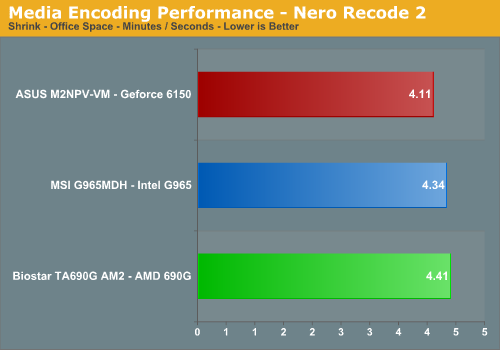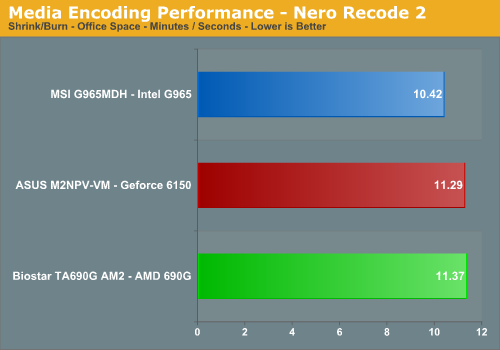 The results are very interesting as we did not expect our AM2 systems to perform this well and to do so is very surprising when reviewing other media encoding results. In fact, we ran the test several times and verified our settings before accepting the test results. Perhaps the last few months of Core 2 Duo results constantly exceeding AM2's best by a wide margin have tainted our cognitive abilities.
Of course, we are using a mid-range AM2 processor against the budget C2D part (the AMD price cuts have helped matters there, as the price difference is currently only about $35) but we fully believe the majority of the performance difference lies in the chipset selection on the AM2 systems. It is only in the shrink and burn tests that we see the Intel platform flexing its muscles. The difference in the shrink portion of this test was minimal and mirrored our individual shrink test results. We noticed our Intel platform was able to feed data to our DVD drive in a consistent manner with each of the AM2 platforms suffering from stutters several times resulting in our drive slowing down during the burn process. It was difficult to figure out if this was a driver, disk controller, or CPU issue. We are still testing on other chipset and CPU combinations.
Our next test has us converting our day at the beach AVI file into a high definition WMV file suitable for our Aunt Gertrude to view on her new high definition LCD TV. We ensured our quality settings were set for High Definition output. The remaining options are left at default values and then we let this program do its magic. We are reporting the numbers in minutes/seconds to complete the conversion.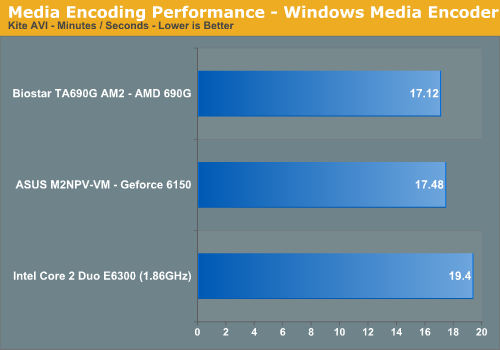 These results left our heads shaking and we busily scurried off to the far corners of the lab looking for answers. After several test repeats, a few new images, and a couple of drinks, we stand by the results. Our answer, which we came up with after we switched out the MSI G965 board for a Gigabyte G965 board and had the same results, is that our E6300 is just incapable of keeping up with our AM2 5200+ X2 in this test. Why? It's all about the cache and CPU speed. Our E6600 trounces the 5200+ X2 at stock speeds and scores near it when running at E6300 speeds thanks to the increased cache. Meanwhile, our E6400 is just slightly off the 5200+ X2 pace at a modest 300MHz increase in speed over the E6300.
Next on the list is our QuickTime Pro 7.1 test that will convert our newly downloaded .Mov file into a plasma screen pleasing H.264 format. We ensured our quality settings were set to their highest levels and then let the horses loose. The values reported are again in minutes/seconds for the conversion time, with lower numbers being better.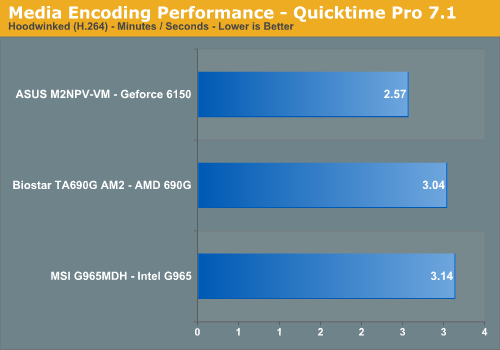 Once again, the AM2 platforms have a slight advantage with the 6150 scoring outside of the norm in this test - so far outside that we thought something was not kosher in the land of NVIDIA. Fortunately for us, the answer was easy once we reviewed the playback files. It seems as though the quality of our encoding results on the NVIDIA platform left much to be desired along with numerous frames missing during playback or other frames just tangled together at times. We ran this same test under XP without an issue so our first blip with Vista has now occurred. Our video images are presented below.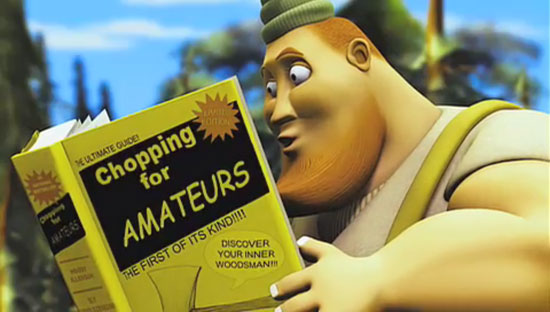 690G - Click to enlarge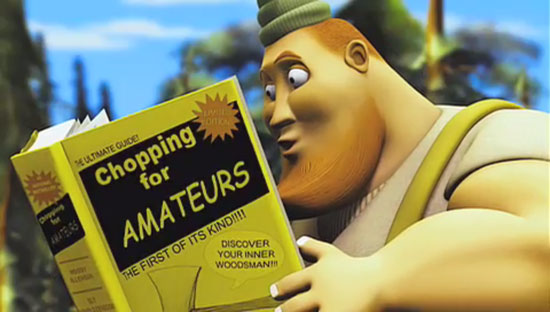 G965 - Click to enlarge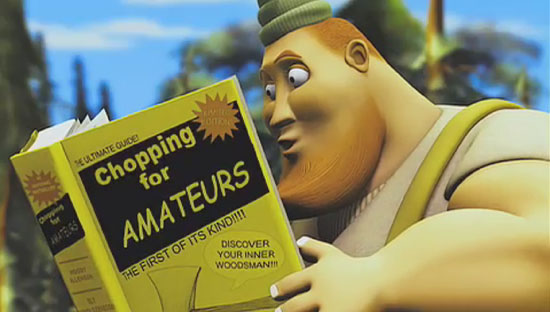 6150 - Click to enlarge
In these particular screen shots both the G965 and 690G image quality results are basically even, but the 6150 is showing a case of the jaggies at full screen resolution. The entire playback file suffered from this issue.