ATI SB600
SB600 has finally arrived with the ATI CrossFire Xpress 3200 AM2. This new Southbridge is here just in time to offset the disappearing ULi M1575 Southbridge chips. The SB600 introduction gives manufacturers the option to uses a full and up-to-date ATI chipset for AM2 and earlier Athlon64 processors.
Feature
ATI SB450
ATI SB600
NVIDIA nForce4
NVIDIA 590
SATA Type
SATA
No NCQ
SATA2
NCQ, AHCI
SATA2
NCQ
SATA2
NCQ
Maximum SATA Speed
1.5Gb/s
3Gb/s
3Gb/s
3Gb/s
SATA Ports
4
4
4
6
RAID Support
0, 1, 0+1, JBOD
0, 1, 0+1, 5, 10, JBOD
0, 1, 0+1, JBOD
0, 1, 0+1, 5, JBOD
USB Ports
8 USB 2.0
10 USB 2.0
10 USB 2.0
10 USB 2.0
LAN
10/100 PCI
1Gb Ethernet
PCIe for PHY
1Gb Ethernet
PCIe for PHY
2x1Gb Ethernet
PCIe for PHY
(Can be Combined)
IDE
4 devices
(2 Channels)
2 devices
(1 Channels)
4 devices
(2 Channels)
2 devices
(1 Channels)
AUDIO
HD Azalia
HD Azalia
AC'97
HD Azalia
PCIe Lanes
40
40 Total
2 x16
4 lanes for x1,x2,x4
4 for NB/SB links
44
46 Total
7 links
SB600 provides the features users want, and our testing found USB 2.0 performance to be competitive. SATA and IDE performance are also excellent. Unfortunately for ATI, the standard for features in the industry is a moving target, and NVIDIA now offers 6 SATA2 ports vs.4 on their new Southbridge. NVIDIA also implements 2x1Gb PCIe Ethernet ports which can be combined to provide 2Gb/s Ethernet.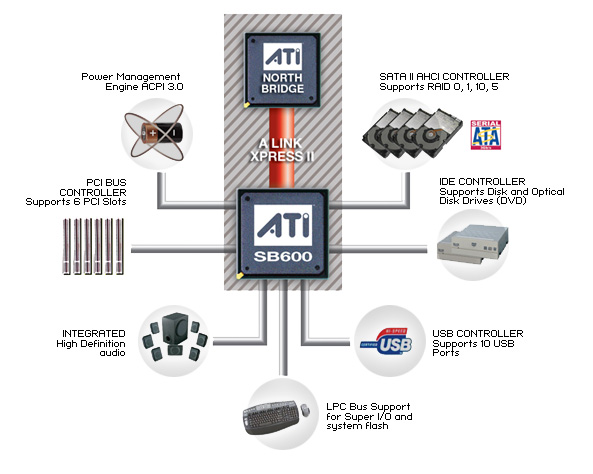 The good news for ATI is that unlike SB450, the new SB600 really does not give up any important performance or check list features. Manufacturers can then add whatever they wish to SB600 to target certain segments. To demonstrate this ATI included two Silicon Image 3132 SATA2 disk controllers on the reference board to bring the total to 8 SATA2 ports. ATI no longer has to apologize for their Southbridge, but the latest NVIDIA offering does provide more ports in the chipset. It is also worth noting that the NVIDIA 500 family fully supports High Definition audio now - a feature long supported by ATI but absent in the NVIDIA nForce4 chipsets.