It will be several weeks until ATI AM2 retail motherboards are available. As a result ATI AM2 testing is confined to the ATI "Sturgeon" reference board. Somebody at ATI Engineering is apparently a fisherman, since all the recent ATI reference boards have carried fish names during development.
Whatever the reasons for ATI's delay in launching chipsets for retail ATI AM2 boards, ATI is not in a very good market position at AM2 launch. With the RD580 arriving months later than expected, at the end of socket 939 development, we really expected RD580 AM2 to be quickly out the gate. Instead NVIDIA has retail AM2 boards available from a host of manufacturers at AM2 launch and ATI is sampling a reference board.
As discussed in past reviews, reference boards are a breed apart. They are designed for manufacturer qualification, and rarely see the light of day in the retail market. The ATI reference boards are a bit different since Sapphire has marketed reference boards under their own brand name in the past. They are expected to do the same with Sturgeon.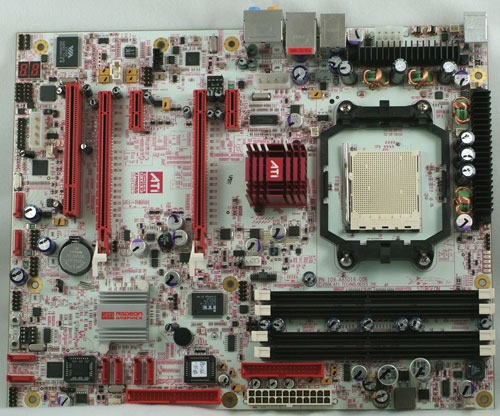 Click to enlarge
Since the ATI CrossFire Xpress 3200 AM2 was designed for qualification, not much time will be spent on layout. Features, other than integrated chipset features, will not be an overriding concern. Additional features can be selected by manufacturers based on their intended market and price point.
Some notes from using the reference board. Loaded with X1900 CrossFire, there are still 2 usable PCIe x1 slots. However, there is no usable PCI slot if CrossFire is installed. Since users who spend over $1000 for video will likely want to use a standalone audio card, this would be a real issue in a retail board. Similarly, with CrossFire installed, the CMOS jumper is hidden under a video card with X1900 XT cards. ATI did users a great service in making dual-channel memory occupy alternate DIMM slots. This provides for much easier cooling of DDR2 DIMMs, which can become very hot when pushing for fastest memory timings.
Basic Features
ATI CrossFire Xpress 3200 AM2
CPU Interface
Socket AM2
Chipset
ATI RD580 Northbridge - ATI SB600 Southbridge
Bus Speeds
200 to 400 in 1MHz Increments
Memory Speeds
DDR2 at 400, 533, 667, 800
PCIe Speeds
100 to 200 in 1MHz Increments
PCI/AGP
Fixed at 33/66
Core Voltage
Auto, 0.8V to 1.45V in 0.025V increments
CPU PWM Level
1 to 25 in 1 increments
VTT PWM Level
0.807v to 1.149v in .007v to .014v increments
CPU Clock Multiplier
4x-25x in 1X increments
DRAM Voltage
1.541V to 2.804V in .05v increments
HyperTransport Frequency
1000MHz (1GHz)
(Stable in overclocking to 1500+ HT)
HyperTransport Multiplier
Auto, 1X to 5X
RD580 HT Drive Strength
Auto, Optimal
HT Receiver Comp. Ctrl
Auto, Optimal
RD580 HT PLL Speed
Auto, High Speed, Low Speed
Radeon Xpress (NB) Voltage
1.143v, 1.201v, 1.260v, 1.299v, 1.348v, 1.406v, 1.455v, 1.504v
HT Link Voltage
1.143v, 1.201v, 1.260v, 1.299v, 1.348v, 1.406v, 1.455v, 1.504v
PCIe 1.2 Voltage
1.143v, 1.201v, 1.260v, 1.299v, 1.348v, 1.406v, 1.455v, 1.504v
SB Voltage
1.143v, 1.201v, 1.260v, 1.299v, 1.348v, 1.406v, 1.455v, 1.504v
GFX1/2 (PCIe) Link Width
X16, X8, X4, X2, X1
GFX and/or SB Payload
64, 32, or 16 Bytes
GFX PCIe Link ASPM
Disabled, L0, L1, L0 & L1
GPP PCIe Link ASPM
Disabled, L0, L1, L0 & L1
GFX 0 and/or 1 Slot Power Limit
0 to 255 watts in 1 watt increments
GPP Slot Power Limit
0 to 255 watts in 1 watt increments
AHCP 2.0 (AMD Cool'n'Quiet)
Enabled, Disabled
DDR Drive Strength (N) and/or (P)
0 to 8 in 1 increments
DQS Signal Training
Enabled, Disabled
Memory Slots
Four 184-pin DDR2 DIMM Slots
Dual-Channel Configuration
Regular Unbuffered Memory to 4GB Total
Expansion Slots
2 PCIe X16
2 PCIe X1
1 PCI
Onboard SATA/RAID
4 SATA2 Drives by SB600
(RAID 0, 1, 1+0, 10, JBOD) PLUS
4 SATA Drives by 2 Silicon Image 3132
(RAID 0, 1, 0+1, JBOD)
Onboard IDE/IDE RAID
One Standard ATA133/100/66 (2 drives)
Onboard USB 2.0/IEEE-1394
10 USB 2.0 ports supported by SB600
2 Firewire by VIA VT6307
Onboard LAN
PCIe Gigabit by Marvel Yukon 88E8052 PHY
Onboard Audio
Azalia HD Audio by Realtek ALC880 codec
BIOS Revision
AMI Build 15 - May 30, 2006
Reference boards are used mainly for qualification and development by board partners. As a result you will generally see very extensive BIOS options that may or may not appear on retail motherboards. An option of particular interest is the DQS Signal Training option which replaces a wide range of manual DQS skewing options for both memory channels. This worked well in our testing, and made it much simpler to accomodate different memory on this board than the manual skewing controls seen on some other Enthusiast boards.
ATI has aimed their discrete chipset AMD boards squarely at the computer enthusiast. This clearly continues with the CrossFire Xpress 3200 AM2. The range of options and features is the best so far on any ATI motherboard for AMD. This pays off in the tweaking options and performance of the new ATI RD580 AM2.