"What a difference a BIOS makes."
This statement represents our thoughts on what occurred during our testing of the ECS KA1 MVP Extreme motherboard. Elitegroup Computer Systems certainly is not a household name at this time but they are out to change this image. ECS was formed in 1987 and has since become one of the largest motherboard manufacturers in the world with a market share of over 20% at this time. ECS has concentrated on designing and producing low-cost products with feature sets acceptable to their vast OEM customer base. However, ECS has steadily been designing and marketing boards under their name brand in recent years.
With success in this area, ECS decided to enter the enthusiast/gamer market with their Extreme Series of product. While the Extreme Series product line should not be mistaken for the top products offered in this market segment by the likes of DFI, Asus, Gigabyte or others, ECS is determined to offer an affordable enthusiast/gaming level product. The ECS KA1 MVP Extreme motherboard we are reviewing today is the latest board in this series and does offer a good feature set and performance level for the casual AMD enthusiast/gamer. More information about the entire line of ECS products can be found
on their website
.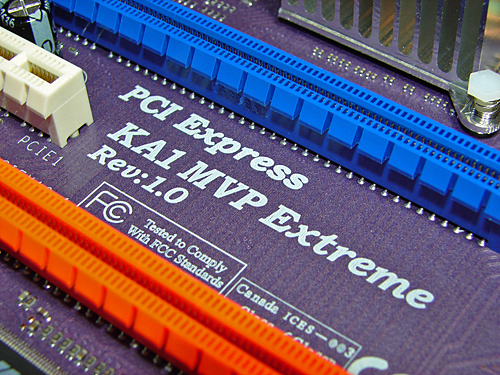 Our initial impression of the ECS KA1MVP upon opening the box was one of interest in regards to the general layout of the board, the color-me-purple psychedelic appearance, and the quality of components utilized by ECS. The board retails in the US $125 range and arrives with an extensive accessory package along with decent documentation.
During our testing and general usage of the ECS KA1 MVP we found the board's stability to be excellent and it delivered competitive results in the latest synthetic and game benchmarks once we were provided with an updated BIOS. Our initial tests with the shipping 1.0e BIOS were not completely positive as the board did not overclock well, fairly limited BIOS settings prevailed, Opteron compatibility was atrocious, NVIDIA 7900GTX support almost non-existent, and the general I/O performance of the peripherals attached to the ATI SB450 Southbridge suffered.
After discussions with ECS we were rewarded with BIOS 1.1d during our testing phase or more appropriately, the lack of meaningful testing at the time. We can now attest the performance of the board changed quicker than our ability to throw on the requisite sunglasses needed for viewing the multidimensional colors on this board, but more about that later. So what did this magical (and publicly available) purple-hued BIOS do for us?
Well, our ability to overclock the ECS board went from a pedestrian-like 265HTT maximum to a more respectable 320HTT level that not only had us pulling back our Barney comments but also delivered performance that had our ATI based boards from the likes of Asus, DFI, and Abit scurrying to the corner. We probably overstated the last part but this ECS board is now very competitive with other boards in this market segment and offers an excellent blend of performance and stability. What else? The Opteron issues disappeared, BIOS enhancements appeared, and we were able to change our single video card testing over to the recently released NVIDIA 7900GTX. However, those poor peripherals relying on the ATI SB450 are still suffering, not quite as much, but they do qualify for assistance.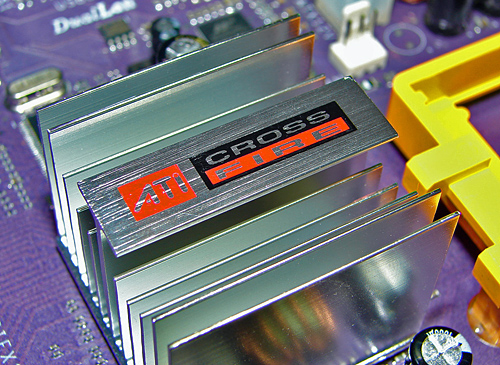 The ECS KA1 MVP offers a full compliment of options including two physical PCI Express x16 connections (x8 operation in dual card or CrossFire mode), two PCI Express x1 connections, and two 32-bit PCI 2.3 connections. The board also offers HD audio via the Realtek ALC880D HD 7.1 codec, PCI-E Gigabit Ethernet via the Marvell 88E8053 LAN controller, PCI 10/100Mb/s Ethernet via the Realtek RTL8100C LAN controller, eight USB 2.0 ports (utilizing two USB 2.0 headers), two SATA 3Gb/s connectors via the Silicon Image SiL3132, two ATA133 Ultra-DMA IDE and four SATA 1.5Gb/s connectors via the SB450, and IEEE 1394 support from the VIA VT6307 1394A capable chipset.
An impressive list of features until one realizes the two additional SATA 3Gb/s ports along with the Gigabit and Fast Ethernet LAN controllers are required due to feature limitations within the ATI SB450 Southbridge. The SB450 lacks SATA 3Gb/s compatibility, Gigabit LAN capability, and serves us with USB 2.0 speeds that are a day behind the current offerings from Intel, NVIDIA, and ULi. What this Southbridge lacks it does make up for in SATA 1.5Gb/s and IDE performance, High Definition Audio Support, and availability, especially availability as the SB600 is nowhere to be found and the ULi M1575 will soon go the way of purple dinosaurs.
Now let's take a closer look at the features and performance the ECS KA1 MVP offers.