Basic Features
ECS KA1 MVP Extreme Features
CPU Interface
939-Pin Socket supporting AMD Athlon 64 / 64FX / 64X2
Chipset
ATI CrossFire Xpress 200 (RD480) - North Bridge
ATI SB450 - South Bridge
HTT Speeds
200MHz ~ 500MHz in 1MHz increments
CPU Clock Multiplier
Auto, 4x ~ 12x in 1x increments (4000+ setting, maximum multiplier dependent upon processor utilized, 25x maximum.)
Memory Speeds
Auto, 100MHz, 133MHz, 166MHz, 200MHz, 216MHz, 233MHz, 250MHz
PCI Bus Speeds
Fixed at 33.33MHz
PCI Express Bus Speeds
Fixed at 100.00Mhz, Auto setting
LDT Multipliers
Auto, 400MHZ, 600MHz, 800MHz, 1GHz
LDT Link Speed
8-bit, 16-bit
Core Voltage
Startup, 0.825V ~ 1.550V, in .025 increments, Vcore Adjustment +25mV ~ 175mV in 25mV increments
DRAM Voltage
Auto, 2.60V ~ 3.00V, .05 ~.10 increments
Memory Slots
(4) x DIMM, max. 4GB, DDR 400/333/200/166, non-ECC, un-buffered memory, Dual Channel Operation supported.
Expansion Slots
(2) x PCI-E x16 (each slot operates in 1x8 mode in CrossFire mode)
(2) x PCI-E x1
(2) x PCI 2.3
Onboard SATA
SB450: (4) x SATA 1.5Gb/s
Silicon Image - SiL3132: (2) x SATA 3Gb/s (NCQ, Hot Plug
Onboard IDE
SB450: (2) x UltraDMA 133/100/66/33
SATA/IDE RAID
SB450:
(4) x SATA 1.5Gb/s - RAID 0, RAID 1
SiL3132:
(2) x SATA 3Gb/s - RAID 0, RAID 1, RAID 0+1, RAID 5
Onboard USB2.0
(8) USB2.0 ports (four I/O panel ports, two board headers for four more ports)
Onboard LAN
Realtek RTL8100C PCI 10/100Mb/s Ethernet Controller
Marvell 88E8053 PCI-E Gigabit LAN Controller
Onboard Audio
Realtek ALC-880 - 8-channel capable HD Audio Codec.
Onboard Firewire
VIA VT6307 IEEE 1394 chipset - 1394A capable
Power Connectors
24-pin ATX
4-pin ATX 12V
4-pin 12V (required for CrossFire or dual card operation)
Back Panel I/O Ports
1 x PS/2 Keyboard
1 x PS/2 Mouse
1 x Audio I/O Panel
2 x RJ45 LAN
4 x USB 2.0
1 x Serial Port
Other Features
ECS Extreme Utilities / Program Suite CD
WinFlash - Windows based flash utility
Top Hat Flash - Bios Recovery System
Dr. LED - Four Flashing LEDs for Visual Impact
BIOS
Award 1.1d (3/14/06)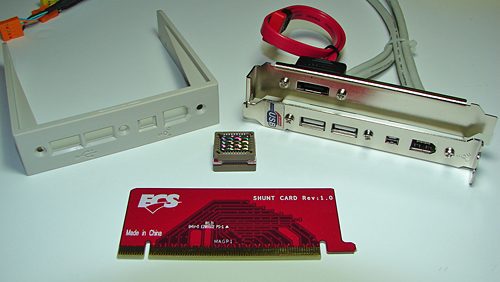 The ECS KA1 MVP carries a mid-range price, but it aspires to be a performance board targeting the enthusiast user. The board ships with an extensive accessory package that includes the standard assortment of IDE/SATA cables, power connectors, six-foot CAT5E Ethernet cable, video Shunt card (required for single graphics card mode), USB/Firewire back plate, external SATA back plane, and a 3.5" drive bay insert for relocating the additional USB 2.0 and Firewire connectors to the front of the chassis. ECS also includes a driver CD along with a utility CD that consists of seven different programs. The most interesting accessory included is the Top Hat Flash chip that snaps over the top of the existing BIOS chip and allows users to reflash the bios in case it becomes corrupt. We tested this option and it did allow us to recover from a faulty bios flash.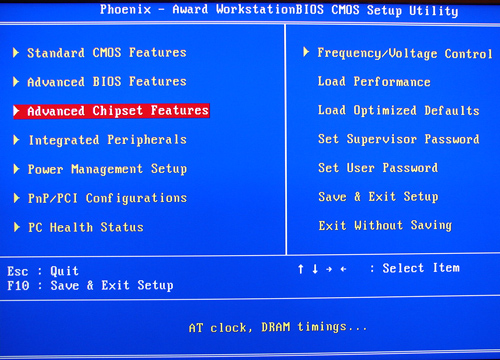 This is the BIOS setup utility screen and displays the change configuration categories available on the board. ECS basically follows the standard Award bios layout.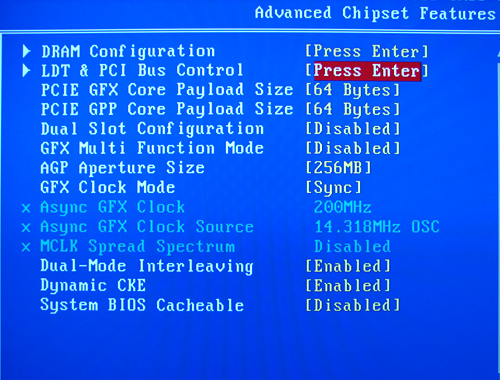 The Advanced Chipset Features section allows the user to manually set individual parameters for LDT multipliers, Video configuration, and DRAM frequency settings.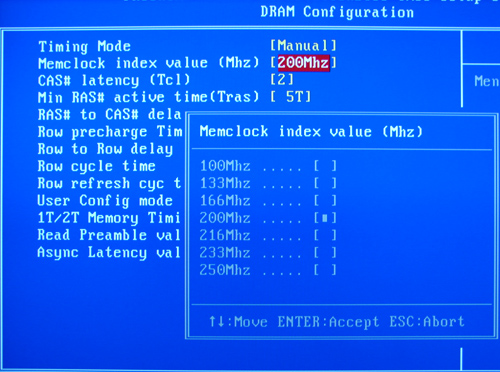 The DRAM Configuration section allows the user to control memory timing adjustments and dividers. The BIOS allows for an Auto setting that will determine the best timing attributes based upon memory type, divider, and bus speeds. We found in our testing the Auto setting would typically adjust the memory clock settings correctly if not a bit aggressive at times.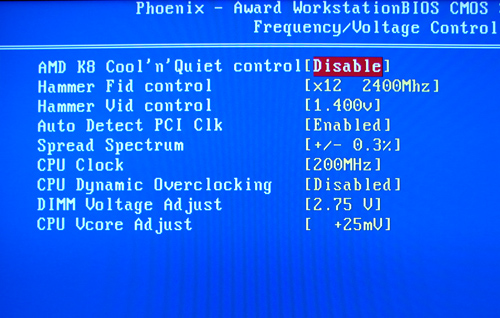 The Frequency and Voltage Control section allows the user to control the CPU multiplier, clock, and voltage controls. CPU voltage is limited to 1.550V but an additional 25mV~175mV is available through the CPU Vcore Adjustment setting. The BIOS allows a decent variety of voltage controls but the lack of chipset voltages is perplexing considering the wide variety of changes available within the memory and graphics sections. Memory voltage is limited to 3.0V, limiting potential overclocking to those with BH5 based memory. The CPU Dynamic Overclocking setting will allow the user to preset a CPU overclock up to 30MHz above stock in 2MHz increments.