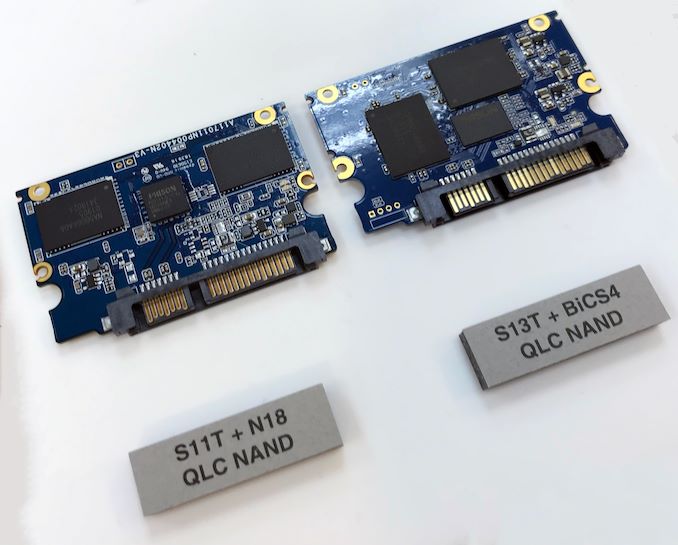 3D QLC NAND promises to become a significant phenomenon on the consumer SSD market thanks to its relatively low cost per gigabyte, further pushing down already dropping SSD prices. As one of the leading suppliers of turnkey SSDs, Phison for its part demonstrated QLC SSD prototypes at this year's Computex, using QLC NAND from both Micron and Toshiba.
To date, Phison has validated three of its controllers for use with 3D QLC NAND flash memory: two SATA controllers and one PCIe controller. The PS3111-S11T and PS3113-S13T are aimed at entry-level SATA SSDs, whereas the PS5013-E13T is designed for inexpensive PCIe 3.0 x4 NVMe drives. The S13T and the E13T support Phison's 4th Generation implementation of LDPC-based ECC as well as other modern features designed to prolong endurance of SSDs and improve their performance, which are critical components to making QLC SSDs viable on the market.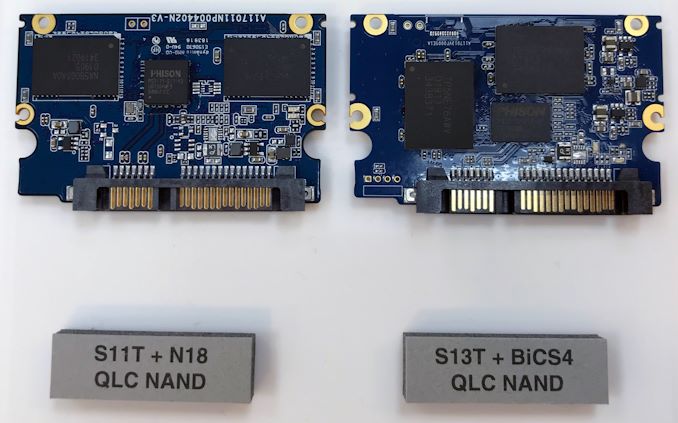 As these are all prototypes of low-end drives, Phison isn't promising much in the way of performance; but then that's part of the tradeoffs that come with low-end hardware. Realistically speaking, PCIe SSDs will feel this pinch the most, as as cheap, low-capacity drives will use just a couple of NAND chips, limiting their ability to take advantage of parallelism. Meanwhile, for SATA drives the interface itself limits performance of modern NAND flash, so 3D QLC's performance limits are a lot less obvious. All told, the performance numbers below speak for themselves, with the 512 GB 3D QLC-based SATA looks set to offer up to 550 MB/s sequential read speeds as well as up to 435 MB/s sequential write speeds.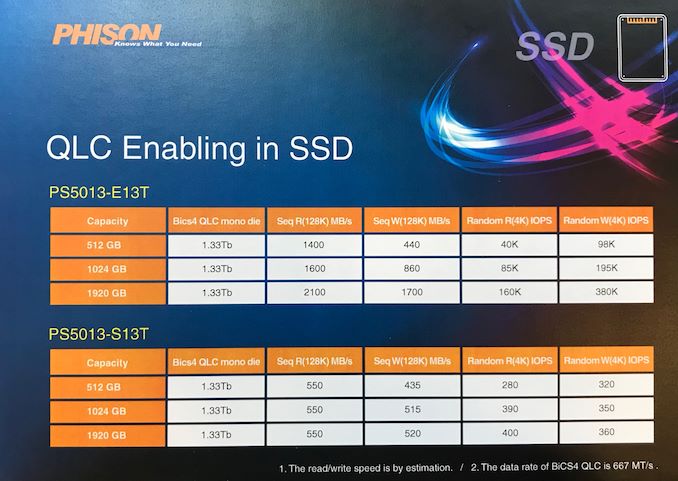 The following combinations of controllers and 3D QLC NAND chips has been validated by Phison. Eventually, the list and the number of combinations will be expanded.
PS3111-S11T + N18
PS3113-S13T + BiCS4
PS5013-E13T + BiCS4 1.33 Tb
Since Phison demonstrated its turnkey 3D QLC-based SSDs at Computex, expect actual products to show up on the market later this year or early in 2020. MSRPs will, of course, depend on the price of 3D NAND at the time, as well as market demand for QLC SSDs.
Want to keep up to date with all of our Computex 2019 Coverage?

Laptops

Hardware

Chips
Follow AnandTech's breaking news here!