Battle 4: AMD vs. Intel
Coming to our fourth and final battle of this Doom 3 comparison we have the comparison we've all been waiting for, AMD vs. Intel. For this comparison we benchmarked quite a few different CPUs, all K7 based processors (e.g. Athlon XP, Sempron 2800+) are colored green, all K8 based processors (e.g. Athlon 64, Athlon 64 FX, Sempron 3100+) are colored orange and all Intel processors are blue in the graphs: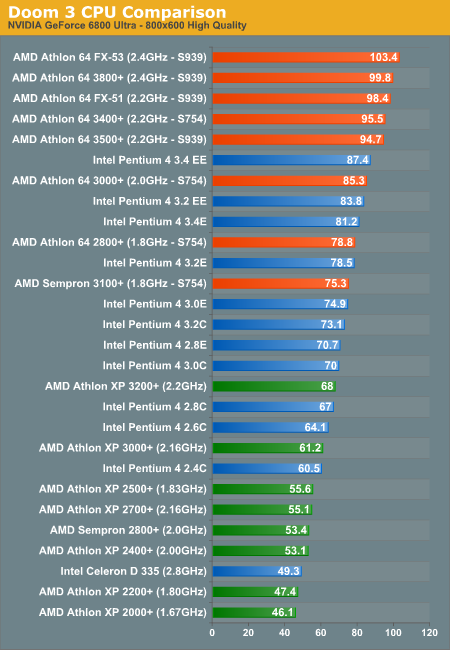 The first thing you'll notice is that the top of the chart is dominated almost exclusively by AMD Athlon 64 and Athlon 64 FX processors. Even the Athlon 64 3400+ manages to outperform the almighty Pentium 4 Extreme Edition 3.4, not to mention that the FX-53 distances itself from Intel's fastest by no less than 18%.
Making our way further down the chart we see that the Athlon 64 3000+ is quite possibly the best buy for excellent Doom 3 performance, weighing in right between the two Extreme Edition processors at less than 20% of the cost of those chips.
Next we have all of the Pentium 4s that manage to offer middle of the road performance under Doom 3, although we do see the K8 based Sempron 3100+ wedged in between the Prescott 3.2 and Prescott 3.0GHz CPUs.
Finally at the bottom we have the Athlon XPs as well as the lonely Celeron D, which is barely saved from a disappointing last place showing.
The standings remain the same at 1280x1024 as you can see below: