Battle 3: Celeron D vs. Sempron
AMD just recently introduced their new low-end branded CPU: Sempron, and as we've already seen it does a wonderful job of outperforming Intel's Celeron D, however the margin of improvement is far less than what we're used to seeing thanks to a much improved Celeron D. How does the Sempron fare under Doom 3? Let's find out: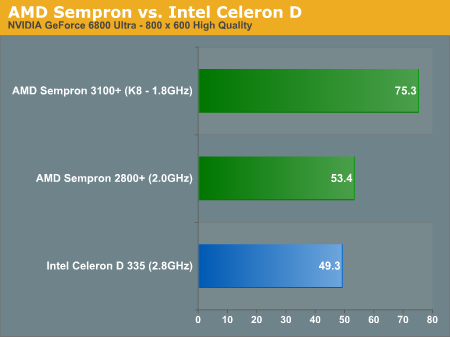 Remember that there are two flavors of Sempron, a K7 and a K8 version. The K7 version performs just like an Athlon XP since it's basically a Thoroughbred core with its 256KB L2 cache. The biggest performance limiter to the K7 based Sempron 2800+ is that it has no on-die memory controller, bringing its performance down pretty far.
But the K8 based Sempron 3100+ does some serious damage, outperforming the Celeron D 335 by an incredible 53%. For a budget Doom 3 system, you will want to steer far away from a Celeron D and towards the Sempron. As we've seen before, the cache size dependency of Doom 3 on the Pentium 4 is significant and even though the Celeron D and the Sempron both only have a 256KB L2 cache, the Sempron's on-die memory controller helps reduce the impact of such a small cache on Doom 3 performance.
The winner here is Sempron.